Tradition is a tremendous responsibility, especially in the restaurant world where dedicated diners frequent favorite culinary haunts for familiar palate-pleasing dishes.
So when Chef Pascal Olhats closed his award-winning Tradition restaurant earlier this year after more than two decades as one of Newport Beach's – and OC's – finest gourmet bistros, longtime customers lamented the loss of sensational signature dishes such as filet mignon with foie gras, braised rabbit, and champagne poached oysters.
Now, tradition returns to Newport Beach, because Pascal has created a pop-up version of Tradition inside his popular Brasserie Pascal at Fashion Island.
Every Tuesday through Thursday evening, diners can delight in Pascal's "Best of Tradition" menu in the Brasserie lounge, which gets a temporary Tradition makeover with Pascal's signature rose at every table.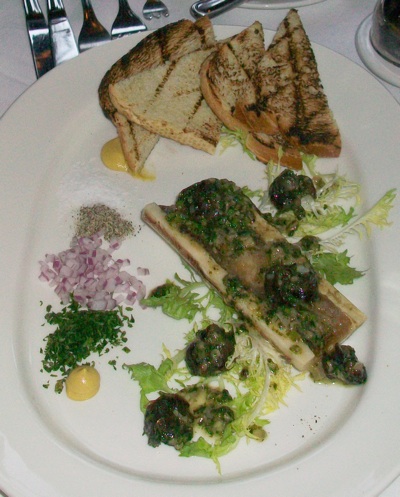 I had dined at Tradition at its old location, but Catherine, my editorial assistant, was a Tradition newbie, so we decided to pop over to the Tradition pop-up and experience Pascal's culinary magic.
"What do you think? You like the decorations?" asked Pascal.
"This is wonderful!" I exclaimed. "After my final meal at your old Tradition I've been wondering if you'd reinvent Tradition, so I've been looking forward to this."
After perusing the menu, which is available as a two-, three- or four-course prix fixe dinner or a la carte, we decided to start with three dishes that Catherine had never had before but I knew were, well, traditions: sautéed foie gras in a balsamic reduction, escargot cassolette with toasted pine nuts, and roasted bone marrow. We followed that with filet mignon with sautéed foie gras in cognac truffle sauce, and braised rabbit in a Dijon mustard sauce. We finished our meal with Pascal's signature chocolate soufflé.
Catherine was so delighted with her experience that I'm letting her provide her comments on the cuisine:
"I didn't know what to expect with the bone marrow, so I spread the marrow on a piece of toasted bread and added some salt and basil on top. The marrow was smooth and creamy, and flavored with garlic. It was actually quite good.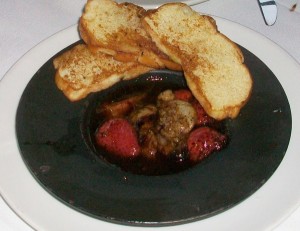 "I was also pleasantly surprised by the escargot. I was hesitant about eating a snail and had heard stories about chewy escargot. I shouldn't have been worried though because this was Pascal's and as I discovered, he creates dishes that are perfection. The escargot was cooked in butter, garlic and pine nuts and had a slightly crispy outside which paired perfectly with the pine nuts.
"I was excited to try the foie gras before it becomes illegal in July. It practically melted in my mouth, and was great with the sautéed strawberries and balsamic reduction.
"The filet mignon with foie gras on top created a unique flavor when taken together in one bite. The filet mignon was juicy and flavorful, and I took pieces of bread to mop up the truffle sauce from my plate.
"The chocolate soufflé was one to remember. It was mushrooming over the top of the ramekin. The server scooped Chantilly cream into the center and drizzled hot chocolate sauce over the entire soufflé. We enjoyed this with a port that went perfectly with the chocolate. It was the perfect ending to a spectacular night of firsts."
For more information, visit PascalNPB.com.
***
Tradition is also an important element at Gulliver's on MacArthur Boulevard, across from John Wayne Airport where Santa Ana, Irvine and Newport converge. Gulliver's is technically in Irvine but looks and feels like Newport Beach.
In fact, Newport's most famous resident, John Wayne, was a frequent guest at Gulliver's, which specializes in prime rib served in a comfortable environment that evokes an 18th century English roadside inn.
It had been many years since I had dined at Gulliver's, and Catherine had never been there, so we both felt like novices when we walked through the door. We instantly were transported to another era thanks to the authentic décor.
"It's like entering an old-world London pub," noted Catherine as we were escorted to a table near the fireplace.
We started with escargot (baked under a flaky puffed pastry crust) and filet mignon bruschetta.
"The bread is toasted but not too crispy, and the filet is tender and not overwhelmed by the light tomato balsamic sauce," said Catherine.
"You're going to love the escargot," I told Catherine. "Stab the puffed pastry and go through to the escargot, and be sure to swirl it in the butter garlic mushroom sauce."
We learned that their signature dish – in addition to prime rib – is cream corn, so of course, we ordered that with our prime rib and Chateaubriand entrees.
"I really like the truffle sauce and béarnaise sauce on the Chateaubriand," stated Catherine after a bite. "And I see you like the cream corn—you're almost done and I've only had one bite of mine."
We were soon full, but somehow managed to sample some desserts: traditional English Trifle, and Apple Bread Pudding with caramel sauce and whipped cream.
"Wow—this is the best trifle I've ever had!" I enthused.
"And I've never had anything like this bread pudding," added Catherine. "It has hints of cinnamon and apple without any of the flavors overpowering one another."
"I can see why John Wayne loved coming to Gulliver's," I told Catherine on the way out. "This place is fit for a Duke."
For more, visit gulliversrestaurant.com.