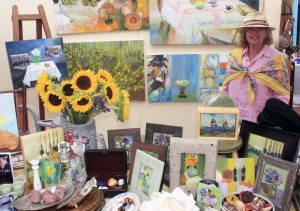 It's Sunday, and the fresh morning air is rich with scents, sights, sounds–earthy herbs tangle with summer-sweet berries, sun-bright pillows hung with flair complement vividly hued paintings, and the beauties of sunflowers and music bless the day while paper lanterns sway in the breeze and laughter rings out like church bells.
This can only mean one thing: The Lido Village Artisan and Farmer's Market is once more open for business.
The weekly gathering is both heart-warming and habit-forming. It's a time to step away from the busyness of the everyday, a time for sharing with friends and family, for shopping (of course!), and for swapping stories with and supporting the local vendors plying their wares.
In addition to the traditional Farmer's Market offerings of  yummy homemade jams and gourmet olive oils, the recently created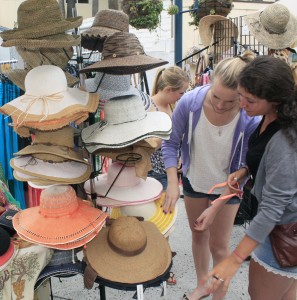 Artisan Market (it debuted this past January) proffers a wide array of quality original and vintage finds with a  range of affordable prices, from delicate Limoges salad plates to custom handmade jewelry and evocative original oil paintings.
The Artisan Market is the brainchild of longtime Newport Heights resident Kathy Shaw. Calling her hometown "a little Mayberry," Shaw says she organized the Artisan Market because "Newport really needs a place where the locals and the tourists can walk around and meet with the community. It's certainly not a new concept, but my main objective has been to promote small business and create an enjoyable event. I don't really like to use the word upscale, but we are not your typical parking lot market."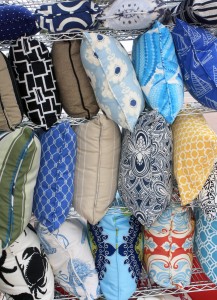 "It really has the feeling of a French brocante, the kind they have in the villages there," says Lido Island resident Ilona Werner-Martin. The Impressionist painter has been exhibiting at the Artisan Market since it opened, and has seen it grow over the past eight months, enhancing the Farmer's Market as well as encouraging neighbors to stop by.
"We're happy it's on a Sunday– it gives people something to do that's different," she explains. "It's just a great experience; I love to be able to chat with people as they come by, to talk about the stories behind my paintings."
As well, Werner-Martin says the experience has encouraged her to paint more: "Every week the flower vendor makes a bouquet for me, and I take pictures and make a new painting!"
With anywhere from 10- 20 vendors participating every Sunday, Shaw describes the Market as a "puzzle" that is "put together each week depending on what each vendor sells and their availability. I try to limit the number of vendors selling similar products so we don't saturate the market with certain items. We are not here to compete but to help support and motivate our fellow entrepreneurs." 
Designer Gianna Giannulli couldn't agree more. The Corona Del Mar beader has always had a passion for jewelry.
"My mom used to call me a gypsy!" she says. Giannulli revels in the intimacy of the Artisan Market, a perfect setting for the  organic elegance of her original pieces, which are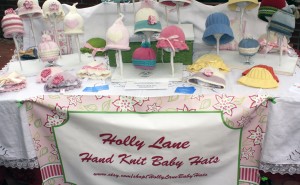 created with semi-precious gemstones, wood and Ethiopian tribal beads.
"The beauty of doing this market is that everyone is so nice," says Giannulli. "I love coming here, and I always buy, too– it's great to give everybody the business. You know, we're all here doing what we love." 
With opportunities for both friendships and businesses to bloom, Shaw says "The Farmers' Market is a wonderful place to visit on a Sunday morning. It is great when the vendor has had a successful day but also when they and the visitors enjoyed being there.  When all the stars align, it's a good feeling."  
Lido Village Artisan and Farmer's Market, every Sunday from 9 a.m. to 2 p.m. at 3400 Via Oporto, Lido Village, Newport Beach 92663. For further information on the Market and/or Vendors go to facebook.com/LidoVillageArtisanMarket or email them at [email protected] . Free parking is available in the nearby structure with purchase/validation.