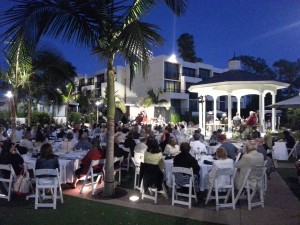 There's nothing like listening to live jazz while sipping a cocktail on a balmy summer evening, and there's nothing like the Sunset Jazz at Newport concert series that starts July 8 and runs through Sept. 16 at the Newport Beach Marriott Hotel & Spa.
Held in the Marriott's lovely Rose Garden (and the Seaview Terrace on July 29 and Aug. 5), Sunset Jazz at Newport features a variety of jazz ensembles and vocalists, many of whom are the most popular artists from the Newport Beach Jazz Party and The Jazz Cruise.
And you know this is a serious jazz series when the media sponsor is K-JAZZ, the country's top jazz radio station.
Media sponsor will be the nation's #1 jazz station- KJAZZ.
Each concert features two sets, with the first starting at 6 p.m. and the second at 7:30 p.m. Both one hour sets are included in the price of each ticket.
Doors open at 5 p.m. with table service featuring food and beverages. A stage is set up at one end of the garden, with numerous tables scattered throughout the garden so that there really isn't a bad seat in the house (and based on last year's concerts, the sound system is excellent).
The 2015 Sunset Jazz at Newport line-up:
 July 8: The Four Freshman. One of the top vocal groups of the 1950s, they formed the bridge between 40s

ensembles like the Mel-Tones, and harmony-based rock & roll bands such as the Beach Boys and The Mamas and the Papas. They're "fresher than ever," with new singer Tommy Boynton.
July 15: Jeff Hamilton Trio with Graham Dechter. Virtuoso drummer Hamilton brings his trio plus guest guitarist Graham Dechter in what promises to be a dynamic evening of jazz.
July 22: Bill Cunliffe Septet featuring Carol Bachy Rita. Pianist, composer and Grammy Award-winning arranger Cunliffe brings his all-star septet featuring Carol Bach Y Rita plus Bob Sheppard, Kye Palmer, John Chiodini, John Belzaguy and Enzo Todesco.
July 29: Wycliffe Gordon All-Stars featuring Don Shelton. Wycliffe is a performer, conductor, composer, arranger and educator who tours the world performing hard-swinging, straight-ahead jazz. His All-Stars include Don Shelton (clarinet/vocals), Llew Matthews (piano), Luther Hughes (bass) and Clayton Cameron (drums).
 Aug. 5: Tony Monaco Quartet with Rickey Woodard and Mike Costley. Prepare for a hot night of blues, jazz and swing with Monaco and friends.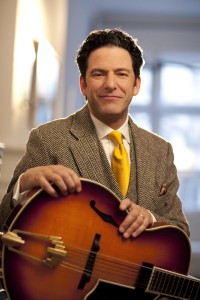 Aug. 12: John Pizzarelli Quartet. Making his third appearance at Sunset Jazz at Newport, Pizzarelli has had a long career as a jazz guitarist, vocalist, and songwriter. His syndicated radio program, "Radio Deluxe with John Pizzarelli," cohosted with his wife, Jessica Molaskey, airs in more than one hundred markets (locally on KKJZ on Thursdays). His shows are always fun and lively.
Aug. 19: Ray Brown Trio Tribute and John Clayton, Larry Fuller and Jeff Hamilton. Layton and Hamilton are famed co-leaders of the Clayton-Hamilton Jazz Orchestra, while pianist Fuller has performed with many jazz artists, including the Ray Brown Trio.
 Aug. 26: Jazz and Comedy with Calabria Foti-Bob McChesney Quintet plus Jimmie J.J. Walker. Get ready for a "Dy-no-mite" evening of comedy with J.J. Walker and music from Grammy-nominated jazz vocalist and violinist Calabria Foti and her husband, trombonist Bob McChesney.
Sept. 2: Byron Stripling and Bobby Floyd Quartet. Trumpeter Stripling is the Artistic Director of the Columbus Jazz Orchestra, leader of his own quartet and constantly in demand to play with pops orchestras around the world. He also was selected to play the lead in the touring musical "Satchmo: America's Musical Legend." Joining Bryon is jazz organist Floyd plus guitarist Graham Dechter and renowned drummer Joe LaBarbera.
Sept. 9: Barbara Morrison/Ricky Woodard Quintet. Last summer, Morrison celebrated her 65th birthday during the Sunset Jazz series, but she's not done celebrating and returns for another dynamic evening.
Sept. 16: Ken Peplowski/Chuck Redd Quintet—"Benny and Beyond." The late Mel Torme' said "Since the advent of Benny Goodman, there have been too few clarinetists to fill the void that Goodman left. Ken Peplowski is most certainly one of those few. The man is magic." Joining Peplowski will be his good friend, vibest and drummer Chuck Redd.
Season tickets (11 concerts for the price of 10) are $242 for general (open seating), $358 Blue (reserved), $458 Gold (reserved).
Individual seats: $23 General; $35 Blue; $45 Gold (The Four Freshmen and John Pizzarelli tickets are $29/39/49.
Tickets are available by calling (949) 759-5003 or going to sunsetjazzatnewport.com.