[Information from Newport Beach Police Department Press Release]
A fugitive who fled to Iran and was arrested in the Czech Republic has been extradited to Orange County escorted by the FBI and officers from the Newport Beach Police Department for the kidnapping, torture, and sexual mutilation of a marijuana dispensary owner.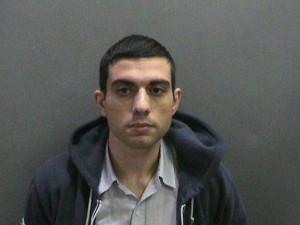 Hossein Nayeri, 35, is charged with two felony counts of kidnapping for ransom and one felony count each of aggravated mayhem, torture, and first degree residential burglary, with a sentencing enhancement for inflicting great bodily injury. He is being held without bail and faces a maximum sentence of life in state prison without the possibility of parole if convicted.
Co-defendants Kyle Shirakawa Handley, 35, Ryan Anthony Kevorkian, 35, and Naomi Josette Rhodus (formerly Naomi Kevorkian), 34, face the same charges and maximum sentence as Nayeri. Handley is being held without bail and Ryan and Rhodus are being held on $1 million bail each.
Nayeri is accused of committing a routine traffic violation in Newport Beach the week before the kidnapping, and subsequently leading NBPD on a high-speed chase when they attempted a stop. He is accused of crashing his car and fleeing on foot, and was able to escape at that time. Inside the abandoned car, Nayeri is accused of leaving surveillance equipment and videos, which at that time had no criminal significance.
Several weeks prior, the defendants are accused of devising a plan to kidnap and rob a marijuana dispensary owner, and of video surveiling the victim's home and following him as he made frequent trips to the desert.
On Oct. 2, 2012, Handley, Nayeri, and Ryan Kevorkian are accused of entering John Doe's home with the intent to kidnap and rob him. Once inside, they are accused of zip-tying the victim's wrists and torturing him, kidnapping the victim and putting him in a van. They are also accused of zip-tying and kidnapping his female roommate, and stealing a large amount of cash from the home.
The defendants are accused of driving the victims to the desert near the area where they believed John Doe was hiding money. They are accused of continuing to torture John Doe throughout the drive by burning him with a blow torch and sexually mutilating the victim by cutting off his penis. The roommate was not physically harmed.
After leaving the victims in the dessert, Handley, Nayeri, and Ryan Kevorkian are accused of fleeing the scene. The roommate ran over a mile to a main road in the dark, while still bound with zip ties, and flagged down a police car.
NBPD began investigating this complex case and conducted a canvas on the neighborhood. A witness had been suspicious of a car parked outside the victim's home on Oct. 2 and documented the license plate. Handley is accused of being the registered owner of that car. Handley is accused of being in possession of evidence from the crime in his home. Nayeri is accused of being linked to the crime through DNA found on that evidence. Two additional DNA profiles were found on the evidence but were unidentified at that time.
After Nayeri was identified as a suspect, NBPD determined the link between the kidnapping and the video surveillance equipment and footage found in the defendant's vehicle a week before the crime.
Through extensive investigation, NBPD identified Ryan Kevorkian and Rhodus as defendants. After months of investigation, both are accused of being linked to the unidentified DNA on the evidence in Handley's home. Rhodus is accused of participating in the plan to kidnap and torture the victim.
Ryan Kevorkian and Rhodus were arrested Nov. 8, 2013, in Fresno by NBPD detectives. After the crime, Nayeri is accused of fleeing to Iran, where he remained for several months. On Nov. 7, 2013, he was arrested by the Czech Republic Fugitive Unit, in conjunction with the Federal Bureau of Investigation (FBI), in the airport in Prague while transferring flights from Iran to Spain to visit family. The defendant faced extradition proceedings in the Czech Republic. Nayeri was extradited back to Orange County on Sept. 15, 2014.
NBPD investigated this criminal case and Senior Deputy District Attorney Matt Murphy of the Orange County District Attorney's  Office is prosecuting this case.