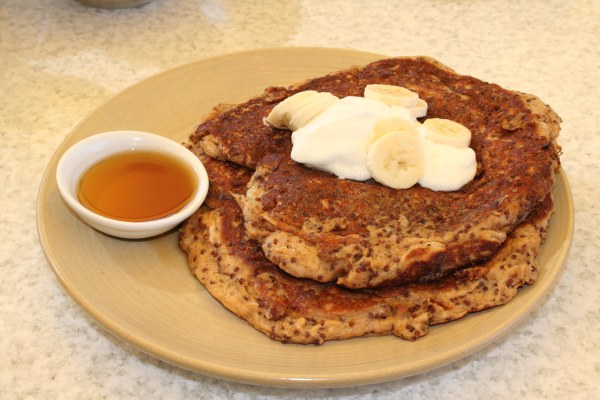 We've been to True Food Kitchen in Fashion Island several times since it opened in 2010. We've enjoyed the Tuscan Kale Salad as well as many other dishes, but never had time to sample the restaurant's brunch menu—until now.
True Food Kitchen is serving up a revamped weekend brunch with new additions to help diners eat healthier—if such a thing is possible for an already healthy restaurant.
Their new items include:
Gluten-free Spice Carrot Muffin with carrots, zucchini, golden raisins and walnuts
Goji Berry Granola with Greek Yogurt, banana, dried blueberries, walnuts and puff brown rice
Whole Grain Hot Cereal with steel cut oats, farro, quinoa, coconut milk and dried fruit
Gluten-free Quinoa Johnny Cake with banana, maple syrup and Greek Yogurt
They also have new cocktails to pair with brunch, including an Acai Pomegranate Mojito with papagayo organic rum, veev liqueur, mint and pomegranate juice, and a concoction called Spontaneous Happiness with ginger and vanilla infused sochu, St. Germain Elderflower and fresh lime. The latter cocktail was crafted in celebration of True Food founder Dr. Andrew Weil's new book, "Spontaneous Happiness."
And for those who want a refreshing drink sans alcohol, True Food now has a Kale-Aid, made with kale, apple, cucumber, celery, lemon, and ginger.
Stasha's been busy rehearsing for her play in Burbank (it opens this weekend), so our faithful (and hungry) editorial assistant, Stephanie, agreed to go along and help sample the new brunch menu.
We arrived at 10:30 on a recent Saturday morning and were seated on the charming outdoor patio. We perused the full brunch menu, which combines lunch items with a handful of breakfast items.
We decided to sample all of the new menu items, so we started by sharing a carrot muffin, which is both gluten-free and vegetarian. This was quickly followed by the Goji Berry Granola, Whole Grain Hot Cereal, and Gluten-Free Quinoa Johnny Cake.
We were impressed with the variety of flavors in both the granola and the cereal, but were dazzled by the Johnny Cake. It was hearty without being overly filling, and the generous serving quickly disappeared from the plate.
Our brunch was accompanied by the Spontaneous Happiness cocktail, which we found to be a little tart yet still fun to sip. The Kale-Aid was refreshing, and Stephanie and I agreed this would make a good "grab-and-go" drink.
"I am so full—but it's a healthy full," laughed Stephanie when our meal ended. "This was my first time here, but I'm definitely coming back!"
PACIFIC COAST WINE FESTIVAL
Screaming Eagle. Chateau Margaux. Chateau Mouton Rothschild.
Those notable names are just a few of the wines being poured at the fifth annual Pacific Coast Wine Festival, which brings the best of Napa Valley and beyond­ to Orange County for a sensational evening filled with world-class wines, enticing, rare auction items and a lavish gourmet feast. The event benefits the Pacific Symphony's artistic and music education programs.
Taking place on Saturday, March 3, at the Island Hotel in Newport Beach, this year's event includes new wines chosen by Advanced Sommelier Jim Houston from Charlie Palmer; a new five-course meal prepared by the Island's chef David Man, and two rare bottles of Screaming Eagle up for auction.
Roaming sommeliers and winemakers assist guests as they explore the different personalities of wines from the newer cult boutiques in California to the old-world wines of Rhone and Burgundy. Live and silent auctions offer some of the world's most coveted wines, as well as luxury items and exclusive dining and destination experiences.
Wines being poured include Chappellet, David Arthur Dragonette, Golden State Wine Co., Hudson Vineyards, Kamen Wines, Lail Vineyards, Miner Family, Patz & Hall, Pride Mountain, Ramey Wine Cellars, Robert Kacher Selections, Rudius Wines, Chateau Montelena, Foley Estates, Layer Cake/Cherry Pie, Paul Hobbs Imports, Pine Ridge, Seghesio and Silver Oak.
Other wineries present are Chateau Ducru Beaucaillou, Chateau Haut-Brion, Chateau Leoville Barton, Chateau Margaux, Chateau Mouton Rothschild, Cos d'Estournel, Screaming Eagle, Three Sticks and Vega-Sicilia.
Notable auction items include a Mikimoto 8x9mm Akoya (pearl) necklace with matching stud earrings, two tickets to the Newport Beach Film Festival's Opening Night Film and Gala, VIP wine tours and tastings and exclusive stays in vineyard guesthouses.
The evening concludes with guests enjoying gourmet chocolates and vintage port.
The evening includes a special solo performance by Pacific Symphony Youth Orchestra cellist Philip Sheegog.
Tickets start at $375 per person. For information on purchasing tables or tickets, please visit www.PacificCoastWineFestival.com for more details.