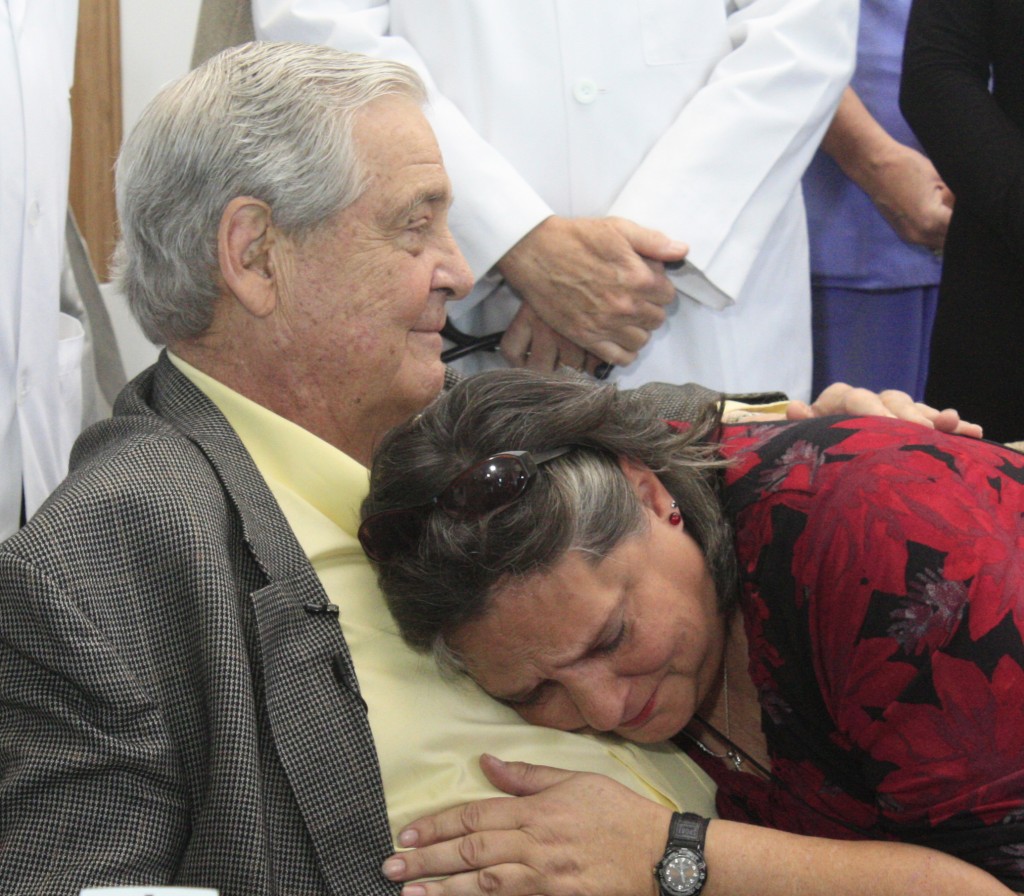 Dusty Atkinson was a biker with a pony tail and the word "Freebird" tattooed on his chest.
Dennis Harwood is a retired Newport Beach attorney who loves to play golf.
Their paths might never have crossed, but fate brought them together 20 years ago when Atkinson died suddenly of a brain aneurysm. His wife, Deborah, agreed to donate his heart to someone needing a transplant.
That someone was Harwood, and it saved his life. In fact, Harwood has defied the odds and survived longer than the original five to 10 year prognosis doctors gave him after his surgery.
For the past two decades, Harwood has wondered about the person whose heart still beats strongly in his chest.
Deborah, now living in Arizona, has wondered about the person who received her late husband's heart.
Last Tuesday, the wondering came to a tearful conclusion when Harwood and Deborah met for the first time in the lobby of Hoag Hospital, where the transplant surgery was performed.
Under the gaze of a host of media cameras and hospital staff – including the two physicians who performed Harwood's heart-transplant surgery – Harwood and Deborah held hands as Harwood thanked Deborah for allowing him to live long enough to enjoy playing with his grandkids.
Harwood then asked Deborah if she wanted to listen to his heart.
"I was going to ask if I could, but I don't want your wife to get mad," said Deborah, eliciting laughter from onlookers.
Deborah then bent down and laid her head on Harwood's chest. She closed her eyes. After a few moments, she slowly sat up.
"I never thought I would hear that again," she said, her voice cracking with emotion. Deborah's son, Nick, who accompanied his mother from Arizona, was a teenager when his father died. He was hesitant at first to put his hand on Harwood's chest, but eventually he also leaned over and listened to Harwood's heart.
Harwood, Deborah and Nick extolled the virtues of becoming an organ donor.
"There's so much that someone can do for someone else," said Deborah. "All it takes is a heart that you're not going to be needing any more. It's overwhelming at the time, but we have the knowledge that someone else benefitted. Of course, we never expected 20 years. It's awesome to know he wasn't ready to go."
Deborah dabbed her eyes with a tissue, then added, "You know, Dusty used to do silly things. One time, he rented a sign on a bus bench near where we lived, and on it he wrote 'I Love You Debbie,' inside a big heart. He was a real sweetheart."
And now, the sweetheart biker with the big heart lives on, in Dennis Harwood.