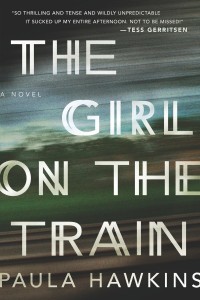 While I enjoy reading across many genres, like most book-lovers I tend to gravitate toward a certain type of novel when I am looking for a new read.
Recently, I've found myself enjoying a lot of historical fiction and family sagas, sprinkled liberally with all the "Percy Jackson" I've been reading with the kids.
As I prepared to select a book to be March's Under Cover Book Club read, I was drawn to a new WWII era novel I knew I would love, yet I also felt it was time to mix it up.
In the interest of choosing a variety of reading experiences, (and figuring you all might appreciate NOT reading about teenage demigods), I decided instead to go a different direction this month. With that thought in mind, while picking up a gift at the bookstore this week, I also picked up a copy of "The Girl on the Train," by Paula Hawkins.
When describing a thriller such as "The Girl on the Train," I can't think of a better adjective than "Hitchcockian," yet that is the exact word that has been tossed around repeatedly when discussing this book.
A master of voyeuristic thrills a la films like the original "Rear Window," Alfred Hitchcock knew how to use an unreliable narrative to keep us on the edge of our seats, and question what was, in fact, the true story.
By all accounts, Hawkins does just that in this, her debut novel. After a 15 year career as a journalist, she decided to turn her pen towards fiction. If her freshman effort is any
indication, that was a very wise decision. In addition to already being a New York Times bestseller, the book is currently in print in seven international editions, and has been optioned by the movie powerhouse, DreamWorks.
The girl on the train is Rachel, a childless divorcee whose husband left her to marry his pregnant mistress. As Rachel takes a commuter train to London every day, she is forced to pass the very house she used to live in, now inhabited by her husband and his new family. In a cruel twist of fate, it is in this precise neighborhood that the train seems to stop each day, and Rachel begins to notice a couple living a few doors down from her old home.
In true people-watching style, Rachel invents a life for the couple. Naming them Jess and Jason, she gives them the type of fairy-tale love story she herself didn't have. As time goes on, she begins to feel as though she knows the "Golden Couple" in real life, and they become an important part of her day, until one morning, she sees Jess kissing a man that isn't Jason.
The following day, Jess – real name, Megan – disappears, and Rachel finds herself caught up in the investigation into her whereabouts. Add in the fact that due to the gin and tonics she has taken to drinking since her marriage dissolved, Rachel has been known to black out, and forget calling and visiting her old neighborhood, and we have the makings of a story ripe with twists that will leave us guessing as to what really happened to Megan, and who exactly was involved in her disappearance.
Also portraying the despondency of a life that turns out not as planned, and the sad realities of alcoholism, "The Girl on the Train" is a page-turner that will surely be a gripping read. I'm certain that while this is the first we have seen from Hawkins, it will surely not be the last.
Edie Crabtree is an avid reader and the mother of three active boys. She can be reached at [email protected].