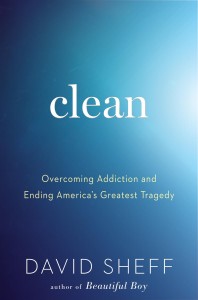 Several years ago, when my then sister-in-law was working for Starbucks, she brought home their featured book of the month: "Beautiful Boy: A Father's Journey Through His Son's Addiction," by David Sheff. Unable to "get into it," she asked me if I'd like to read it first.
While not affected personally by drug addiction, the book had a nice cover, and seemed to be intelligently written, so I decided to give it a go.
From the very first chapter, I was captivated, in the same way one is captivated by a horrible accident you can't look away from. I immediately knew that the reason my sister-in-law didn't have the same visceral reaction to the book as I did was simple–she wasn't a parent.
Reading Sheff's account of his journey through the hell that was his son's addiction left a deep and abiding impression on me. In fact, I believe the book, along with his son's companion memoir, "Tweak," should be required reading for every parent. It was eye opening to read both accounts of the same events, and see how they differed from one another, boldly illustrating the fact that we each carry within us our own set of personal truths that cannot always be determined by logic, or what everyone else deems to be a reasonable response to a given situation.
Sheff has said of reading his son, Nic's book, "His book made me understand more about what he had been through. When he was out there on the streets selling drugs, and using every drug you can name, I'd think, 'How could he be doing this to me? To our family?' But when I read 'Tweak,' I realized he wasn't out there having fun. He was in hell. It allowed me to let go of the anger I'd felt, and keep the compassion we feel when someone we love is ill."
Inspired by his own experiences, and those of the many families who contacted him after reading his book, Sheff, a well-known and successful writer, tabled the project he was working on, and instead went on a five-year educational journey aimed at discovering how to overhaul our addiction treatment approach, and what we can do to prevent addiction from taking hold in the first place.
The result of that journey is his new book, "Clean: Overcoming Addiction and Ending America's Greatest Tragedy."
On Thursday, May 9., from 7:00 to 9:00 p.m., Sheff will be appearing, courtesy of Lido Village Books and the Fix, at the Lido Theater to discuss his findings on this much-needed shake-up of the current status quo.
"Clean" is based on four key principles:
—Addiction is a disease, not a moral failing.
–Addiction is caused by life, and you must fix what is wrong in an addict's life – whether depression, abuse, poverty, etc. – in order to fix his or hers addiction.
–As with any other disease, the best treatments are based on scientific evidence, not on tradition, contrition, or wishful thinking.
–Addiction is not curable, but with the right treatments, almost any addict can live a long, healthy, happy life.
The idea here is that finding the right treatment, out of several available options, is crucial to a successful long-term recovery. While countless individuals have been helped by the nearly exclusively accepted 12-step program, there are many, many more for whom this program has failed. Sheff calls for the acceptance of a variety of other science-based treatment options, allowing each individual to follow the recovery path that works for them.
As a man who literally put himself in the hospital waging war on his son's addiction, Sheff has gained a knowledge base that no one wishes to have, but that we can all benefit from. Based on all the latest psychological, neuro-scientific, and medicinal research, "Clean" is no doubt a must read for addicts and their families. 
More to the point, however, it is a book we should all explore, to help eradicate one of the greatest health crises our nation faces today.