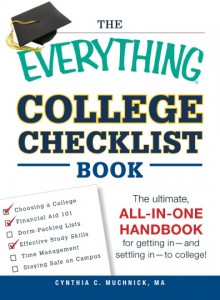 The AP exams are wrapping up, graduation is just around the corner, and you have chosen whose hallowed halls you'll be gracing for the next few years.
At last, a plan is coming together…but now what?
Preparing to enter the world of higher education and quasi-adulthood is no small feat. Once the obvious hurdles have been cleared, all the smaller details start coming toward you at break-neck speed.
Are there scholarships available to you? Which are the best classes to take? How do you write a college level paper? What should you take with you? How will you grocery shop, wash your clothes, and manage not to starve without your mother's help?
The questions, both big and small, can pile up quickly, leaving you to scale a seemingly insurmountable summit of decision-making. Having someone compile the answers to some of these questions would certainly let you breathe a little easier.
Enter "The Everything College Checklist Handbook:  The Ultimate All-in-one Handbook for Getting In – and Settling In – to College" by Cynthia C. Muchnick.
Muchnick, author of  "Straight A Study Skills," former college admissions rep, and educational counselor, has created a priceless volume that will walk you through everything from choosing a major, to managing your personal finances, to which medicines you should have on hand.
And, in a stroke of incredible good fortune, the Newport Beach native will be appearing here, right in our own backyard. On Saturday, May 18, at 12:00 p.m., Muchnick will be visiting the Barnes and Noble at Metro Pointe to both discuss her book and share her wisdom. 
While much of the book is devoted to the process of preparing to leave for college and successfully settling in once you have arrived, it is not simply for those whose college departure is imminent. Muchnick has also covered the process of choosing a school, including space to take notes during college visits, and advice on several factors to consider, in order to ensure you will select the institution that will be the best fit for you.
She recommends regarding your decision as a personal research project – much like an assignment, the experience will yield benefits in direct proportion to the effort you choose to expend. Be willing to consider all factors, not just cost and proximity. Although those will obviously weigh heavy on your decision, you will also want to explore what traditions each campus takes part in, what their reputation is, specific to your course of study, climate, housing options, and any other variables that will help guarantee you a happy and productive college experience.
The Handbook also shares a hearty dose of information designed to help you achieve success once you have arrived and settled in.
Touching on many practical, fist-time-away-from-home topics such as banking, cleaning, and laundry, it also focuses on how to stay on track educationally. The book offers advice on time-management, study skills, research, and paper writing – tips that all students, regardless of age or education level, can stand to review from time to time. 
Additionally, there is an appendix chock-full of Internet resources that are helpful to the college student.
For those students who have all of the above covered, and are ready to take on even more, Muchnick included a chapter that covers finding and applying for summer jobs and internships. Selecting the right internship is crucial, as it will provide you with hands-on experience in your field, allowing you not only a glimpse into your professional future, (and a chance to tweak your goals in case you don't like what you see), but an opportunity to make contacts that can assist you in establishing yourself in the years to come.
Muchnick has truly thought of everything, and this volume should be a must-read for every family with a child poised to leave the nest and strike out on their own new college adventure.
At under $15, it's a bargain – and we all know that where college is concerned, those are hard to come by!
For more information on Muchnick and her array of books aimed at assisting students, please visit www.cynthiamuchnick.com.