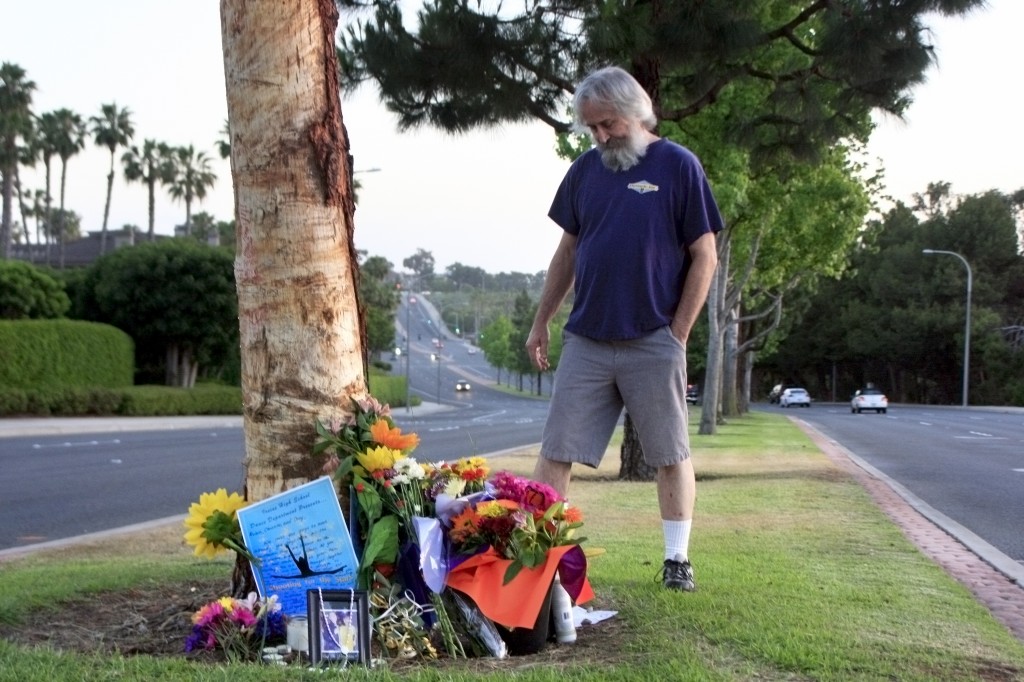 The five teenagers that died in a car crash on Jamboree Road on Monday were identified by authorities Tuesday afternoon.
The coroner's office at the Orange County Sheriff's Department identified the victims as: Abdulrahman M. Alyahyan, 17; Nozad Al Hamawendi, 17; Cecilia D. Zamora, 17; Aurora C. Cabrera, 16; Robin A. Cabrera, 17.
All five were Irvine residents. Alyahyan went to University High School in Irvine, the rest attended Irvine High School, according to a press release from the coroner's office.
Alyahyan and Robin Cabrera were both seniors, Hamawendi and Zamora both juniors and Aurora Cabrera was a sophomore.
Around 5:20 p.m., authorities responded to a major injury, single-vehicle traffic collision on Jamboree Road, between Santa Barbara and Island Lagoon drives, according to Newport Beach Police Department spokeswoman Kathy Lowe.
A 2008 Infiniti was headed south on Jamboree at a high rate of speed and carrying five people, when it lost control and veered off the road, striking a tree in the center divider, according to Lowe. The OC Coroner's Office later identified Alyahyan as the driver.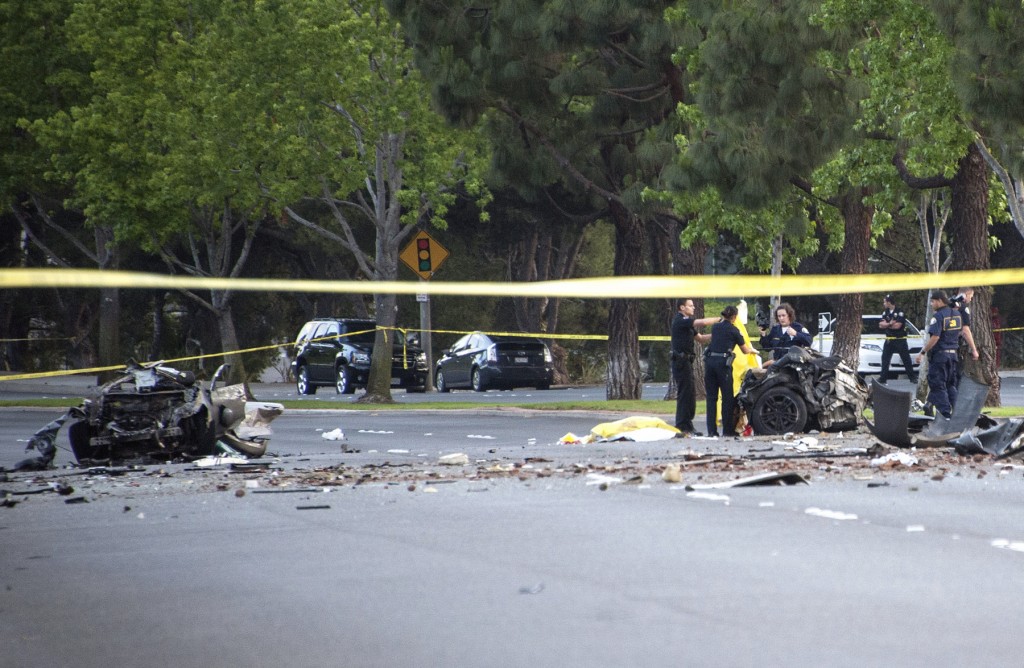 The impact caused the car to split in half and the front engine compartment to catch fire, police explained in a press release on Tuesday.
"Resources were divided between extinguishing the car fire and performing triage on all patients," NB fire department Captain Glenn White wrote in a statement on Monday.
Four of the victims were pronounced dead on the scene. The fifth, identified later by the coroner as Robin Cabrera, was taken to Mission Hospital Regional Medical Center in Mission Viejo, where she died from her injuries less than an hour later, according to a press release from the OC coroner's office.
Gary Fain of Irvine visited the site on Wednesday. His family are good friends with the family of Cecilia Zamora, he explained.
Zamora's mother, Carmen, is a single mother, he said, raising two daughters.
"She's just the best person," he said. "She's an incredible woman."
They were a tight-knit trio, he said, a "beautiful family," he added.
"(Cecilia) was a total sweetheart," Fain said.
Fain's 15-year-old son is a freshman Irvine High School student and was in the same math class as the younger of the Cabrera sisters, Aurora, he said. He described her as being nice and friendly.
"It's devastating," he said, it's rocked the community, he added. "It's horrific."
Irvine Unified School District Superintendent Terry Walker said it is an "unimaginable loss" for the community in a statement on Tuesday.
"There are simply no words to convey the sorrow felt by our students and staff, nor are there sufficient answers to explain the loss of five vibrant teenagers from our schools and this community," Walker said.
The three girls had just danced for the Irvine High School spring dance concert, "Shooting for the Stars." Their teammates left a message for them on a poster for the dance show, saying the girls had bright smiles and brought laughter to the group. Their last memory together was "dancing and having fun," the letter reads.
Framed photos of the teens have also been placed around the tree, along with an array of flowers and candles. Some have signed the tree trunk with messages of love and "rest in paradise."
This tragedy should be used for "teaching other kids that they need to understand when they are operating a motor vehicle, that people's lives are in their hands," Fain said.
"It's a privilege and a huge responsibility," he said.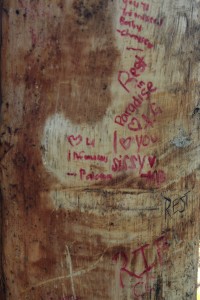 At 17, young men often think their invincible, he commented.
"I know how I was at 17," he said.
And watching movies, like "Fast & Furious 6," they get ideas, he added.
"You have to understand, it's the movies, it's all staged. Nobody lives like that," he said.
Racing around in "souped up" car puts other people's lives in danger, he said.
California DMV Records show that Alyahyan did not have a license. On April 20, he was cited for violating his provisional license driving restrictions, according to Superior Court of Orange County records. At that same time, he was also cited for modifying the exhaust system and a modification that obstructed or reduced the driver's view.
"An inexperienced driver, speeding," coming up over that crest, anything could have happened to cause him to veer off the road, Fain said.
He and his wife brought a small pot of roses to place at the base of the tree.
"We need to, as a society, learn from this that we have to respect the laws and when we get behind the wheel of a car, the deadly force that we have in our hands," he said. "We have to learn that lesson."
The district has been providing additional support to the schools, with counselors, guidance assistants, psychologists and other professional staff, on hand to help.
A memorial ceremony was also held Wednesday night at Irvine High School.
Autopsies were scheduled to be performed on Thursday, said coroner's office spokesman, Jim Amormino. Toxicology could take up to a few weeks to get results, he added, so it is unknown at this time if drugs or alcohol were a factor.
According to an email sent by the Newport Beach Police Department to Newport Beach residents via the Nixle alert system, Jamboree Road was closed between Coast Highway and San Joaquin Hills Road until approximately 2:30 a.m.
The incident is being investigated by the NBPD, anyone with information is asked to contact Traffic Investigator Scott Grecco at (949) 644-3747 or [email protected].