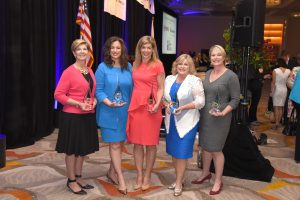 Two Newport Beach business women were among the five honorees at the OCBJ's annual Women in Business Luncheon held May 4 at Hotel Irvine.
The program, in its 22nd year, celebrates the accomplishments of the county's standout businesswomen. A total of 190 individuals were nominated for this year's program.
The ceremony drew a crowd of 800 to the Hotel Irvine, continuing its long-standing tradition of being the largest women's recognition event in Orange County.
The afternoon's festivities were highlighted by a keynote address from former Women in Business winner and Co-President of RAJ Swim and SwimSpot, Lisa Vogel.
The honorees from Newport Beach:
Nella Webster O'Grady, Principal & Owner of Palo Capital in Newport Beach. Nella joined Palo Capital in 2009, after a 30-year career in the corporate world with some high-caliber trust and private banking institutions.
Palo Capital is an employee-owned, SEC-Registered investment advisor providing comprehensive wealth management and investment management services to individuals and institutions. Webster O'Grady's reputation and connections helped grow the firm's assets under management by nearly 800 percent over the past seven years. Webster O'Grady continues to work full-time developing and servicing new and seasoned relationships.
Additionally, she is a fanatical volunteer, having served on the boards of OC United Way, Girl Scouts of Orange County, Chapman University Board of Counselors, Symphony 100 and on the advisory board for WHW, among leadership roles in numerous other charitable organizations.
"This is a humbling experience, receiving this treasured recognition while surrounded by so many women who are also deserving of this honor, "said Webster-O'Grady. "The fact that I am able to combine my passions for business and giving back makes my life very rewarding."
In introducing Webster-O'Grady at the awards ceremony, Cynthia Stamper Graff of Lindora commented, "Everyone who meets her wants her on their board, or on their committee, or to be a strategist for them. And ALL of them want to be in her circle of friends." She added, "Nella is both a talented businesswoman and humanitarian."
In supporting Webster-O'Grady's nomination, Max Gardner, president and CEO of OC United Way, stated simply: "By recognizing Nella with this honor, you will shine a brighter light on a woman that is truly making a difference in our community."
Kimberly C. Sentovich, EVP of Stores & Logistics for Gymboree Inc., of Newport Beach. Sentovich is the EVP of Stores and Logistics for Gymboree Corp. Gymboree is a specialty retailer operating stores selling high-quality apparel and accessories for children under the Gymboree, Gymboree Outlet, Janie and Jack, and Crazy 8 brands, as well as play programs for children under the Gymboree Play and Music brand.
The company has 1,300 stores in the U.S. and Canada. Previously, she was the senior vice president for Walmart's Pacific Division, which includes California, Alaska and Hawaii. She has more than 20 years of experience in retail with expertise in merchandising, purchasing, vendor management, operations and strategic planning. Prior to joining the Walmart team in 2008, she was a regional vice president in the Western Division for The Home Depot, where she was responsible for overseeing stores in Southern California, Alaska and Hawaii.
Additional honorees: Robin Follman-Otta, CEO & COO of RA Industries LLC/Markall Inc., Santa Ana; Lisa Wolter, Executive Director of Susan G. Komen, Orange County in Costa Mesa; Kelly Vlahakis-Hanks, President & CEO of Earth Friendly Products, Cypress.