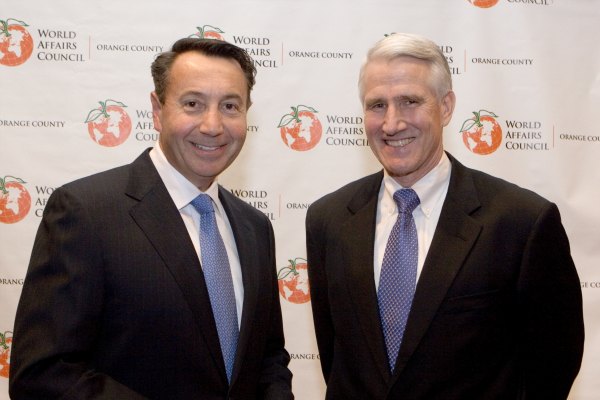 "A Tribute to U.S. Armed Forces" was the theme of the World Affairs Council of Orange County's annual Holiday Gala, which benefitted the Wounded Warrior Project.
The evening event began with the National Anthem and a presentation of colors by the Marine Air Ground Task Force Training Command, and was highlighted by keynote speaker Mark Kimmitt, a retired brigadier general and former assistant secretary of state under President George W. Bush.  Kimmitt appears often on CNN. He addressed the audience on "The Role of the U.S. Military in Achieving Peace in the Middle East."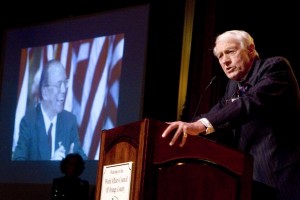 Orange County Chapter Chairman Serge Tomassian welcomed approximately 300 guests, who braved light rains to reach the event. Tomassian called the gala "a huge success consistent with the council's proud tradition and history as Orange County's premier forum on world affairs."
Although unable to attend because of poor health, Tom Fuentes was given the Golden Orange Award for his many years of service through the World Affairs Council.  Newport resident and former council President Jo Ellen Chatham of Southern California Edison accepted the award on Fuentes' behalf.
Sir Eldon Griffith, former chairman of both the OC and national World Affairs Council, delivered his customary "Around the World" report of things to come.
The World Affairs Council is Southern California's preeminent public affairs forum for global issues.  Established in 1967, the local council is part of the largest international affairs organization in the United States.
For more information, visit worldaffairscouncil.org.