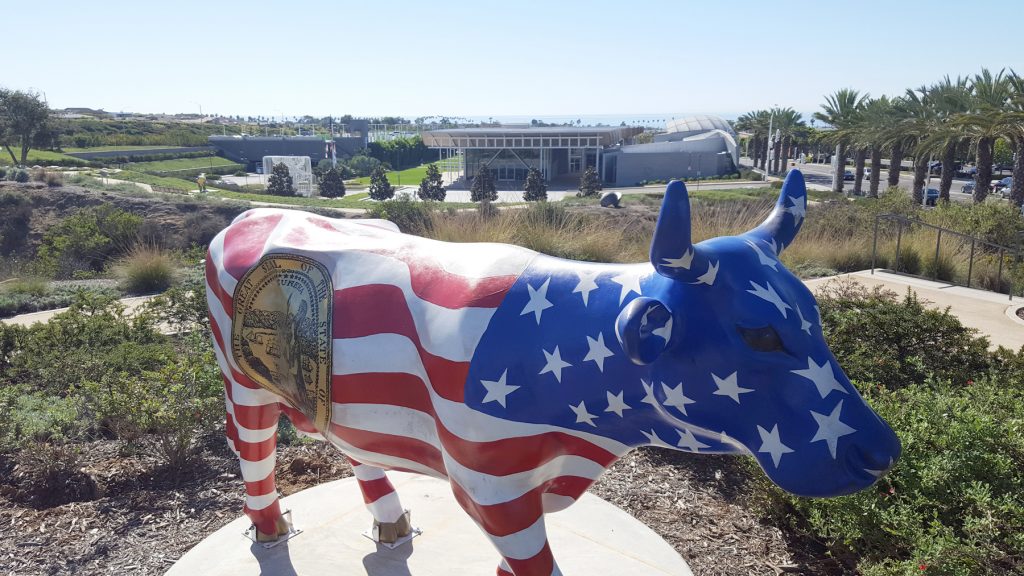 Moo-ve over bunnies! The latest herd to embrace the Civic Center Park's art scene has arrived.
Cows4Camp, an exhibit of 32 cow sculptures, is migrating into Newport Beach. They'll be grazing at three of the libraries (Balboa, Mariners, and Central), OASIS Senior Center, Castaways Park, Marina Park, and the Newport Coast Community Center.
The Civic Center Park will be home to 10 of the cows, while three of them enjoy the sunshine at Backbay View Park. Other locations will host one or two cows.
Last seen in Dana Point, these popular bovine beauties were created by the California Milk Processor Board (the same agency who coined the Got Milk? campaign). Each cow was painted by a California-based artist and reflects images from all over the Golden State.
The pieces are part of a traveling display designed to raise funds and awareness for Camp Ronald McDonald for Good Times, a nonprofit organization that provides fun and exciting overnight camping experiences for children with cancer and their families.
City Arts Commission has big plans for the cows, including an artist reception and official grand opening in January 2017. Various smaller events will be rolled-out over the next six months to promote the exhibits and educate visitors.
Cows4Camp serves as a temporary public art amenity until Phase III of the Sculpture Exhibition at Civic Center Park begins in August 2017, and is expected to draw a herd of art aficionados to different locales in the city.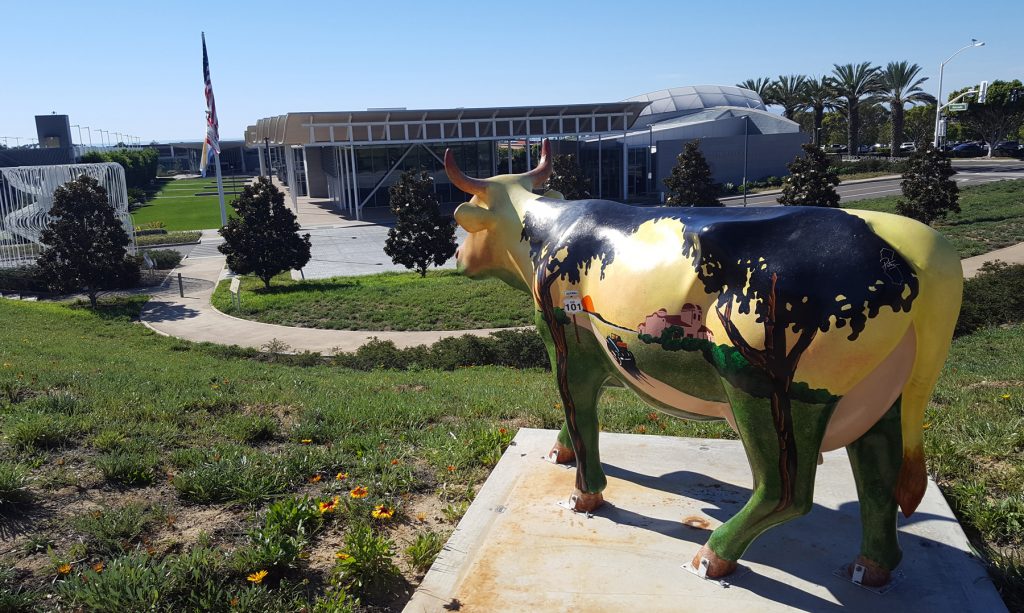 Arts Commission Chairwoman Lynn Selich anticipates a smooth installation of the cows.
"Each one is being installed on pads used by a previous sculpture," she confirmed at the Nov. 10 Commission meeting, referring to the existing concrete pads in Civic Center Park. This not only saves money, but also takes advantage of predetermined sites that are optimized for sculpture.
She also added that not all of the cows will be displayed outside, due to cost, and that the ones who did not find a home in Newport Beach will be viewable online in the near future.
"It's the best solution for the city and for cow connoisseurs everywhere," remarked Tim Hetherton, Library Services Director. The estimated cost of moo-ving, staging, and installing the cows is expected to be around $9,000. Dave Aeppli of Display is handling the installation.
The cows aren't just a flashy attraction – they're also available for individual sale and will be auctioned in June 2017. Proceeds will benefit Camp Ronald McDonald for Good Times and the Newport Beach Arts Foundation. Each cow will be made available for underwriting opportunities as well.
As for the bunnies at Civic Center Park?  Don't worry, they aren't going anywhere. Their new cow friends are only here for six months, and will be de-installed before June 2017. Besides, cows and bunnies are both vegetarians. They're naturally friends and are expected to get along nicely.
For more information, visit newportbeachca.gov/government/departments/library-services/cultural-arts/cows4camp-exhibit.