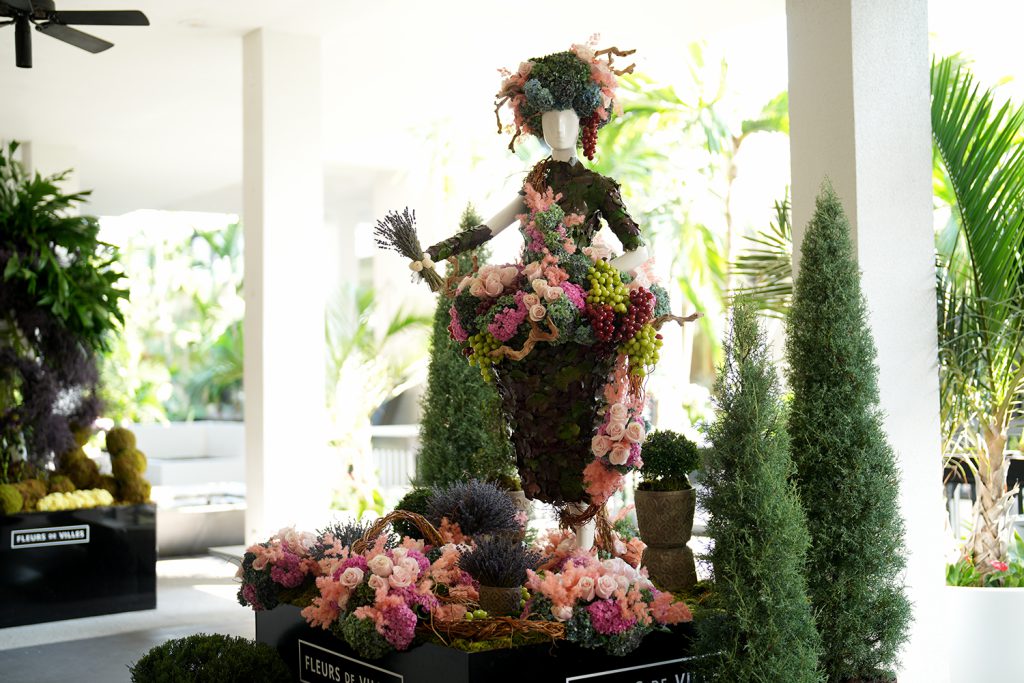 Kyle Cheesborough, the Horticulture Director at Sherman Library & Gardens in Corona del Mar, has a difficult task this month: he's one of the Garden Design judges at the 33rd annual Southern California Spring Garden Show at South Coast Plaza that runs April 19-23.
The Garden Show features 35 unique plant and garden vendors, eight inspiring display gardens, a dramatic 25-foot centerpiece, and this year's stunning Fleurs de Villes Voyage–a unique exhibit showcasing fresh floral installations inspired by stories from around the world.
Cheesborough will be judging "Go with the Flow" landscapes that show sustainable ways of conserving water in the garden. Eight display gardens have been designed by top Southern California landscape and horticulture organizations, who collaborated with South Coast Plaza home boutiques to create one-of-a-kind outdoor living spaces.
Located on Level 1, Crate & Barrel wing, the garden descriptions (courtesy of South Coast Plaza) include:
ENCHANTING FOOT SPAAA: Drift away into the luscious shade of your very own backyard paradise. Meander across a shimmering stone path dotted with native plant treasures peeking out from behind exotic onyx boulders, feeling the calm of the gardens. Created by Robyn's Original Landscapes in collaboration with Crate & Barrel.
GOLDEN ERA COCKTAIL GARDEN: Indulge in this glamorous garden and lift your cocktail as the sun sets. Enjoy the streamlined simplicity of the sustainable plantings while bringing your entertaining outdoors as Frank croons in the background. Sit back as this breezy and inviting garden flies you away to a bygone era of endless blue skies and mid-century chic, with a modern twist. Created by Mount San Antonio College Horticulture in collaboration with CB2.
ESSENCE OF THE FLAME: You are invited to an afternoon fete in a garden along the French countryside where love of cooking and the beauty of nature magically come together. An outdoor kitchen is where the magic happens as vegetables, fresh herbs, and freshly baked bread kiss the fire and bathe in the spirit of the smoke. Savor in a slow flame pit cooked meal where hidden flavors are discovered amongst aromas of lavender, sage, rosemary and citrus. Created by Backstage-A-Fare in collaboration with Williams Sonoma and Pottery Barn.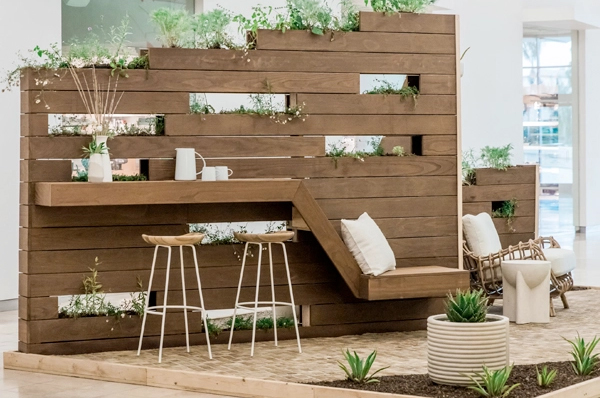 THE HIDEAWAY GARDEN: Seek refuge in the dappled shade of this indoor-outdoor oasis and give your senses over to the song of crackling fire, the whistle of the wind and the quiet bubbling of water. Your mind is at ease; you've transcended into a state of Zen. You savor the comforts of a good meal and conversation as you enjoy the warmth of the firepit and dappled shade from a modern patio cover. Created by RMT Design & Builders in collaboration with West Elm.
OUTSIDE THE LINES: Textural tiles under your feet give way to transition in between surfaces. Colorful materials liven up neutral hardscapes, and the movement of sexy, unique softscapes calm the hard lines framing the gathering space. Relax and delight in the uniqueness of the design while enjoying a refreshing beverage. Created by Tulip Landcare in collaboration with West Elm.
MODERN NATURE ESCAPE: The structure, made to mimic a re-purposed shipping container, provides a contemporary touch, while native California plants create harmony with the environment. The garden is eco-friendly, requiring minimal maintenance and watering. The living space is functional and comfortable, with ample natural light and air circulation. The rooftop doubles as a lounge area. Created by Vega Landscape in collaboration with Mitchell Gold + Bob Williams.
TRANQUIL GARDEN DREAMS: Relax as you enjoy this soothing California-friendly contemporary garden. Enjoy comfortable seating and sunshine as you listen to the soft sounds of water gently flowing from the modern fountain, adding a sense of smooth motion and tranquility. Head down the path and step into the shade of a pergola designed to capture rainwater. Vibrant and colorful low water plants add to the fun, while muted color stones and pavers pick up the hues of the surrounding furniture. Created by Perfect Circle Gardens in collaboration with Crate & Barrel.
A LITTLE PIECE OF CHANGE: Lovingly tend to your herb garden then take a breather in the charming garden shed. Sink into the comfy sofa while enjoying the sweet aroma of garden scents. Listen to the rain, watch the water run down rain chains and collect in a barrel that will later be used to water the garden. Stroll down the cobblestone path surrounded with colorful succulents and lose yourself in a book under the shade of the grand old tree. Created by Lisbeth Castaneda Design in collaboration with Pottery Barn Teen.
Another focal point of the Garden Show: three dozen unique vendors offering exotic plants and flowers. Located on Levels 2 and 3 of the Crate & Barrel wing, the vendors will offer an incredible array of unusual, uncommon and/or highly desirable perennials, carnivorous, unique flowering and/or structural shrubs, alpines, air plants, and numerous orchid species and hybrids. Also for sale are books about California native plants, Bonsai trees, landscape paintings, hanging baskets, pots, wreaths, garlands, and a host of accessories.
And if that's not enough, take a tour of the South Coast Plaza palm collection with an expert from Sherman Library & Gardens.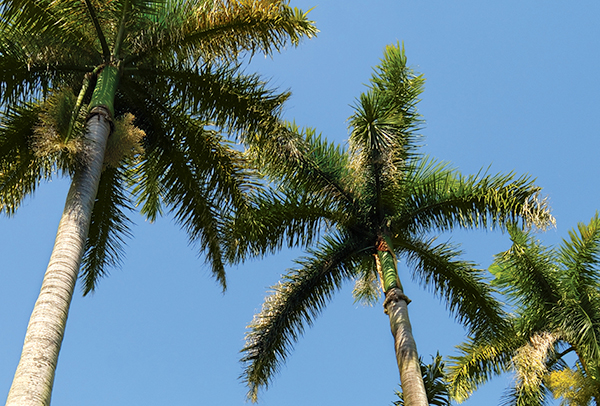 The core of the collection comes from the estate of Dr. A.J. Vance, who began collecting exotic palms in the late 1940s at his canyon estate located off Sunset Boulevard in Los Angeles. The collection was recognized for both its size and diversity of plantings.
After Dr. Vance's death in the early 1980s, South Coast Plaza acquired the collection and transplanted it in 1986 to its present location on Bear Street. With the help of palm aficionado Ralph Velez and the International Palm Society, South Coast Plaza continues to add unique specimens to its collection with varieties from all over the world. Particularly noteworthy are the large Cuban Royal Palms (Roystonea regia), a large cluster of Slender Lady Palms (Rhapis humilis) from Southern China and the Hawaiian Loulu Palm (Pritchardia hillebrandii). All palms are labeled with their common name and botanical name and most have their country of origin.
Sherman Library & Gardens will be hosting two guided palm tours. Carol Younger, Senior Horticulturist, will be conducting tours of the Palm Collection on Thursday, April 20 at 10 a.m., and Sunday, April 23 at 11 a.m. The meeting area is on Level 1, Macy's Home Store wing, near Hammitt and Tableau Kitchen and Bar at the Garden Show information desk.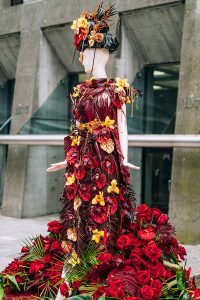 The pièce de resistance of the Garden Show is Fleurs de Villes VOYAGE, which features more than 15 fresh floral mannequins and spectacular installations throughout South Coast Plaza, with an additional mannequin at Sherman Library and Gardens in Corona del Mar.
The displays will celebrate the cultures, people and heritage of global destinations, created by some of some of Southern California's favorite florists. The floral artists will take inspiration from Mexico, China, Paris and Italy—locales creatively interpreted in floral designs.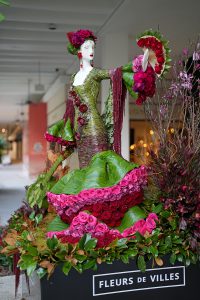 The goal of Fleurs de Villes VOYAGE is to deliver a feast of cultural storytelling that will connect the world through flowers.
In addition to the Fleurs de Villes' signature floral mannequins, there will be stunning storefront installations on display at Canada Goose, REISS and Mikimoto. You can also snap a selfie by a beautiful "flower-bombed" Aston Martin. Shop for fresh blooms at the pop-up weekend flower market, watch floral demos, and vote for your favorite mannequin for a chance to win a luxurious staycation at the Ritz-Carlton Laguna Niguel.
Southern California Spring Garden Show is at 3333 Bear St. in Costa Mesa. Complimentary admission and parking. Visit www.southcoastplaza.com/gardenshow for more information.