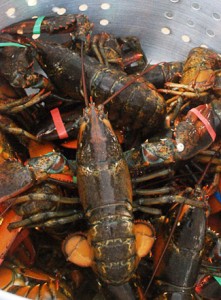 Hundreds of Maine lobsters will be flown in to Newport Beach on Sunday, August 10 as the star attractions for the 6th Annual Lobsterfest, held at Newport Dunes Waterfront Resort & Marina from 3 to 8 p.m.
More than 700 people are expected to attend this annual celebration of summer, which centers around a lobster dinner with dancing to live music, opportunity drawings, prizes, and fun on the beach for the entire family.
Maine lobster flown in fresh on the morning of the event will be prepared on-site alongside a buffet that includes tri-tip, corn on the cob, salads and dessert.
Live entertainment will be provided by Instant Replay, a high-energy band, while activities for kids will be facilitated by Camp James.
Tickets for Lobsterfest are $55 per person in advance, $75 at the door. Additional lobster may be purchased for $20 each. A special meal for children under 12 is available for $20 in advance and $25 at the door.
VIP tickets, which include all-you-can-eat lobster, complimentary wine, valet parking and reserved seating, are $150 in advance. Tickets can be purchased online at lobsterfestatnewportbeach.com.
A portion of the proceeds from the event will benefit Make-A-Wish Orange County and Inland Empire, Leadership Tomorrow, and New Directions for Women.
"We instituted this event as a fundraiser," said Lobsterfest Chairman Tim Brown. "It started with the Newport Beach Sunrise Rotary, but it takes a lot of work to make something like this happen and they wanted something less labor intensive."
Brown has been involved with Leadership Tomorrow, and talked to their board about taking over the event as a fundraiser for their organization. Eventually, Lobsterfest formed its own nonprofit organization, and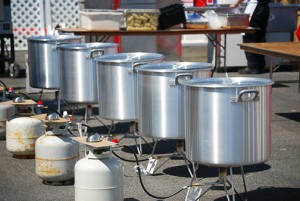 added Make-A-Wish and New Directions for Women as beneficiaries.
"We think it is a signature event for Newport Beach," said Brown. "The Dunes Waterfront Resort has been huge in making this event successful. They provide drinks, we bring in lobsters, and we have special cooks. It's an interesting process, because the lobsters have to be cooked just right. It's a real trade in itself. We visited four or five lobster festivals in Southern California with a mission to find cooks."
They did indeed find a family of lobster specialists. Lobsterfest bought special pots and cooking apparatus to ensure the lobsters would be cooked to perfection.
Brown expects attendance to be up from last year, which means they'll be serving more lobster than in past years.
"We order lobster by the pound," explained Brown. "We order lobsters that range from a pound to a pound and a half. When we're calculating, we figure 2.5 pounds per person for the all-you-can-eat, and 1.5 pounds per person for the other."