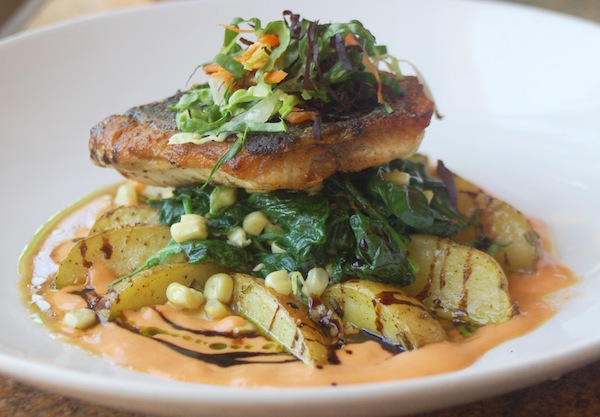 "Ever been to lunch in the Mediterranean?" I asked my assistant, Catherine.
"Chris, you know I've been to lunch – and dinner – in Italy many times. Remember I told you about the semester I spent in Florence?"
"Then you'll love our lunchtime destination."
"We're dining at an Italian restaurant?"
"Not exactly," I said slyly. "I'm going to transport you back to Italy for an afternoon of fine food and unmatched ambiance. By the time we're done, you'll swear you just had a marvelous Mediterranean mini-vacation without leaving Newport Beach."
"Sounds perfect, but you still haven't told me where we're going."
"Only one place in Newport Beach offers that experience: The Resort at Pelican Hill. We've been invited to sample the menu and learn about their fall epicurean experiences. Having dined there in the past, I can tell you we're in for a real treat–and that's an understatement!"
I explained to Catherine that Pelican Hill was named the No. 1 U.S. Resort by Conde Naste Traveler, and has numerous other accolades to its credit. The property includes more than 300 villas and bungalows, a five-star spa, a Tom Fazio-designed golf course, an iconic circular pool, and several sensational restaurants, including Coliseum Pool & Grill, our lunch destination.
Because Catherine had never been to Pelican Hill, we took a brief tour before we settled in for lunch.
"You're right–I do feel like I'm in another world," she stated as we explored the exquisitely-appointed villas and took in the sweeping vistas of the 500 acre property.
Once seated at a table overlooking the pool and golf course, we perused the menu but stopped when Coliseum Chef Marc Osier came to the table. He wanted us to sample several items he felt reflected the culinary spirit and philosophy of Pelican Hill, which sources much of its fresh produce from The Irvine Ranch.
Within minutes, we were digging into a Roasted Salmon Salad with Irvine Ranch Avocados, an Heirloom Tomato Salad, Blackened Ahi Salad with Stone Fruit and Burrata Cheese, Pan Seared Barramundi with Sauteed Spinach and Irvine Ranch Sweet Corn, and (at my request) Thai Fettuccini Pasta with Angus Beef, Shiitake Mushrooms and Curry Sauce.
"The fruits and vegetables are all fresh and flavorful," noted Catherine as she sampled the salads. "You can tell they took great care in selecting only the best quality for their dishes. I've never seen such large juicy slices of tomato. I can only imagine what they must have looked like whole."
"And the presentation on these dishes is perfect," I added. "I almost hate to eat them–but I will."
"I used the showcase ingredients as the main elements of the salad," said Chef Osier when I asked him about the dishes. "I take away the lettuce as filler and get to the heart of the good stuff."
"I like that!" I stated. "But I'm curious–how many of these dishes can carry over into fall?"
"We're lucky here because of the weather," he explained. "The heirloom tomatoes and the avocados can go through November, and we can get strawberries in January. This means I can be playful with food and bend the rules of what traditional seasonal items are."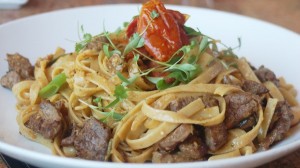 "This Blackened Ahi Salad is probably the best I've ever had," Catherine told him. "I love the spice you added to the herbs crusted on the edges of the fish. I also enjoy the curry sauce kick in the Thai Fettuccine Pasta. The bite sized portions of beef give the pasta extra dimension and textures."
"Well said," I mumbled as I shoveled another fork full of fettuccini into my mouth.
After devouring the entrees, it was time for dessert: house-made Gelato, and Chocolate Toffee Layer Cake in a Butterscotch Sauce.
"This brings me back to the days when I would stroll into the local gelato shop on my way home from class in Florence," mused Catherine.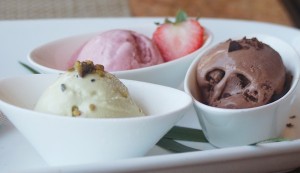 "Me too," I joked. "How's the Toffee Cake?"
"I'm not usually a chocolate dessert fan, but I love how they incorporated the toffee and butterscotch. It gives what would be an ordinary but good chocolate cake a lot more dimension. I love it."
"So, what did you think of your afternoon in Paradise," I asked Catherine as we left the restaurant.
"Are you kidding? I could live here."
"Well, at least we live nearby, so we can come here as often as we want. Don't forget we're coming back for Festa dell'Autunno weekend November 2 through 4, The Resort's celebration of the harvest season with live entertainment, Italian cuisine, and their annual olive oil pressing sourced from The Resort's own olive trees."
"Can I just stay here until Festa?" asked Catherine with a grin.
Other epicurean events at Pelican Hill this fall include a Family Pumpkin Harvest (Oct. 27 and 28) which includes a cooking class and pumpkin decorating; Olive Oil Savor Tasting Menus (November); and the Pelican Hill Culinary Academy (November – December), a cooking course held inside one of The Resorts luxurious villas. For reservations and more information, call (800) 820-6800 or visit pelicanhill.com.