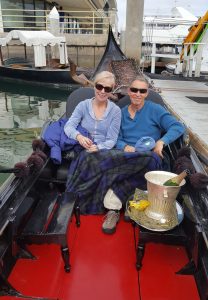 Want an unusual way to cruise Newport Harbor this summer? How about a unique romantic date? Whatever the occasion, one of the best ways to get out on the water is to do it in a gondola.
My favorite lady and I recently toured the harbor for her birthday courtesy of Gondola Adventures, and experienced the bay with an Italian flair, as our gondolier, Greg Mohr, serenaded us with Italian opera and even Nat King Cole.
Mohr has been a gondolier with Gondola Adventures since 1993 and loves his job. He was trained in Venice, Italy, and is the president of the Gondola Society of America
"I have seen it al!" laughed Mohr. "Birthdays, anniversaries, lots of proposals and even a few 'I'm sorries!' This is a very hands-on business and we take it very personally."
Newport Beach is the flagship location for Gondola Adventures; they have other locations in Lake Las Vegas, Nevada and Irving, Texas.
"We have ten boats here," Mohr said, "and half of them are straight from Venice, the mecca of gondola manufacturing."
They also have five that are motorized.
The gondolas are 36 feet long and can carry up to six people, but can be roped to other gondolas to form a flotilla. They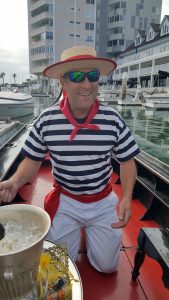 are also customized to the gondolier, since it can be adjusted to the weight of the rower as well as the heights of the bridges they float under.
Speaking of bridges, there are some long-standing traditions with gondolas. One is that the passengers are encouraged to kiss when the gondolas go under the bridges. We were also reminded to be friendly and greet passersby with a hearty "Bueno Cierra," which means "good day."
The third tradition was strictly as an observer, as Mohr serenaded us with many songs during the one-hour voyage. Most were operatic, in Italian, but he brought out some old standards, as well.
"I have a repertoire of about 20 songs," Mohr offered, "and I usually sing about five to seven." I can verify his amazing voice is wonderful to hear along the tranquil water. His background prior to becoming a gondolier was as a radio show disc jockey- in Alaska.
Gondola Adventure's cruises include heated blankets and chocolates. Wine or champagne can be added, but riders are allowed to bring their own libations.
Packages range from $135 on up. The gondolas are available year round and can even be rented to participate in the Christmas Boat Parade, so get your reservations in early.
For more information, visit newportbeach.gondola.com or call (949) 646-2067.