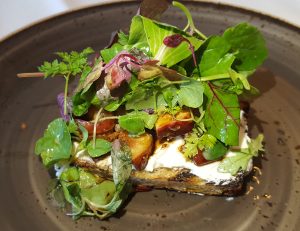 "The Sound of Music" is one of those iconic musicals that's as popular now as it was when it first opened on Broadway in November of 1959. The last musical penned by Rodgers and Hammerstein, the show starred Mary Martin and won five Tony Awards, including Best Musical.
"The Sound of Music" was adapted into a 1965 film musical starring Julie Andrews, who may always be identified with her role of the nun-turned governess. Last year, she was saluted at the Academy Awards on the 50th anniversary of the movie by Lady Gaga, who performed a dazzling medley of "Sound of Music" songs that moved Andrews to tears.
Now, a new touring production of "The Sound of Music" directed by Broadway veteran Jack O'Brien, has arrived at Segerstrom Center through July 31.
Of course, that means that Chef Ross Pangilinan at Leatherby's Café Rouge has created another one of his famous themed menus to match "The Sound of Music" story and songs.
As always, Chef Ross offers a choice of two starters, two entrees and two desserts. Because Catherine Del Casale, my Off the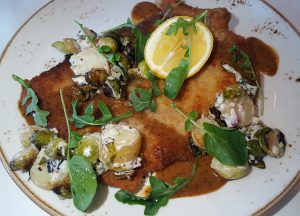 Menu co-writer, was ill that night, I attended solo and chose the more adventurous dishes for my dinner.
I started with "The Lonely Goatherd" dish of grilled country bread piled with local goat cheese, figs, warm honey comb, and petit greens. The dish itself is pretty and compact, with a lot of flavor components that blend perfectly (and the dish matches the theme of the song from which it gets its name).
For my entrée, I selected the "Do-Re-Mi" pork chop schnitzel with warm potato and Brussel sprout salad on top, along with crème fraiche mustard dressing. The pork chop was pounded thin, breaded, and cooked perfectly. The salad added extra layers of flavor to the schnitzel, especially when all combined into one forkful.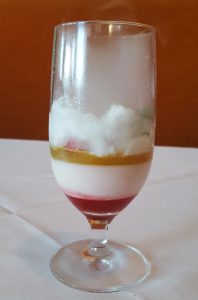 The dessert of "Edelweiss" was unique: St. Germain and lychee verrine, fruit gelee, fresh berries, and coulis, with a Chef Ross treat: liquid nitrogen, which means the dessert is served with smoke emanating from it. Each spoonful of this delightful concoction brought different flavors to the palate.
The themed menu is $47 per person; wine paring are available for an additional $21.
After dinner, it was time to stroll next door for "The Sound of Music."
Most people are familiar with the music, from the title song to "Do-Re-Mi," "My Favorite Things," "Climb Every Mountain," and others, but it's was nice to experience them within the context of the play, which takes place in Austria in 1938 on the eve of Austria being annexed into Nazi Germany.
The musical tells the story of Maria, whose desire to become a nun takes a detour when she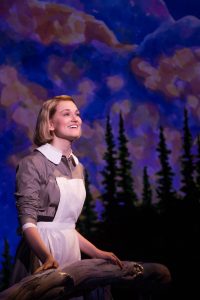 takes a job as governess to a large family. She falls in love with the children, and eventually their widowed father, Captain von Trapp, who opposes the Nazis and devises a plan to flee Austria with Maria and the children.
This enjoyable musical combines fluff with gritty historic realism, which adds a growing underlying tension as the play progresses. There are countless cute moments (mostly thanks to the seven delightful child performers who portray the von Trapp children), and a handful of dramatic one. Add some terrific voices, endearing performances and nice staging, and you have the makings of a nostalgic and entertaining evening.
The night I saw "The Sound of Music" there appeared to be many children in attendance. While elements of this show are indeed perfect for kids, the show's nearly three-hour run time might be too much for younger children.
For more information on Leatherby's Café Rouge, visit PatinaGroup.com.
For information on "The Sound of Music," visit SCFTA.org.