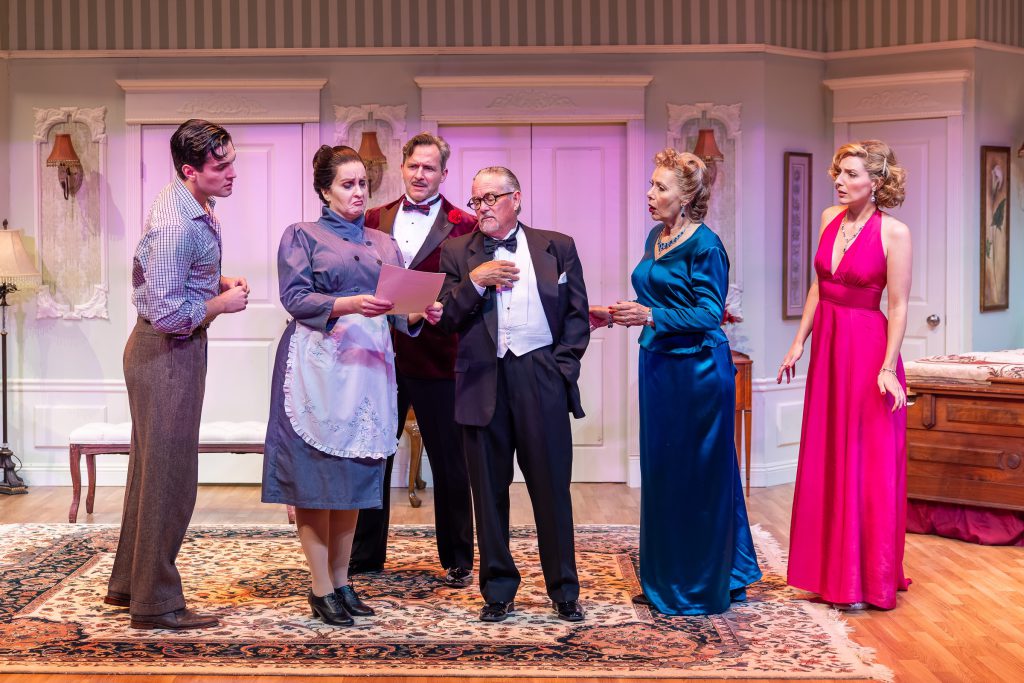 By Eric Marchese | Special to the NB Indy
World premieres are noteworthy events. It's likely, though, that you've never heard of a "world premiere transfer production" such as Laguna Playhouse's current production of "The Angel Next Door."
Paul Slade Smith's comedy requires, and receives, extensive set-up before a well-worth-the-wait payoff. Before providing the details, though, let's hear about the show's history.
The source material is "Play at the Castle," a 1924 comedy by Hungarian playwright Ferenc Molnár (you probably know him from his 1909 drama "Liliom," the basis for Rodgers and Hammerstein's musical "Carousel").
P.G. Wodehouse's 1926 English language translation and adaptation of "Play" was retitled "The Play's the Thing," and in 1984, Tom Stoppard created another new adaptation, "Rough Crossing." These two shows, Smith's new version and the original all depict a seemingly doomed romance, and efforts to save it.
North Coast Repertory Theatre had hits in 2015 and 2020 penned by Smith, so the company's artistic director, David Ellenstein, commissioned him to create an all-new version of Molnár's play. Directed by Ellenstein, "The Angel Next Door" got its world premiere in September at NCRT in Solana Beach.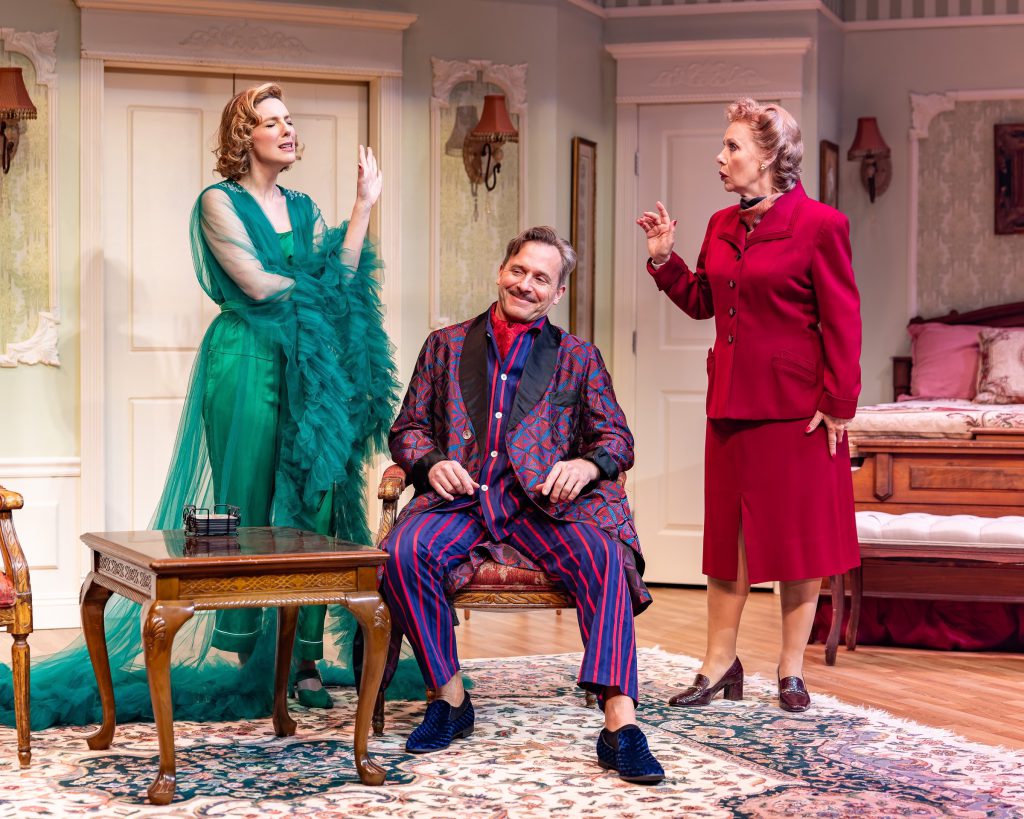 Ellenstein and managing director Bill Kerwin now also run Laguna Playhouse, so the entire production – same cast, director and technical and design teams – has now transferred to Orange County.
The opening scene lays the groundwork and establishes broader themes first created nearly a century ago: 18 months back, up-and-coming novelist Oliver Adams (Taubert Nadalini) and Broadway star Margo Bell (Elinor Gunn) met at a party by husband-wife playwrights Charlotte and Arthur Sanders (Barbara E. Robertson and James Newcomb).
For Oliver, love at first sight inspired his first novel, in which he rhapsodizes about Margo, who he calls "the angel next door."
Immortal love? Not so fast. As we soon learn, the pair's only contact since then has been in letters they've written back and forth. Margo is fond of Oliver, but not madly in love.
How these disparate approaches to the same relationship will play out is at the core of "Angel Next Door," with all the elements colliding in a luxurious suite at an opulent Newport, Rhode Island mansion.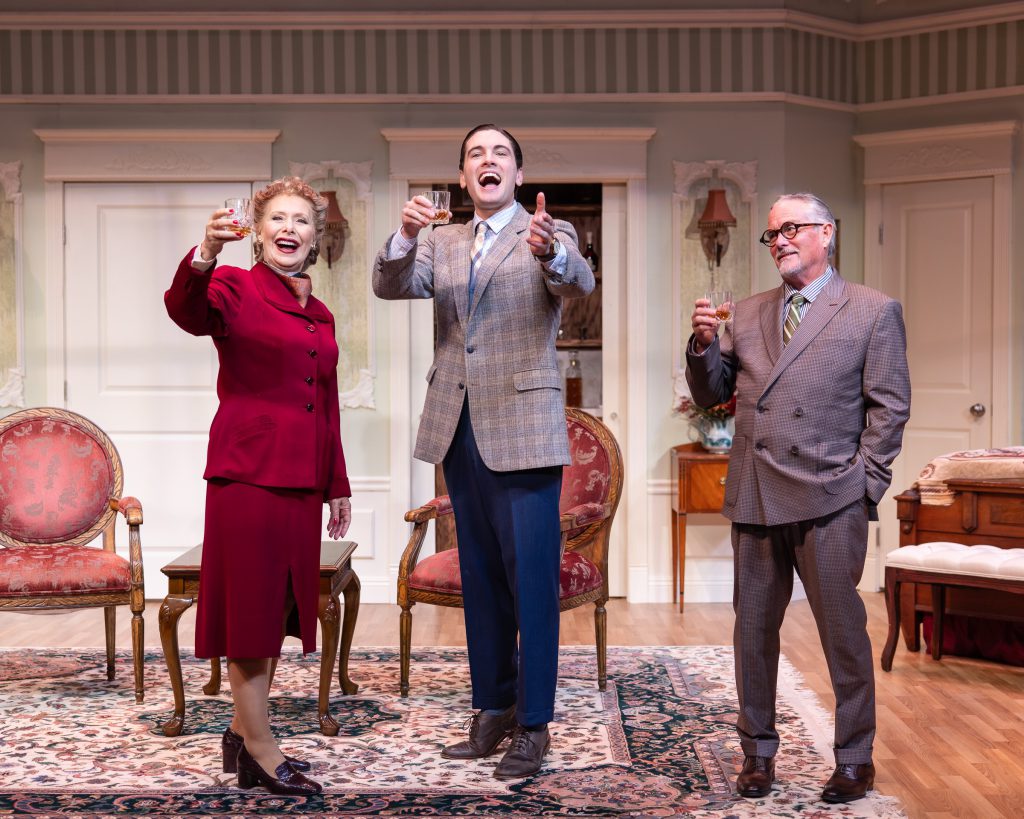 Arthur and Charlotte have a room next door to Margo's, and through paper-thin walls they and Oliver hear a late-night encounter between Margo and Victor Pratt (Thomas Edward Daugherty), an obnoxious actor known as a Casanova.
Smith's script skillfully teases us here, using suggestive dialogue to obscure the nature of their tryst. Regardless, Oliver is, predictably, devastated – so distraught he wants to shred the manuscript of his novel and tear up a lucrative publishing contract.
Charlotte and Arthur have a vested interest in the novel's success, with their future resting on adapting it into a play. Their only hope is to try to somehow "undo" or "rewrite" the preceding night's events and convince Oliver that Margo loves him.
Stories like this revolve around arguably the most delicate and potentially painful feelings anyone can experience – and their often-mismatched expectations and they can still work as comedy. Just don't expect a laugh a minute.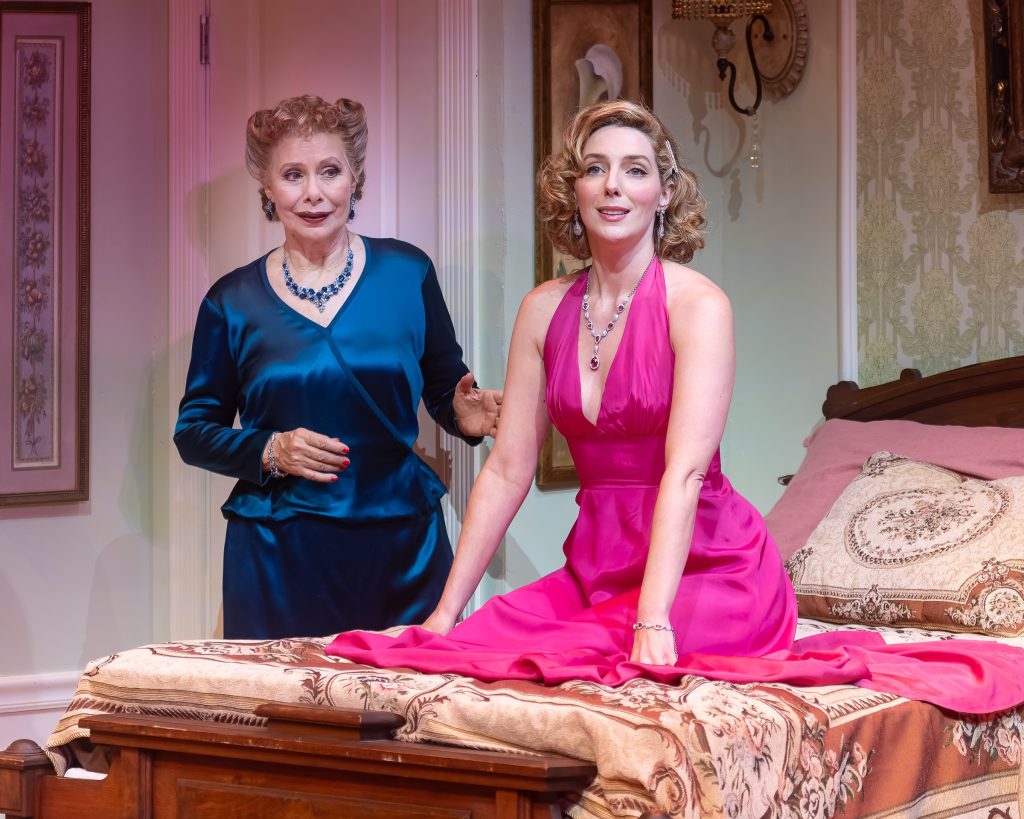 Despite being set in the 1940s, "The Angel Next Door" still hews closely to its source decade of the '20s (read: viewers, be patient). The first and much of the second act methodically set up the climactic scene whose enjoyable metatheatrics deliver a great pay-off.
With just a handful of sparkling, genuinely funny one-liners, the script relies on its careful design. Smith, in effect, uses by-the-numbers plotting to goose what is a seemingly tame, albeit often titillating, drawing-room comedy rescued by the ingenious play-within-a-play device of the socko conclusion.
Laguna Playhouse's transferred production pulls us all the way through to the layered, brilliantly inventive climax, with Ellenstein's direction imposing a snappy but not unduly frantic pace and his cast members bringing life to their plot-dependent characters.
Newcomb and Robertson are a study in contrasts: Newcomb is a comically manic Arthur, scoring by painting him as a clueless observer of human nature whose blithe commentary underscores his hilarious oblivion, while Robertson's nimble-minded, more level-headed Charlotte is constantly churning up solutions to the couple's dilemma.
Nadalini's Oliver catapults from ecstatic romantic bliss to almost catatonic despair. For those planning to see the show, we won't reveal where he winds up.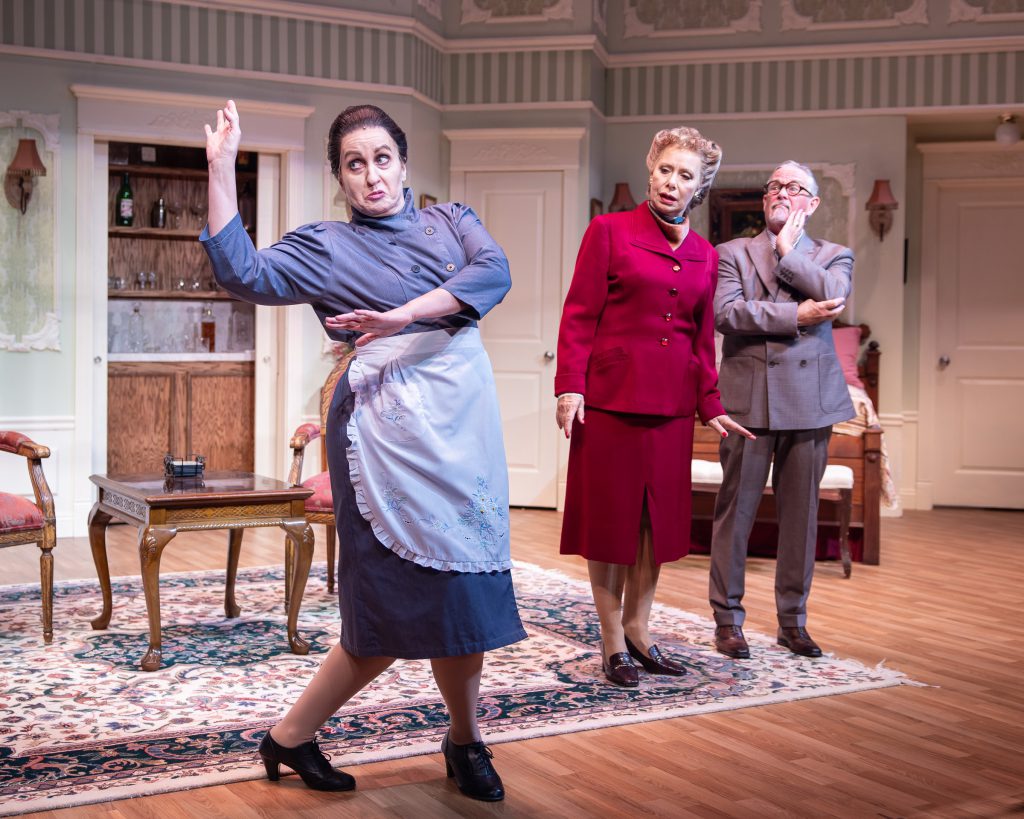 Tall, slender, blonde Gunn adds just enough heft to Margo's personality to keep us from harshly judging her as simply a frivolous ingenue. Daugherty aptly plays aging bedroom hopper Victor for laughs, steering him, in the play's latter scenes, toward comically unbridled hamminess.
Erin Noel Grennan shines in the role of dour housemaid Olga. The character's non-show business vantage point allows the play to comment on the lives and habits of "theater people." At first staunchly disdainful of the new houseguests, Olga is gradually drawn into Charlotte's new play, proving, to our delight, an insightful armchair critic.
Brightly lit by Matthew Novotny, Laguna's staging is eye-appealing thanks to Marty Burnett's scenic design of the gorgeously lavish guest room and Elisa Benzoni's appealing costumes, which expertly hew to solids (emerald green, lavender, chartreuse, gray, taupe).
The married playwright Sanderses are consummate theater people, constantly visualizing the guest room as the set of a stage production.
In fact, the couple often refer to and allude to us, the audience, breaking the fourth wall in the process. The device invites us in and makes us part of "The Angel Next Door," and that encourages us to see the story through to its immensely satisfying finale.
Laguna Playhouse, 606 Laguna Canyon Road, Laguna Beach. Through November 5. Running time: Two hours (including intermission). 7:30 p.m. Wed.-Fri., 2 and 7:30 p.m. Sat., 1 and 5:30 p.m. Sun. Tickets: $45-$84. Ticket purchase/information: 949-497-2787, lagunaplayhouse.com