On a trip to Avalon last year, while in town to pick up some groceries, I happened to stop in to the tiny Avalon Hospital Auxiliary "Unloved Gift Shop" that raises funds for the Catalina Island Medical Center, to peruse the used books for sale there.
I usually find a good novel or two to read while there, and donate them back when I am done. On this trip however, I found a little gem that is staying on my bookshelf in perpetuity.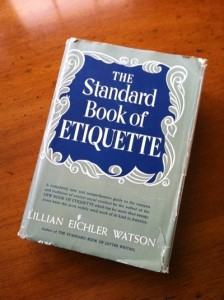 As I scanned the book cart that sits outside the shop, out of the corner of my eye, almost hidden at the base of the cart, I caught sight of a book that looked quite old, its faded, green dust jacket a little worse for the wear but overall in good shape.
I picked up "The Standard Book of Etiquette" by Lillian Eichler Watson, which was copyrighted in 1948 – an oldie but goodie, and like finding a buried treasure, as I pulled it from its hiding place I had a smile like a kid in a candy store. I knew I had to have it.
As I gingerly opened the cover and flipped through its yellowed pages, I was startled to note that much of what I was reading, even 64 years later, was still relevant.
In her preface, Watson wrote, "Many far-reaching changes have taken place in the world since I wrote the original Book of Etiquette. It is, in fact, an entirely different world in which we now live, and not the least of this difference is expressed in the behavior patterns of our everyday lives. For the events of the past few years have made such a tremendous impact upon our whole way of life that they have radically influenced our social and moral concepts."
Considering her first book of etiquette was written in 1921, it's fascinating to imagine how much the world changed in those 27 years. The first "talkie" movie was shown, first radio broadcast aired, first transatlantic flight, the Stock Market crashed, frozen vegetables were invented, the New Deal was implemented, prohibition started and ended, Pearl Harbor was attacked and the first atomic bomb was dropped.
I bought the book for $4 and placed it gently in my backpack. Little did I know that it would soon be a major inspiration as I was developing my new website.
"Much of what was once considered proper is now looked upon as stuffy and old-fashioned. Much of what was once good form and good practice is now clearly outmoded," wrote Watson. "Just as yesterday's standard of living would fail to meet our requirements today, so yesterday's standards of correct social behavior will not meet the demands of today's busy existence."
Wow, she could have written that on her iPad while watching a flat-screen TV, monitoring her smart phone texts and posting it on her Facebook page to boot just yesterday, the concept remains so relevant.
After I got home, I set the book aside and went back to work on my website, OCSocialScene.com, searching for a page concept to tie in to the society coverage that would be the main focus of the site. I glanced over at the book and it hit me: even in today's world, manners matter. They always will. Times may change, and even though it seems like the world is becoming less and less civilized, defining a code of social behavior made up of the best of the past and best of the present will always remain.
Finding a dusty etiquette book from the '40s: $4.
Finding creative inspiration from the past: priceless.
Thus, I created a "Manners Matter" page on the site, which, thanks in part to my wonderful contributing writers Shelly Volner and Deidre Michalski, is among the two most visited pages on the site since we launched in March.
I know they call it the "Unloved Gift Shop," but from now on I am going to think of it as the "Buried Treasure Shop."
Columnist Lynn Selich is thefFounder and editor in chief of OCSocialScene.com. She can be reached at [email protected].