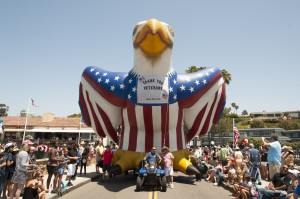 The 21st annual Balboa Island Parade celebrating the star spangled and close-knit islands (big and little) and the beginning of the summer season was held last Sunday.
Tradition dictates that the parade is held the first Sunday of June. Thank you Balboa Island for a magical parade.
Vintage cars made their way down Marine Avenue. A '54 Packard, '57 Bel Air, '55 Chevy, '40 Woody and a '31 Model A Roadster drew from our country's rich automobile heritage. I rode in a '68 Ford Mustang.  It was bright red and the chrome sparkled in the sunlight of a glorious June day.
Thousands of spectators lined the street. Military personnel of every conflict from Pearl Harbor to present-day took part in the parade. There were two survivors from Pearl Harbor as well as other WW II survivors.
American Legion Post #291 was a great supporter this year – many members marched in the parade including the Color Guard, Rifle Squad, and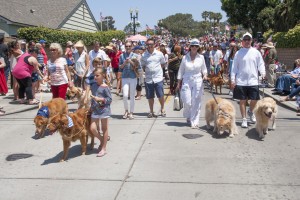 carriers of the Service Flags for each branch of the military.
Notable this year was Pearl Avenue's honoring of 13 veterans representing the Army, Navy, Marines and Air Force and who all reside on the street.
There were hip hop dancers, Scouts, school bands, dogs, dogs and more dogs. Local kids were on decorated bikes and skate boards. Patriotic music played everywhere. Local bands included Nomads Surf Band, Retros and the Bachelors.
There were flags on the bridge and along Marine Avenue. The merchants decorated their storefronts with red, white and blue bunting. The Newport Harbor Republican women had flag pins on ribbons available for each veteran who marched or was a spectator at the parade.
The Keystone Kops maintain safe and smooth parade operations. The unexpected can happen at any moment. I remember the year the antique fire truck stalled out on the bridge. No show stoppers this year.
Our Fire Chief and Police Chief participated in the parade. Andi Rohrer does a thorough job making arrangements for the City Council. Every Council Member participated and appreciates the community driven efforts necessary for the parade to flourish.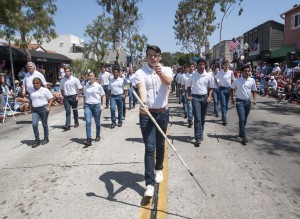 Volunteers are the backbone of parade operations. Around 90 volunteers with responsibilities ranging from chalking Bayside Drive for the parade line up to encouraging parade participation and registration are the steady workhorses of the Parade. These loyal helpers arrange for bands, post signs, secure communications equipment. The balloon blower-upers lifted up our visual experience. A big Thank You to each of the volunteers
This year's Grand Marshal was Barry Meguiar who represents much that is special about Balboa Island. He is a generous supporter of all things "island." His family has had property on Balboa Island for 70 years. Recently, Barry and his wife Karen refurbished a family home on Emerald.
The entire idea behind the parade is to create an opportunity for families in the area to enjoy an old-fashioned, hometown parade. The parade left us with wonderful memories.
Thank you Balboa Island.
Leslie Daigle
Newport Beach City Council