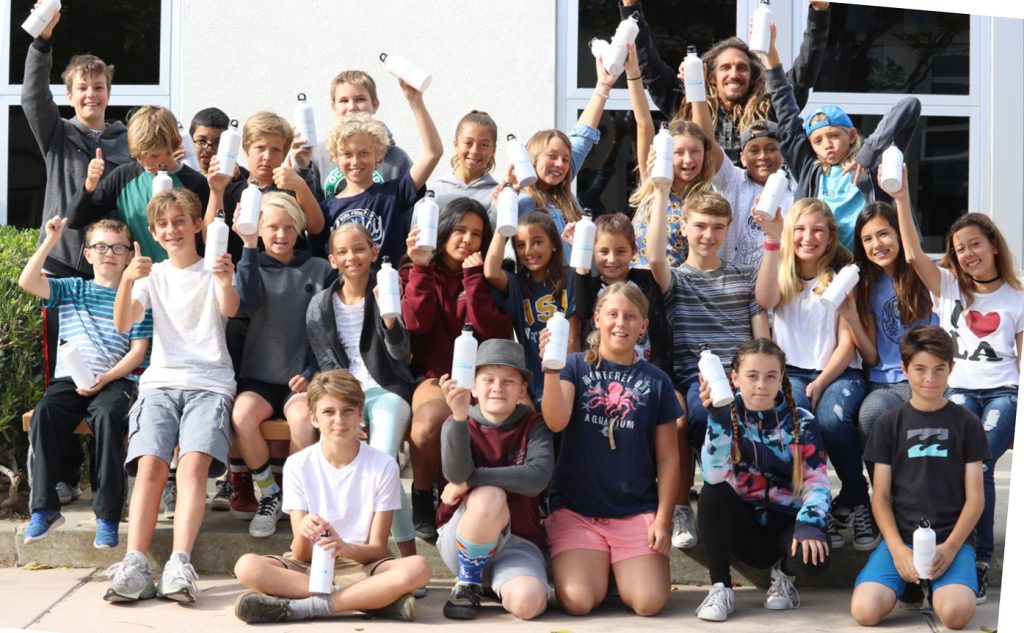 Arbor Real Estate has partnered with the Rob Machado Foundation for the last several years to provide water filling stations to public spaces that encourage the use of refillable water bottles and to eliminate the use of single-use water bottles in an ongoing effort to keep our beaches, oceans and environment clean.
Through its fundraising efforts, Arbor Real Estate has installed water filling stations along the Newport Beach Peninsula (including the world-famous "Wedge") and the Newport Aquatic Center (NAC).
Now, Arbor and Rob Machado have made Newport Elementary the first school to receive a clean water station. Arbor Real Estate will be funding water stations at other local schools. The cost of the station is approximately $6,000.
Each student at Newport El was provided with a branded water bottle at the event, which will foster pride in and a commitment to their beach community and environment as they re-fill their bottles. Reducing plastic waste keeps the ocean cleaner and safer for surfers and swimmers.
Plastic waste is being addressed in Orange County in a variety of ways, including the plastic shopping bag ban and campaigns encouraging consumers not to use disposable plastic items such as drinking straws. Waste created by single-use water bottles continues to be a top contributor to overall waste and through education and the opportunity to re-fill bottles through clean water stations, students are encouraged to conserve and eliminate waste from an early age.
"We are thrilled to partner with the Rob Machado Foundation to provide this clean water station to Newport Elementary," said Chris Brigandi, founder and owner of Arbor Real Estate. "As part of our ongoing commitment to our community, we want to keep our beaches, oceans and residents healthy. Newport Elementary is the first of several local schools we will be working with to install these stations and we are excited to provide the 500+ students and staff members an accessible, healthy alternative to soft drinks while eliminating the need for single-use plastic bottles."
"As a surfer, I know that plastic is one of the biggest threats to the overall health of our ocean," said Rob Machado, founder of the Rob Machado Foundation. "The mission of the Rob Machado Foundation is to keep single-use plastic out of watersheds while giving children access to clean water through environmental education and sustainability solutions. Our partners at Arbor Real Estate believe in our mission and by working together, we are creating a better, more sustainable and healthier environment for generations to come."
For more information, visit robmachadofoundation.org and ArborRealEstate.com.