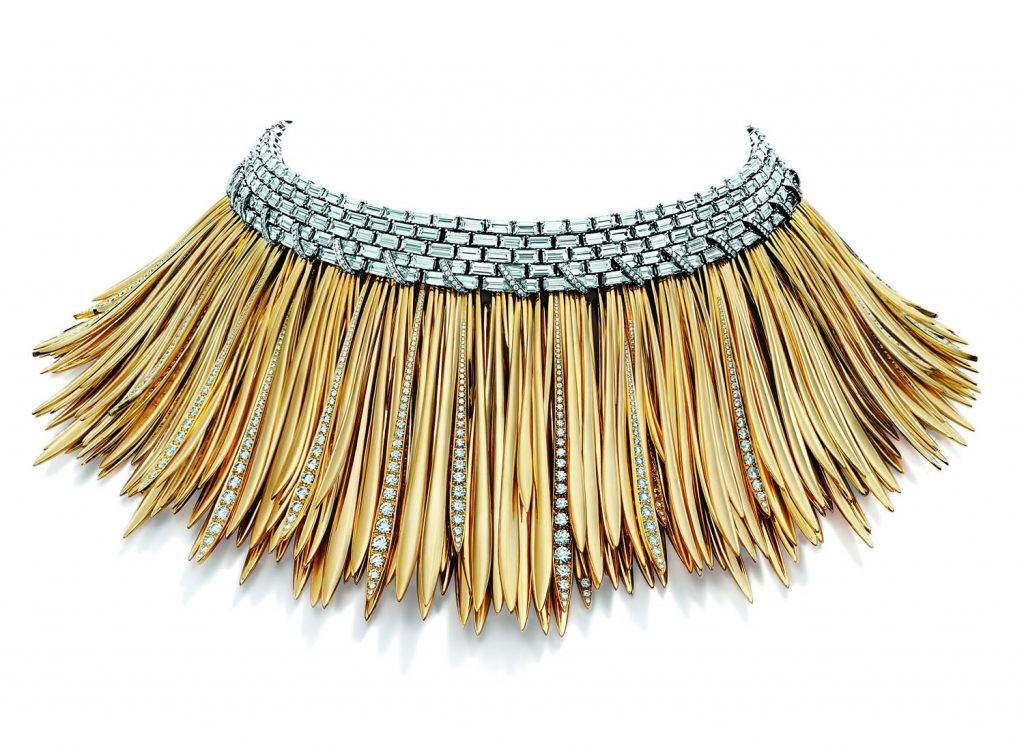 Tiffany & Co. published the first Blue Book in 1845 to show off its best jewelry. The Blue Book has since become an annual showcase of Tiffany & Co.'s finest Craftsmanship.
As the company's website states, "it introduces the world to the very best of everything Tiffany stands for and challenges the imagination with fantastical couture jewels that push the limits of possibility and creativity."
For last year's Blue Book collection, "The Art of Transformation," that creativity was on full display when the collection came to the Tiffany & Co. store in South Coast Plaza. The Collection featured majestic jewels, amazing craftsmanship and elegance, while exploring nature in all of its elements.
A traveling collection of select pieces from Tiffany's High Jewelry collection was recently on display at the Tiffany store in South Coast Plaza, and now the 2017 Blue Book collection has been announced. It combines imagination and creativity for "The Art of the Wild." The collection is composed of six themes: Whispers of the Rain Forest, Miracle Berry, The Falls, Leaves of the Sun, Feathered Cloak, and Yesterday, Today and Tomorrow.
According to Melvyn Kirtley, Chief Gemologist for Tiffany & Co., The Blue Book has the "very finest, rarest, most spectacular" jewelry created by Tiffany. They are made by craftspeople who have worked for Tiffany for many years.
"They take ownership of the pieces as they are making them, and are challenged to push the boundaries of innovation to do things we've never done before," said Kirtley in a promo video for the Blue Book collection.
Also on view at Tiffany in South Coast Plaza is a stunning collection of jewelry designed by Paloma Picasso (artist Pablo Picasso's daughter). The pieces include rings, bracelets, necklaces, pendants and pins. They are both intricate and simple, and whimsical.
"My jewelry is about a joy for life and a timeless beauty," explains Picasso on the Tiffany website.
Learn more about all of these collections on the Tiffany website at Tiffany.com.
Lido Marina Village "Shop the Block"
It's always nice when you can shop and help to benefit a good cause at the same time.
On Saturday, June 10 from 10 a.m. to 9 p.m., Lido Marina Village is kicking off summer with a "Shop The Block" event benefitting JDRF. On that day, Lido Marina Village will donate 10 percent of all sales made during the event to JDRF.
There will be live music from 10 a.m. to 7 p.m., Lido flash tattoos from 1 to 3 p.m., a boat fountain from 10 a.m. to 4 p.m., and stylized stationary and couture cookies for purchase from 1 to 4 p.m.
Most stores in Lido Marina Village will be offering specials and freebies all day.
At Aesop, enjoy wine, cheese, dried fruit and chocolate while experiencing skincare consultations and product samples.
Bailey 44 is offering complimentary personal styling with wardrobe stylist Mark-Alan Harmon.
Bixby & Ball will have a pop-up preview of their upcoming boutique.
Cos Bar has mini makeovers, a fragrance tasting, and free samples.
Curl fitness is offering 3 extra months if you sign up for a year, plus a free personal training session.
At Elyse Walker, enjoy sups and a live DJ while perusing a fine jewelry trunk show.
Jenni Kayne has drinks and 10 percent off merchandise, while Juice Served Here offers 20 percent off a purchase of three juices.
Lido Village Books offers 10 percent off, plus a kids reading and craft from 1 to 3 p.m.
Planet Blue is offering 10 percent off al merchandise, while Serena & Lily is giving away free tote bags.
Tress Apothecary + Salon has $35 blowouts and 20 percent off retail (excludes Dyson blow dryers).
Visit LidoMarinaVillage.com for details.