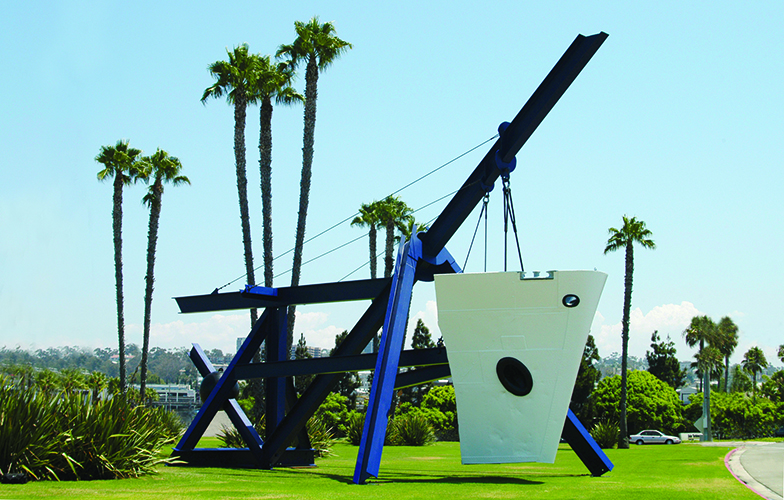 The Newport Beach Arts Commission discussed the possibility of acquiring a massive Mark di Suvero sculpture on a multi-year loan at its monthly meeting on Nov. 10.
The piece is called "Isis," named for the acronym of the Institute of Scrap Iron and Steel, which commissioned di Suvero to create the sculpture for their 50-year anniversary.
The piece is 42 feet tall, 63 feet long, and composed of steel beams. The bow is suspended with steel cables, which allows it to sway in the wind.
Completed in 1978, the sculpture was once exhibited on The National Mall in Washington, D.C. and now sits in storage in San Diego, where it was last displayed.
"His work is very recognizable," Arts Commission Jennifer Van Bergh said of di Suvero, and pointed out that such a famous piece would draw visitors to the region.
She estimated the approximate cost of moving and installing the sculpture to be roughly $75,000, so much of the committee's discussion centered on how to raise the funds.  
"There should be a fundraising component. It's going to have to be a very comprehensive public and private partnership," Chairwoman Lynn Selich remarked. "It is incumbent upon us to make a compelling argument. It's going to be very different to raise money for a piece of this scale."
Library Services Director Tim Hetherton urged the committee to confirm the total cost before moving forward.
"Budget has to be decided before we can present to City Council or to any private organization," he said.
If the commission does secure funding, the next step is a daunting one. Where would they display such a giant work of art?
The Arts Commission will convene again on Dec. 8 at 5 p.m., when they are expected to continue the "Isis" discussion.