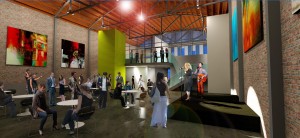 The arts took center stage at this week's city council meeting when council members were shown updated renderings and plans for the Balboa Village Fine Arts Center (formerly known as the Balboa Village Theater), and the city was presented with an award from Arts OC.
At the city council study session, the lone agenda item was a joint presentation from Public Works and Recreation & Senior Services departments of plans and renderings for the fine arts center proposed for Newport Village.
The power point presentation began with photos of the existing building starting with the 1920s (when it was the Ritz Theater) and continuing through present day. It also showed the past concepts of the Balboa Performing Arts Theater, and then, based on council's direction from the Sept. 23 meeting, showed what was defined as "preliminary conceptual design material to facilitate further conversion and refinement of the Balboa Village Theatre into a Fine Arts Center and illustrate the potential look" of the venue.
Programming concepts for the city-owned and operated facility include arts education and exhibitions, live performances, film events, community events, and facility rentals.
Updated renderings, created by Robert R. Coffee Architect + Associates, were shown that illustrated a two-story, multiuse space with multiple configurations and uses.
The next steps in the process of developing the fine arts center include review of the design elements and structural information, develop cost estimates and budget, prepare a design RFP, and do community outreach.
At the regular city council meeting, Arts OC Deputy Director Pat Wayne addressed the council and explained that Arts OC hosted the 15th annual OC Arts Awards that celebrates special achievements of arts organizations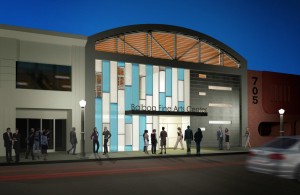 and special projects.
She said Newport Beach was well represented—a lifetime achievement award was presented to artist Ed Hardy of Corona del Mar, and an artistic award was presented to Orange County Women's Chorus, which presents part of its season in Newport Beach.
Wayne then presented a statuette for Outstanding Commitment to Public Art to the city of Newport Beach for its new sculpture exhibition.
Accepting the award was Mayor Rush Hill and members of the city's Arts Commission, who helped guide the sculpture exhibition to fruition.
"A couple of years ago, we realized what was lacking (in the city) was the concept of art and sculpture," noted Mayor Hill. "The arts commission went to work on that. It's remarkable that in a short period of time we can win such a prestigious award. In the true spirit, those sculptures a not purchased but are on loan. Ten more will be installed next year, and each year will continuously renewed on a regular basis, which will continue to make the park environment exciting for those who live and play in Newport Beach."