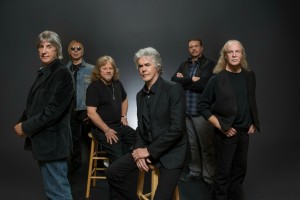 Three Dog Night blends with corn dogs this month when the 2015 Orange County Fair (this year dubbed "One Big Party" in celebration of its 125th year) kicks off a month-long run on Friday, July 17.
Classic rock and caloric cuisine are two of the top draws at the OC Fair every year. OC Fair food will be covered in next week's Off the Menu column, but we've got the highlights of the musical entertainment at the Toyota Summer Concert Series at the Pacific Amphitheatre, which aims to please fans of nearly all musical tastes and ages by bringing back some of the more popular bands from previous years while adding new names.
Among the many notable concerts:
 Gabriel Iglesias, Friday, July 17: Iglesias kicks off the concert series with a comedy show that includes parodies and stories from his personal experiences. He has been seen on Comedy Central, "Family Guy," "Jimmy Kimmel Live," "Good Morning America" and "The Late Late Show with Craig Ferguson."
 Willie Nelson & Family and Alison Krauss & Union Station Featuring Jerry Douglas, Sunday, July 19: The one and only Willie Nelson brings his treasure trove of hits including "On the Road Again" and "Always On My Mind."
 Steve Miller Band, Friday, July 24: Formed nearly 50 years ago, Steve Miller Band is led by vocalist and guitarist Steve Miller and is known for hits like "Fly Like an Eagle," "Take the Money and Run" and Space Cowboy."
 The Happy Together Tour, Sunday, July 26: The Happy Together Tour features six classic rock acts including The Turtles, The Association, The Grass Roots, Mark Lindsay (former lead singer of Paul Revere & The Raiders), The Buckinghams, and The Cowsills.
 Spandau Ballet / DJ Richard Blade, Wednesday, July 29: Having helped launched the New Romantic movement in the early 80s, British band Spandau Ballet took a two-decade hiatus before returning for a tour that includes such classic tunes as "True," "Round and Round" and "I'll Fly For You." ,
 Three Dog Night / Jefferson Starship, Friday, July 31: Grammy-nominated Three Dog Night has released dozens of hit songs including "One," "Easy to Be Hard," "Joy to the World" and "Mama Told Me Not To Come." Jefferson Starship took over from Jefferson Airplane in 1971, and has had such hits as "Jane," "Find Your Way Back" and "Save Your Love." They are celebrating the 50th anniversary of Jefferson Airplane & The San Francisco Sound.
 The Fab Four / Wings Band, Saturday, August 1: Tributes to The Beatles and Paul McCartney & Wings, including costume changes and chronological accuracy.
Huey Lewis and The News, Sunday, August 2: Huey Lewis & The News still stands as one of America's greatest rock 'n' roll bands with hits like "The Power of Love," "Do You Believe In Love" and "If This Is It."
 Pat Benatar & Neil Giraldo – 35th Anniversary / Dennis DeYoung: The Music of Styx, Saturday, August 6: An evening of legendary rock from renowned hitmakers.
Echo & The Bunnymen / Berlin, Friday, August 7: Echo & The Bunnymen is an English post-punk band who charted such hits as "Rescue," "The Puppet" and "Over the Wall." Led by Terri Nunn, Los Angeles-based Berlin had top hits with "Take My Breath Away" and "Metro."
Deep Purple / Foghat, Wednesday, August 12: Two classic rock bands equals two hours of classic rock hits.
The B-52s / The English Beat, Friday, August 14: The B-52s still "Dance This Mess Around" with such hits as "Rock Lobster," "Love Shack" and "Summer of Love." The English Beat returns to the OC Fair for a fourth year in a row with its fusion of ska, pop and reggae.
 Ticket prices vary. Tickets include fair admission. Visit pacamp.com for a complete schedule.