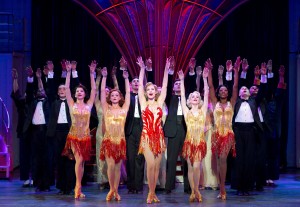 It's "All Aboard!' for romantic antics of the most de-lightful kind when the Tony Award winning revival of "Anything Goes" arrives at Segerstrom Center for the Arts next week. This timeless musical comedy continues to conjure an era long gone, as once again the S.S. American churns toward open seas with a couple of mismatched couples and a bevy of tap-dancing sailors turning the traditional transatlantic voyage into a carnival of etiquette-smashing good fun. 
"It's funny, its fast, and you don't know what's coming next," said cast member Derek Hanson of the show's latest incarnation, which retains Cole Porter's original effervescent music and lyrics but adds a new book by Timothy Crouse and John Weldman to the ever so witty original by P.G. Wodehouse and Guy Bolton (along with Howard Lindsay and Russel Crouse).
"They were really ahead of their time with the writing," he added. "This production of "Anything Goes" isn't like a new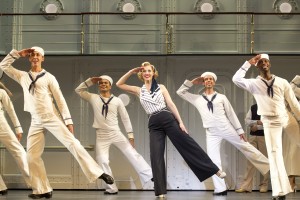 thing, really, and it's amazing to be able to rejuvenate and re-energize it."
Hanson performed with the Roundabout Theatre Company's revival of "Anything Goes" on Broadway before hitting the road with the tour.
"When we get to the number 'Anything Goes,' which is 12 minutes of sailors singing and tap dancing, with all the craziness happening on the boat, the audience is jumping out of their seats," he said.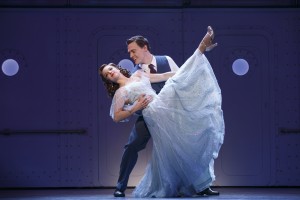 It's those show-stopping moves that garnered director Kathleen Marshall the 2011 Tony for Best Choreography as well as Drama Desk and Outer Critics Awards. "I have never been in a show with that kind of electricity to end the first act," said Hanson.
"The choreography is physical–it's very challenging for the dancers to do and to maintain that energy. They're simple steps put into complex form, dynamic and fun to watch," explained Hanson, a natural athlete who discovered an affinity for dance in college. That talent, he says, became his "foot in the door" as a Broadway performer.
"Tap is totally different than jazz, ballet, hip hop…the musculature in your feet has to be strong, quick and also very loose," he said. "When we have brush up rehearsals, they want to hear the rhythm cleanly and you're articulating your feet so much that you often end up with swollen ankles. For the 'Anything Goes' number, basically you have to be in plie with bent knees for 12 minutes; that's a lot of stamina to build up, especially with doing the show eight times a week."
"Anything Goes is a marathon and at the end of it everybody is winded, heaving from running up stairs," Hanson continued, noting that each cast member was "in incredible shape but we've also expended a lot of energy and the audience goes crazy for it. When you feel the audience reaction… that type of energy coming from them makes performers want to give that much more."
Anything Goes runs September 24th through 29th at Segerstrom Center for the Arts, Segerstrom Hall, 600 Town Center Drive, Costa Mesa. Ticket start at $20. Call (714) 556-2787, or visit scfta.org .