Oracle Team USA is battling Emirates Team New Zealand in the 34th America's Cup race which started on Saturday, September 7, held in San Francisco Bay.
SEPT. 25: After being penalized from the start, falling far behind in victories and seeing the opposing team reach match point with a wide gap between them, Oracle Team USA has made a miraculous comeback to win the 34th America's Cup race 9-8 over Emirates Team New Zealand in the event's 19th race on Wednesday. Oracle crossed the finish line 44 seconds ahead of Emirates
Because of the negative two point penalty, USA actually won 11 races. Team USA came back with eight straight wins, holding New Zealand at match point. The race is the longest in America's Cup history and one of the most thrilling.
SEPT. 24: Continuing their winning streak, team USA won both races Tuesday, evening the score up to 8-8. Race 17 was won by USA with just a 27 second lead. New Zealand started strong for race 18, but team Oracle soon sailed past them, winning 54 seconds ahead of team Emirates.
This has forced a "winner-takes-all" situation for Wednesday.
SEPT. 23: Oracle Team USA crossed the finish line of race 16 Monday in 30:43 at a max speed of 38.05 knots (44 mph), 33 seconds ahead of Emirates Team New Zealand. Only one race was sailed today due to a 30 minute delay for the first race. Race 17 is scheduled for Tuesday.
 SEPT. 22: Team USA swept the weekend and won both races on Sunday, extending their four race winning streak and closing in on Team New Zealand, which now stands at 8-5 in the best-of-17 series (or first team to nine points). Both were close calls for USA, winning race 14 by just 23 seconds and race 15 by 37 seconds. Following Sunday's wins, the Oracle is has a chance at a comeback for the cup.
Monday will be day 17 of the regatta, the longest America's Cup in history, with two more races scheduled.
SEPT. 20: Light winds on Friday caused the first race of the day to end without New Zealand crossing the finish line within the 40-minute time limit. Friday's second race ended with a close win by team USA.
New Zealand is still leads 8-3. Two more races are scheduled for Saturday.
SEPT. 19: On Thursday, Oracle Team USA was victorious in race 12 with a 31 second victory in the only race of the day due to high wind limit cancellation of race 13.
SEPT. 15 : Team USA and Team New Zealand each won a race on Sunday, so the score stands at 7 wins for Team New Zealand, 1 win for Team USA (Team USA was docked two points for illegally modifying catamarans in warm-up regattas last year and this year, so they started the America's Cup regatta at minus two).
The first team to win 9 races claims the America's Cup, so Emirates Team New Zealand could take home the America's Cup if they win both races when the regatta resumes on Tuesday.
NB Indy photographer Jim Collins is covering the race and has been filing photo reports. His photos highlight the new foiling catamarans, which lift up onto hydrofoils, thereby increasing speed.
These photos are from this weekend's races. All photos © 2013 Jim Collins. Used by permissions. All rights reserved.
SEPT. 25: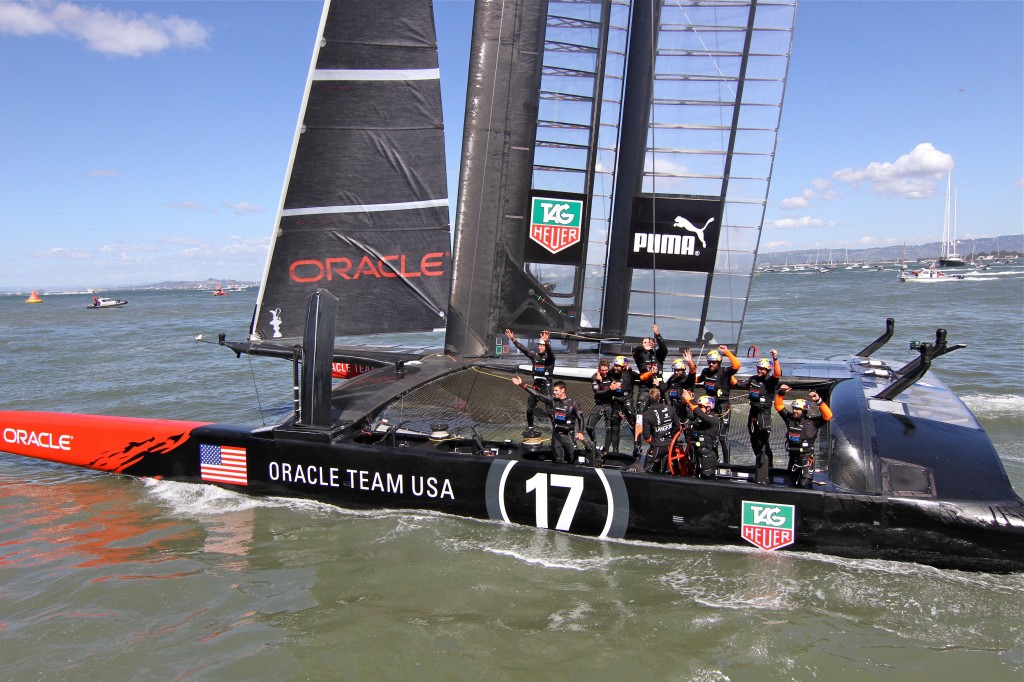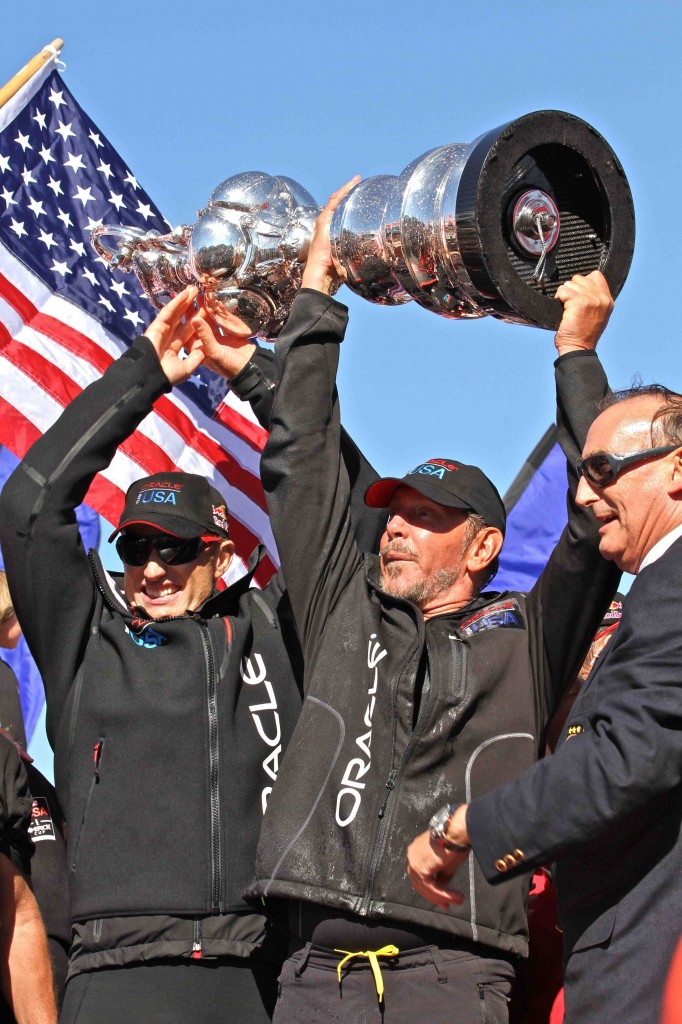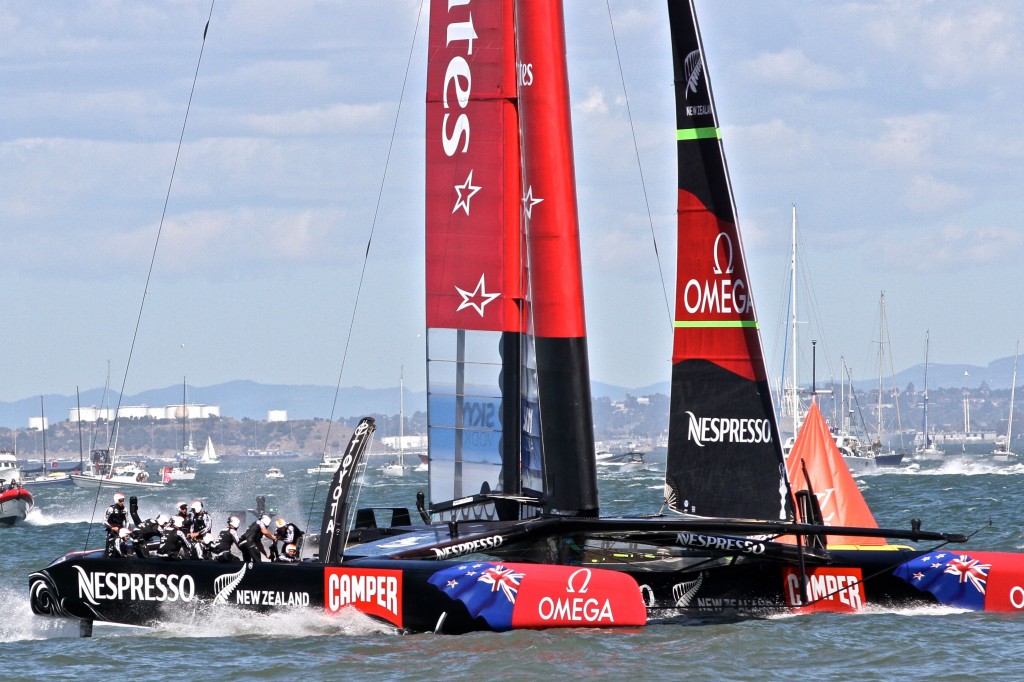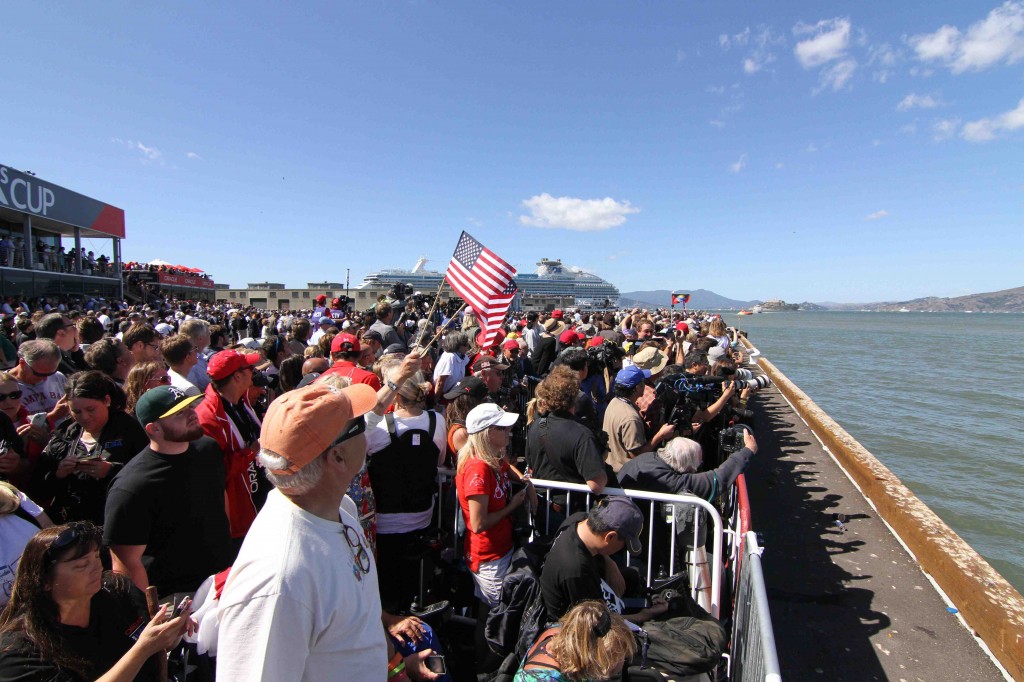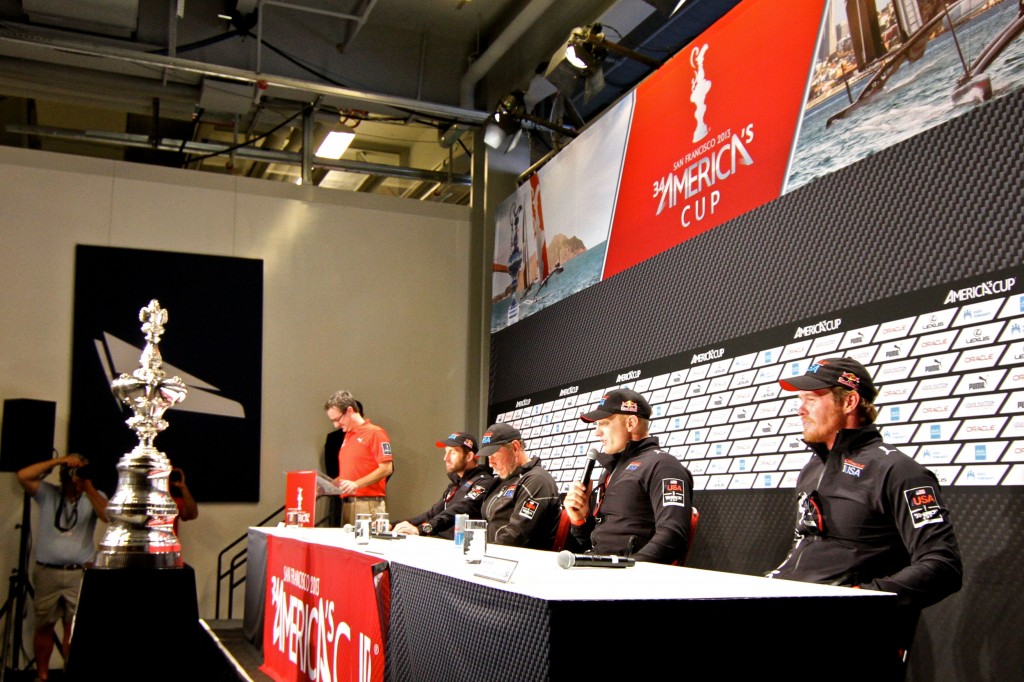 SEPT. 24: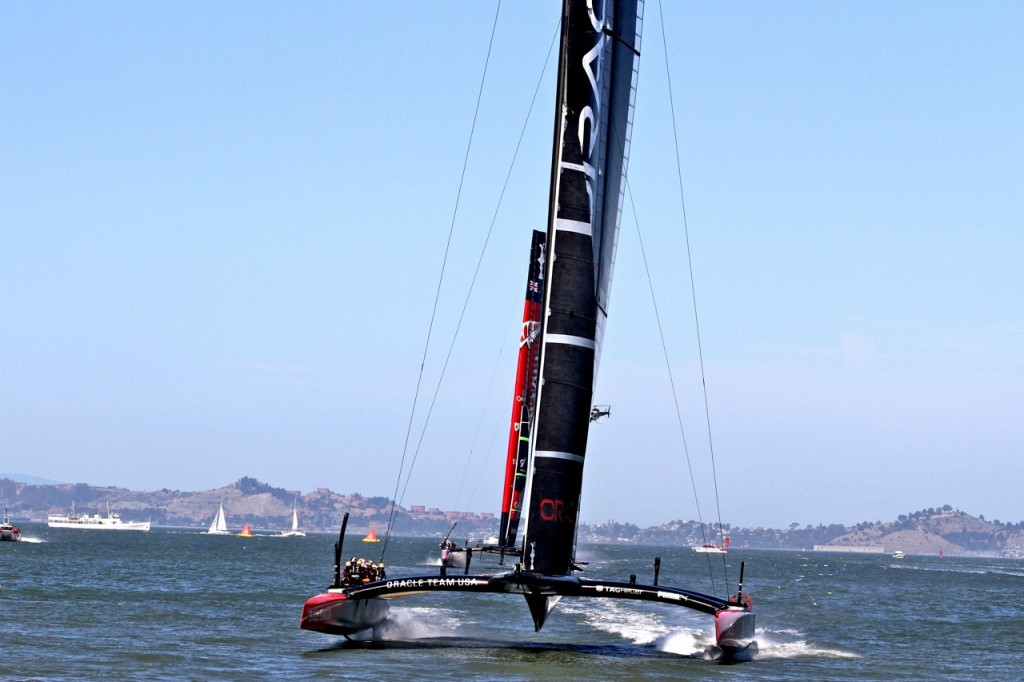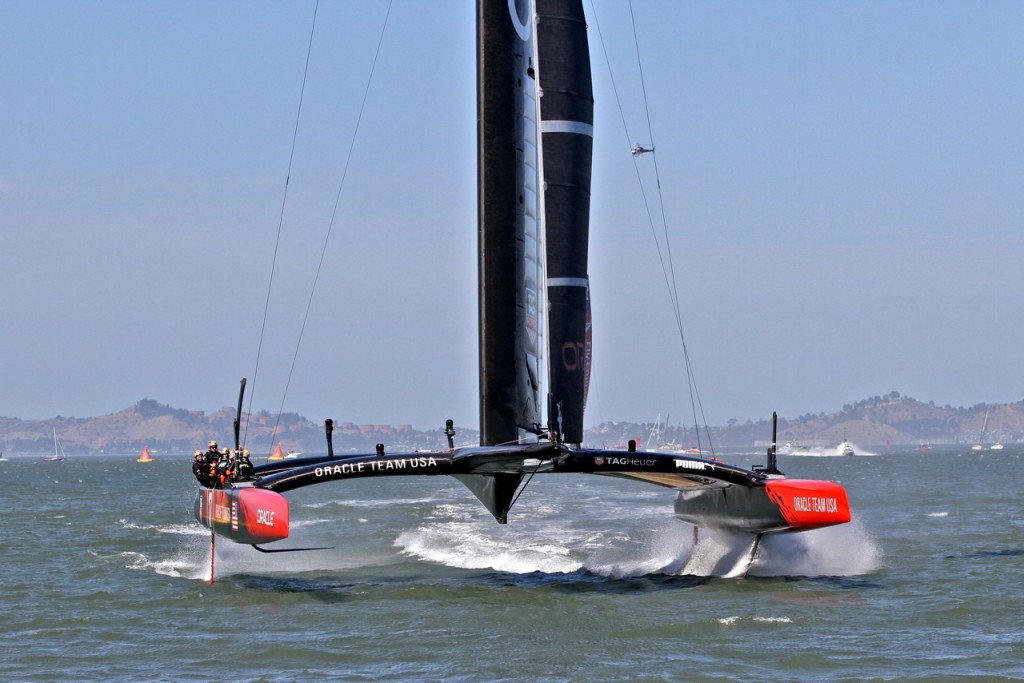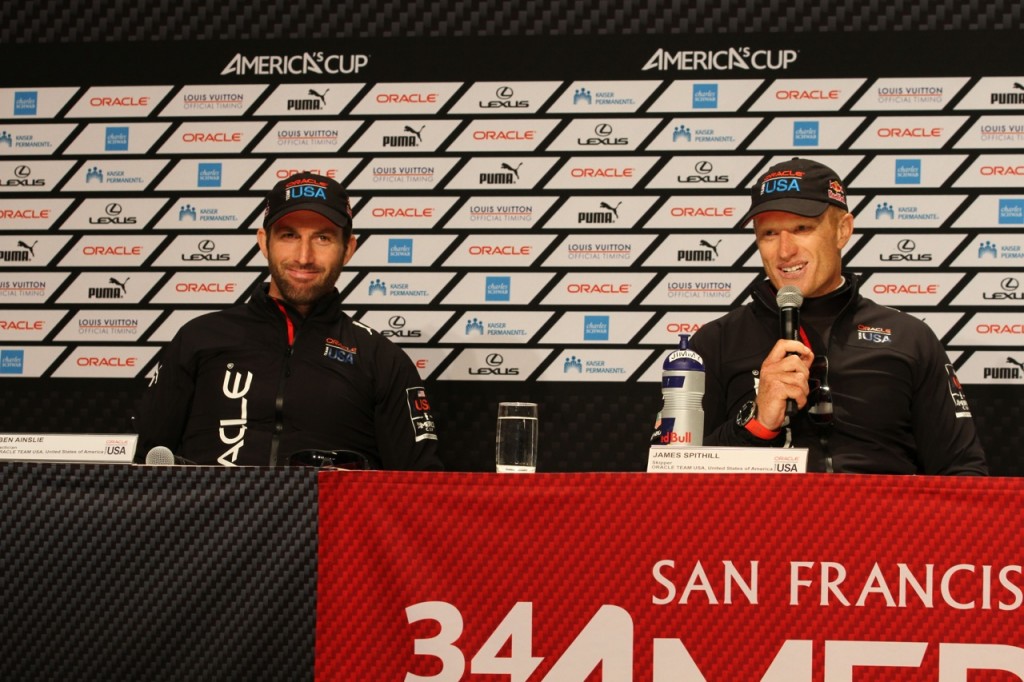 SEPT. 23: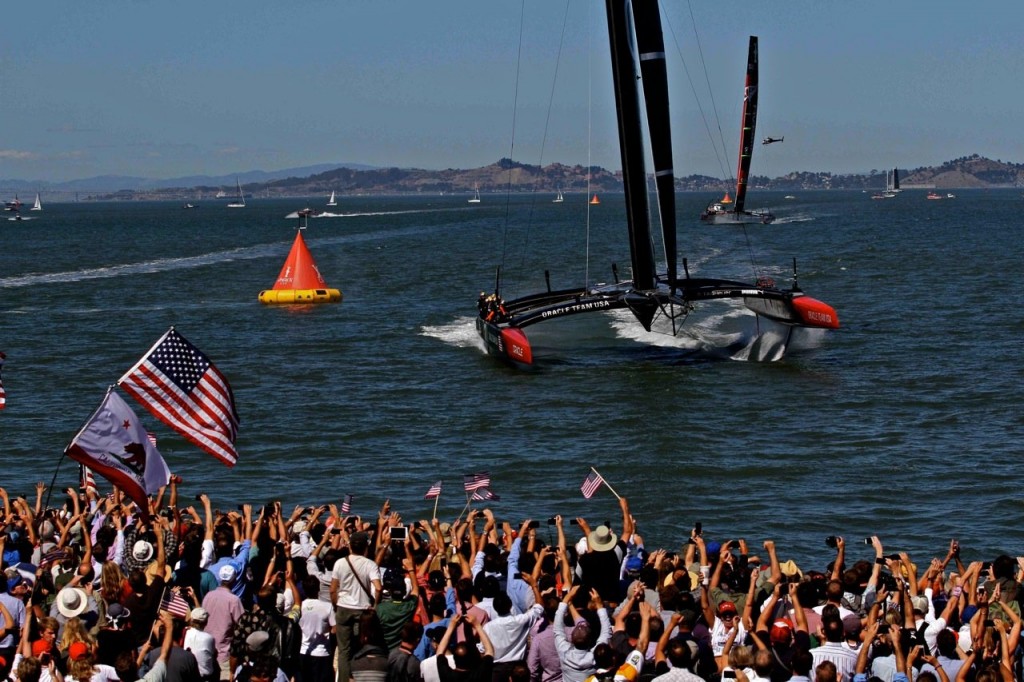 SEPT. 22: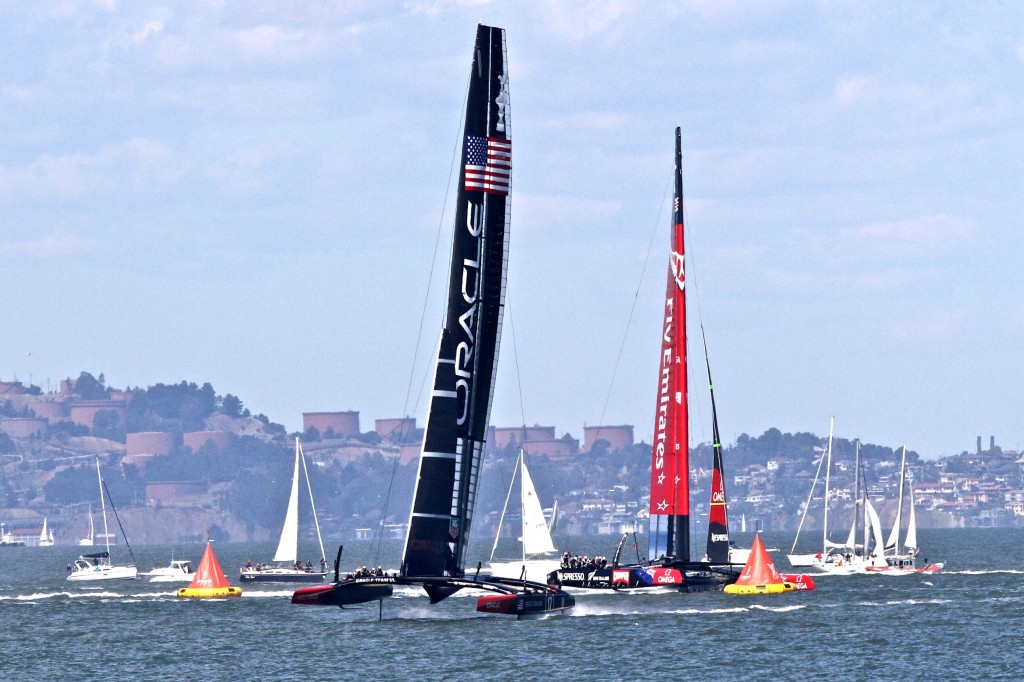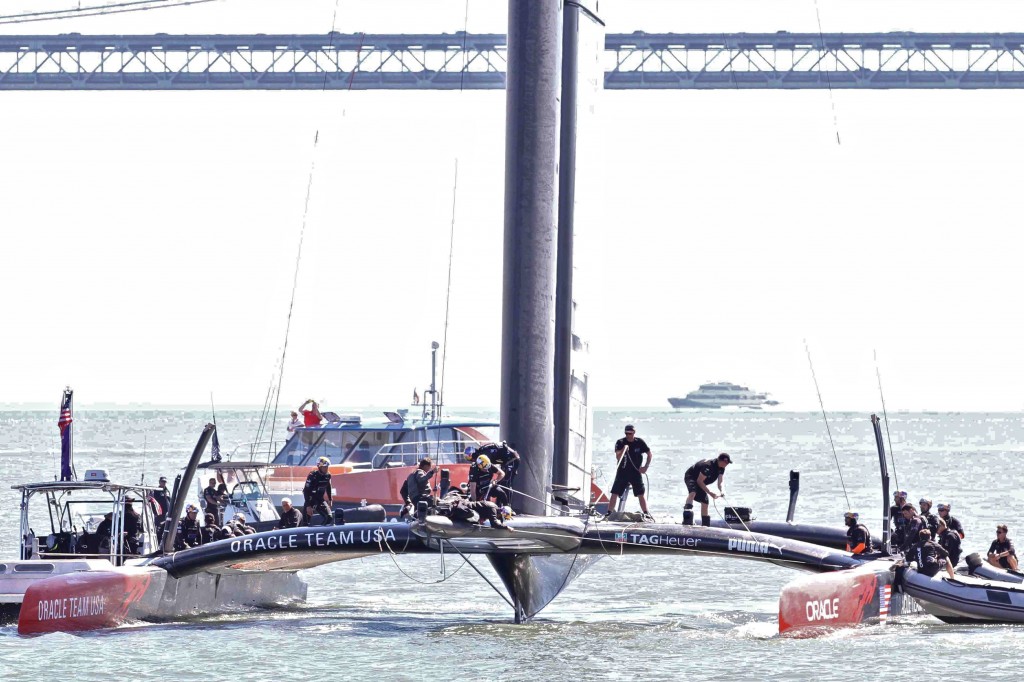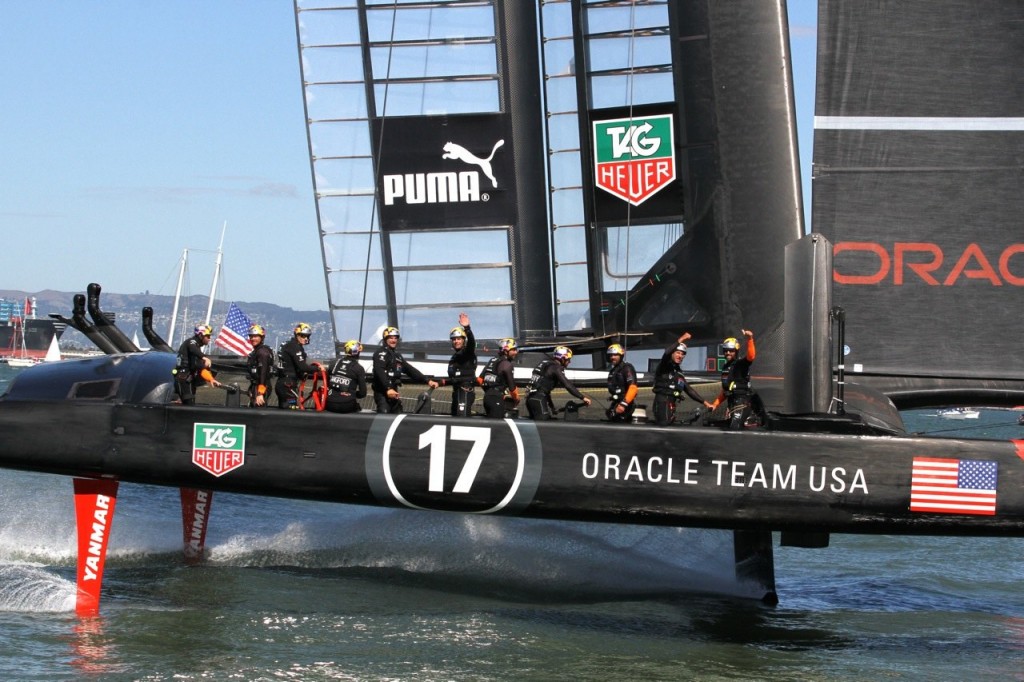 SEPT. 20: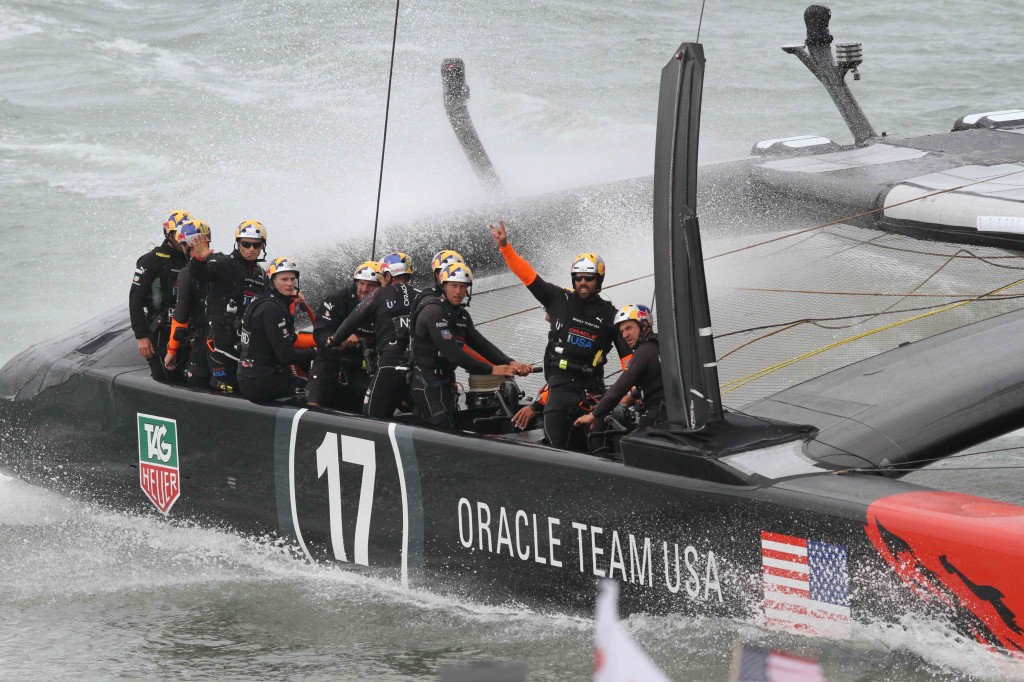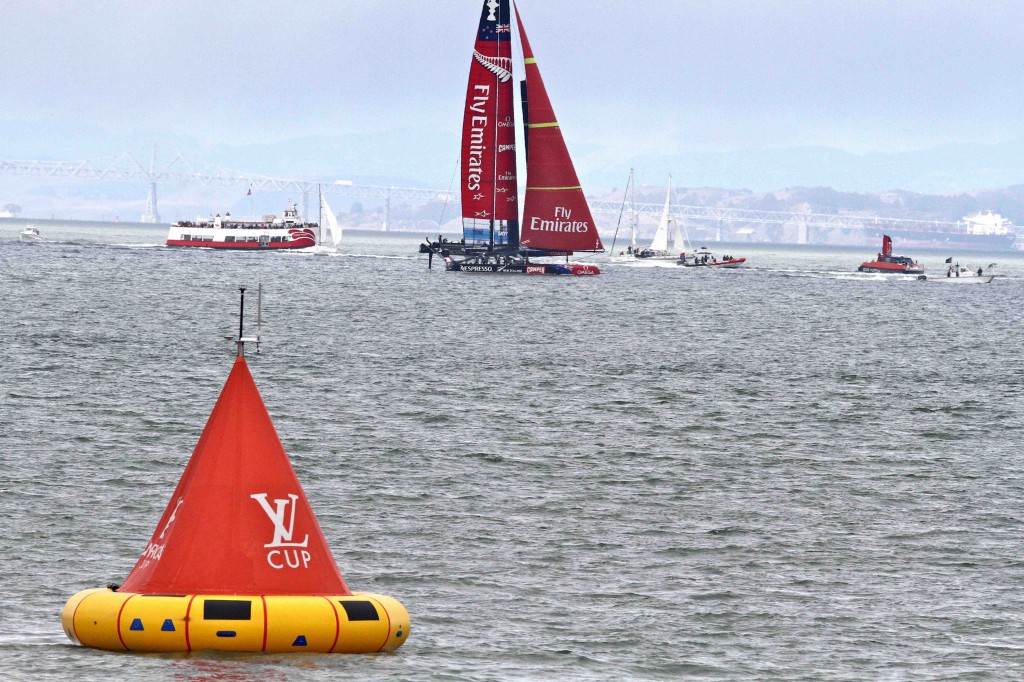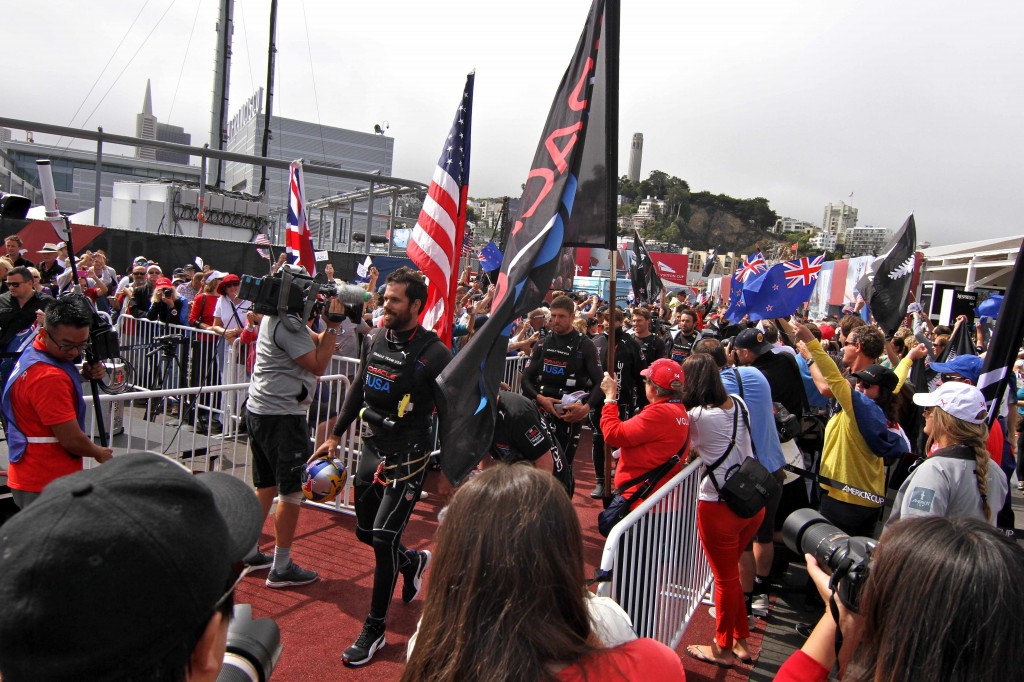 SEPT. 19: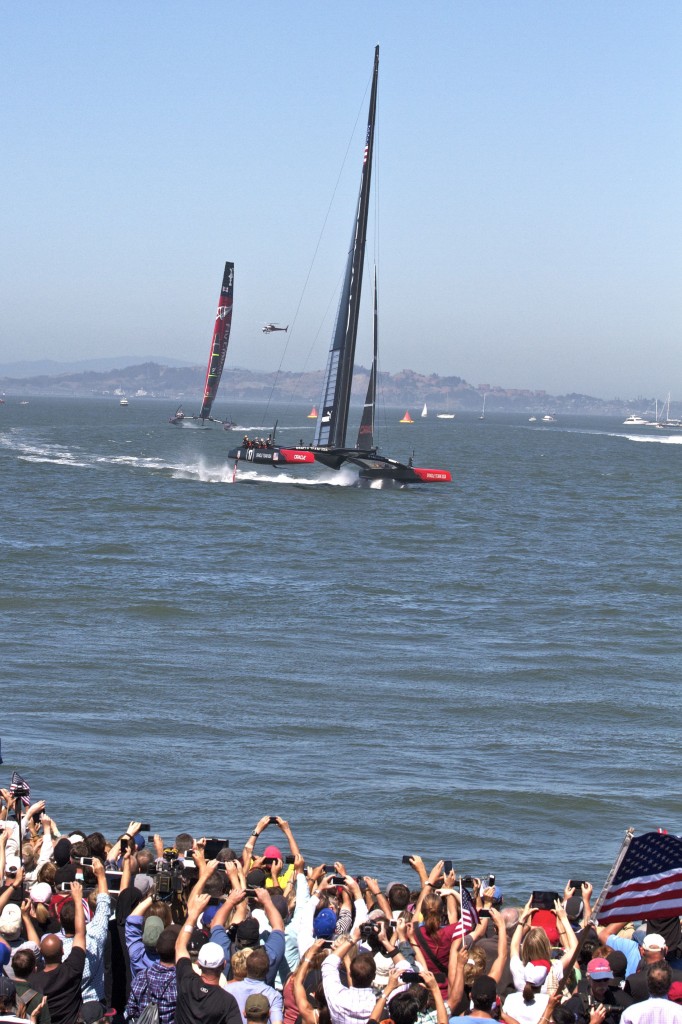 SEPT. 15: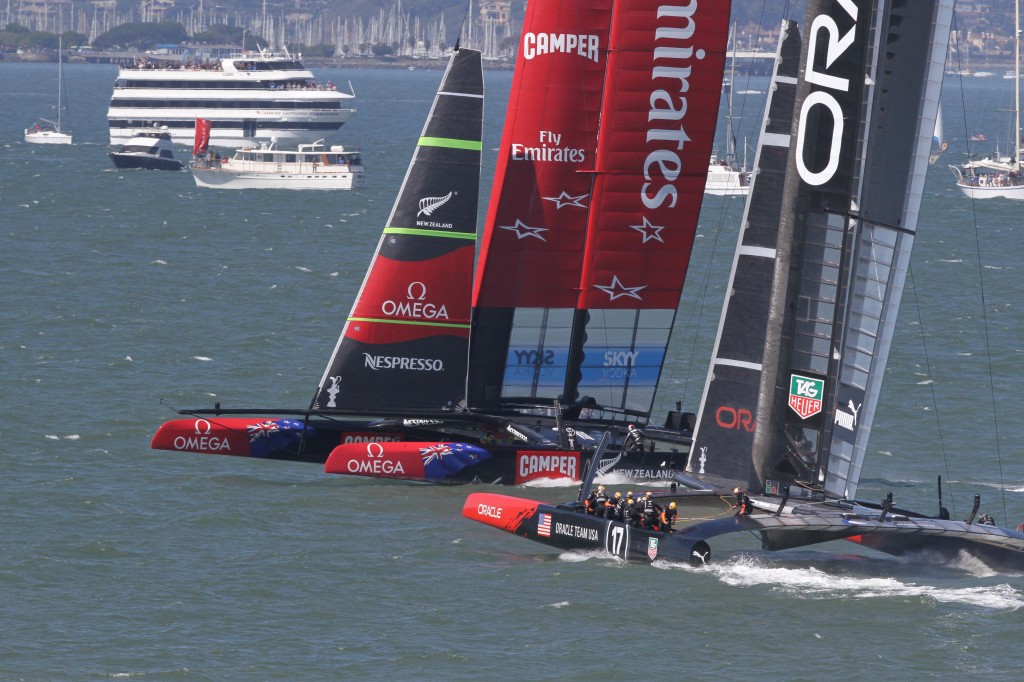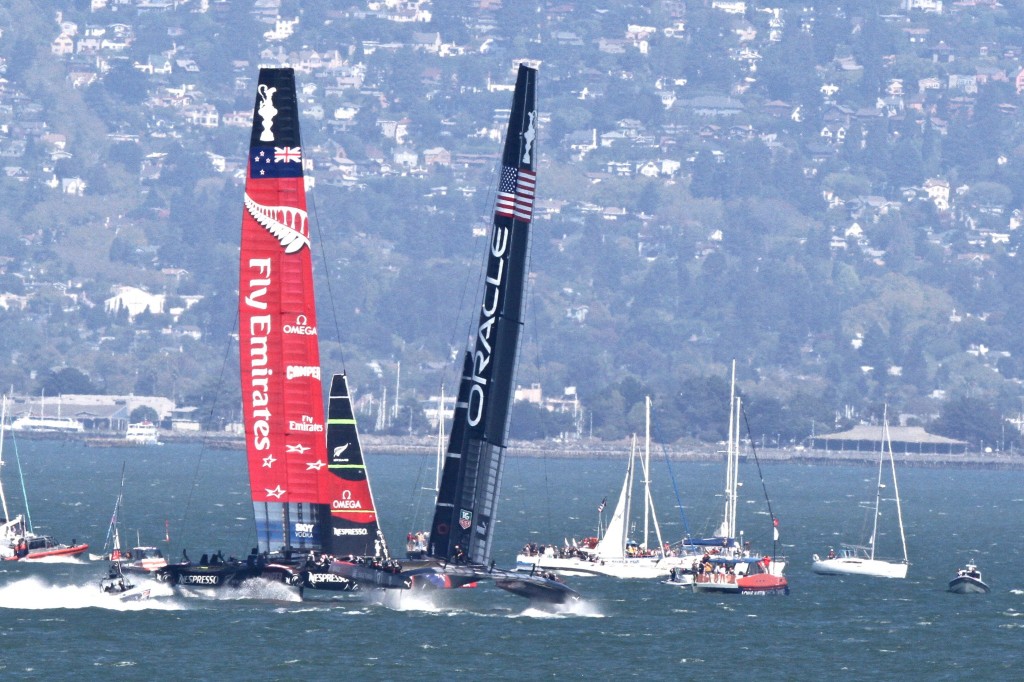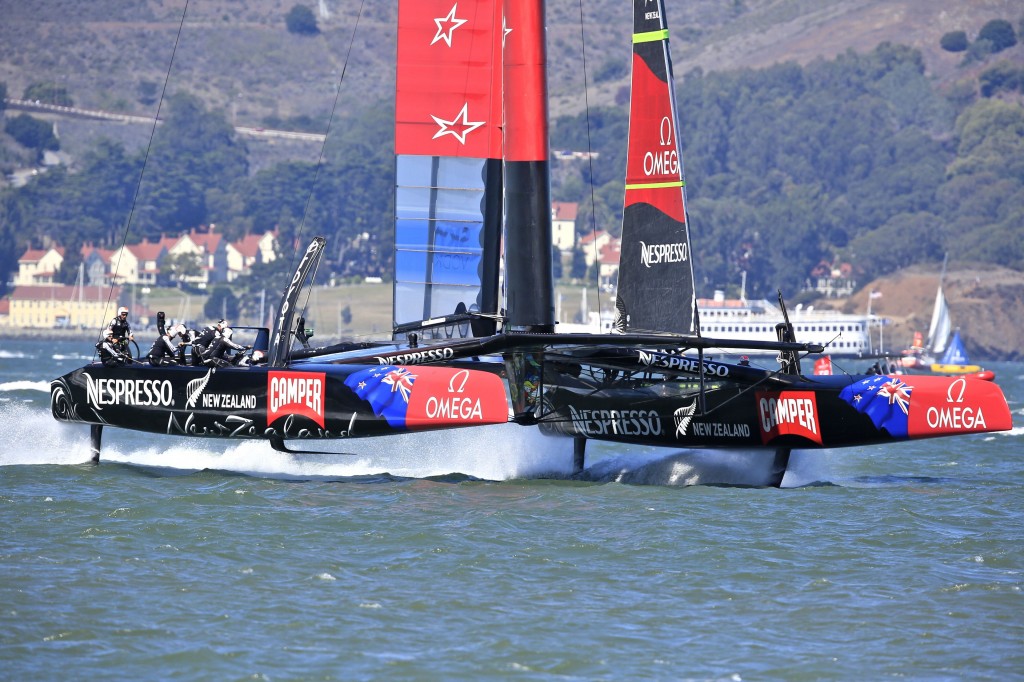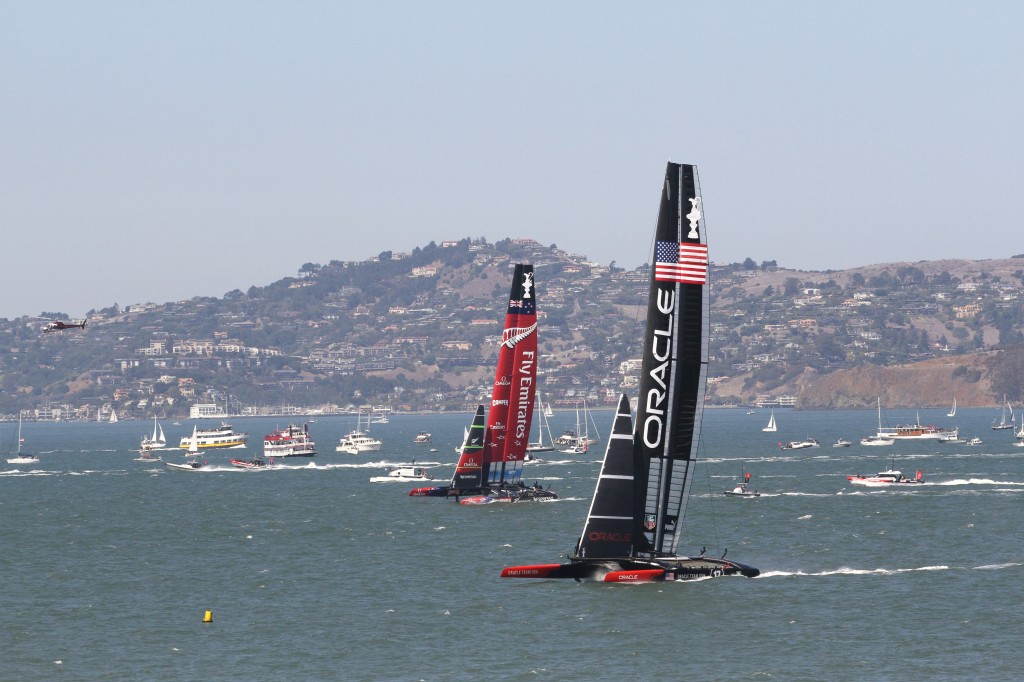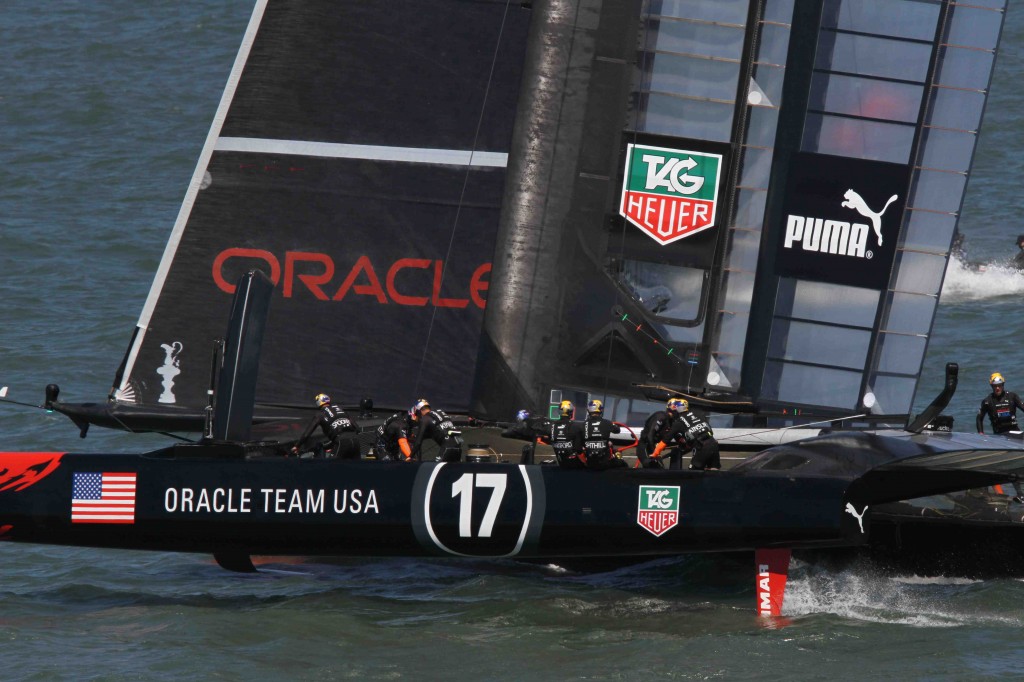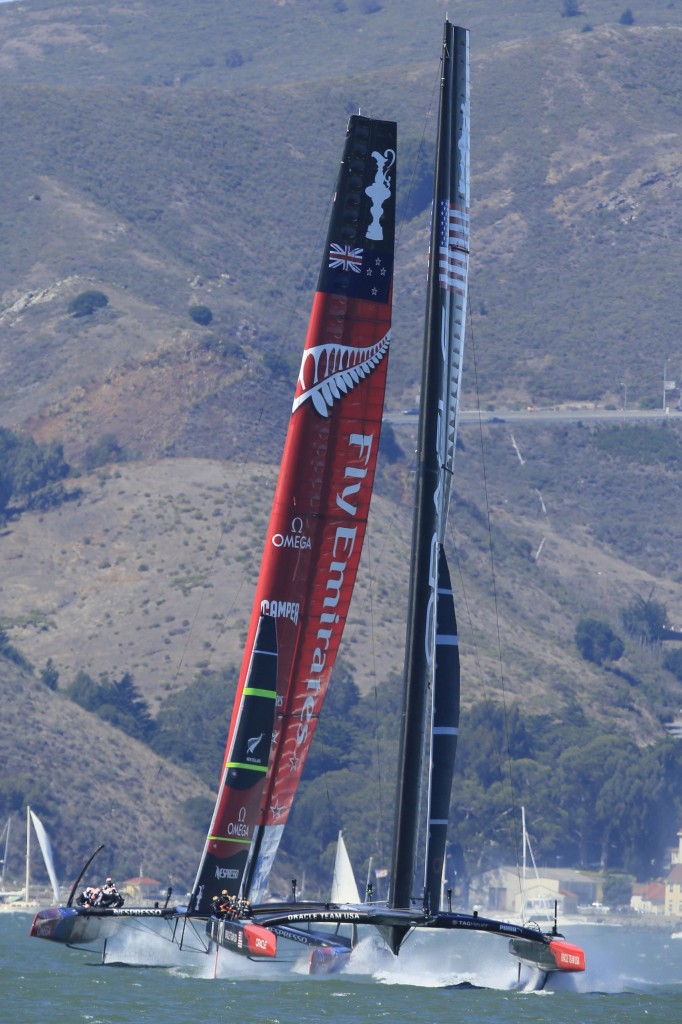 All photos (c) Jim Collins. Used by permissions. All rights reserved.