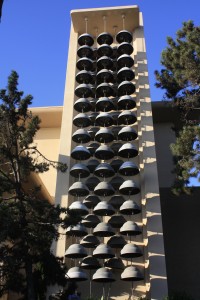 By Lila Crespin, Ph.D. | Newport Beach Arts Foundation
It's strange to know that I've walked among a great sculptor's creations in Newport Beach and never known the artist's name or the extent of his fame.
The City of Newport Beach  may have more Tom Van Sant sculptural works than any other city in the U.S.  We can thank the corporations that used his work on their buildings designed by well-known architects.
Noted architect William L. Pereira said, "We find ourselves designing buildings to host Tom's artwork."
Van Sant is a sculptor, painter, conceptual artist, and engineer.  His career interests have ranged from creating art to architectural design, city planning, art education, and advanced technical invention.
His large-scale conceptual projects of the 1980s led to the creation of the GeoSphere Project, an environmental display system designed to illustrate the issues of Earth resource management. His fame is such that his work is visible throughout the United States (California in particular), Europe, Australia and Japan.
When you visit Fashion Island, the south side of  Macy's displays the "World's Largest Wind Chimes,"  installed in 1967. The chimes combine his many talents. Sadly, they are no longer allowed to chime in our strong breezes, but I remember how awed I was when I first heard them in 1973 and realized the concept behind them.
As you drive around, look for art works that are seemingly "carved" out of the cement wall on which they are displayed. These works are called "intaglios," an Italian word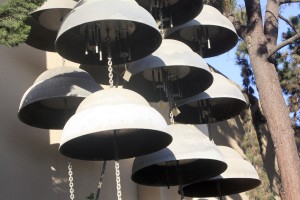 meaning incised carving (as opposed to carving in relief).
Most of his intaglio work in Newport Beach refers to the wildlife that is still with us or that once roamed the hills around us.
The following list provides the locations to see Van Sant's work in a variety of settings. If you find some of Van Sant's work that is not listed below, please email me.
It's exciting to discover a great artist in one's own city.
• Peter & Mary Muth Interpretive Center: "Marsh Birds"
• Coast Highway between Dover and Riverside Dr. (north side of PCH): "Flight Forms" [Pelicans]
• Santa Nicolas & 550 Newport Center Dr.: Multiple panels: "Indigenous Inhabitants"
• Santa Rosa and 551 Newport Center Dr.: Multiple panels: "Indigenous Inhabitants"
• Coast Highway and Avocado (Wells Fargo Bldg.): Raised forms and poetry
 The mission of the Newport Beach Arts Foundation is to promote and broaden cultural activities in the community as the fund-raising organization of the Newport Beach Arts Commission.  We welcome new members.  If you are interested in joining, please contact Lila Crespin at [email protected]