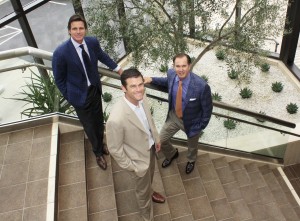 Creating community through property.
It's an unusual statement, but that's the goal of Burnham USA, a commercial real estate construction, leasing and management company based in Newport Beach.
The company owns property throughout Orange County (including a dozen office buildings in Newport Center), but the one that's currently creating community – and a sizable buzz – is South Coast Collection (SoCo), a 28-acre retail project in Costa Mesa.
Burnham USA purchased the property in 2009, when it was a struggling home and furniture retail center. Burnham USA reinvented the center and transformed it into a desirable shopping destination that features the OC Mix, which houses a handful of restaurants and specialty shops including Portola Coffee, ARC Restaurant, Shuck Oyster Bar, and Greenleaf Gourmet Chopshop, which opens this weekend.
"It could had been a much different place had someone else gotten involved," stated Scott Burnham, Chairman of the Board and CEO of Burnham USA. "Whenever we approach a project, whenever we go into a community, we have to understand the community. This one is easy for us to understand because we live here."
"We really believe that we have an opportunity to create community through property," added Bryon Ward, a partner in Burnham-Ward Properties. "That's really what our approach has been with SoCo, and it's how we approach our other projects, because at the end of the day, that's a sustainable and viable model. When you're not just looking at it on a one-off basis, you're trying to create something sustainable and viable for a long time. What we try and do is really understand a community and understand what it has and what it doesn't have, and how our involvement can make that community better."
"We created SoCo as a destination," stated Burnham. "We wanted to provide an alternative retail experience like no other that exists in Orange County, or Southern California for that matter."
Burnham and Ward certainly understand Orange County, and Newport Beach. Burnham attended Lincoln Middle School and Corona del Mar High School before transitioning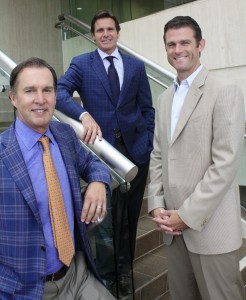 to USC. Ward went to Newport Harbor High School and UC Santa Barbara. Both have lived in Newport Beach for many years, and both are passionate about the role they play in transforming communities.
"The motto for the OC Mix is Eat, Shop, Local," said Burnham. "So it gives a very bohemian but artisinal quality to it. We were inspired by a lot of venues prior to the OC Mix being born. The Ferry Building in San Francisco in particular was one we were very inspired by, although their emphasis is on food where the Mix has an eclectic variety of venues with a heavy food component."
"Think of when you go to West Hollywood or another neighborhood–your walking up and down the streets and you see design stores and cool places to eat," said Ward. "And so, you have a neighborhood or community. Think of SoCo as the greater neighborhood or community, and the OC Mix lives within that community in the neighborhood."
According to Burnham, Costa Mesa and Newport Beach serve a similar demographic, and that "if you were to stop any customer at SoCo, there's a 50/50 chance they'd be from Newport Beach. I have a lot of friends that go to Portola Coffee every morning."
In addition to SoCo and several properties on 17th Street in Costa Mesa, Burnham USA created the Black, Starr & Frost building on Bayside Drive.
"The original building was built back in the 1920s, and I don't think it had anything done to it since then," said Burnham. "We reinvented it to fit the style and location. It's more than a showroom–they've got a bar, places to entertain, a deck out back. They do a lot of charity events there."
Burnham owned the Port Movie Theater back in the 80s when it showed period and art films, and he currently co-owns and operates the Newport Beach Athletic Club.
"We're not just retail," said Burnham. "We take great pride in the curb appeal aspect on all of our properties. We think we are a great asset to that community, where ever that community may be, because we're investing back into the community. We are constantly reinvesting in our properties, upgrading out properties. If it doesn't look the way we want it to look, in a first class condition, then we don't want our name associated with that property. "
"We get a lot of people in the community that will drive by a property and say you guys must be involved with that property because it's something different," continued Burnham. "We're becoming known for doing things a little different and thinking out of the box. What we're trying to do is provide interesting color within the woven fabric of Orange County. We believe we're having an impact in that area."
They've also built a corporate culture that has a family atmosphere and low turnover, and most of their employees live in Newport Beach.
"That's why we have the capacity to do institutional-size transactions with more of an entrepreneurial spirit," said Burnham. "Most of our properties have a heart and soul to them, because we have a lot of passion for what we do. We stay very involved in the entire process, so it's not uncommon to be picking plants and colors, or countertops and patio furniture. The devil is in the details, but the details make the difference. We also go in with long term thinking mentality. We build with an eye on the future."
And for Burnham USA, the future looks very bright.