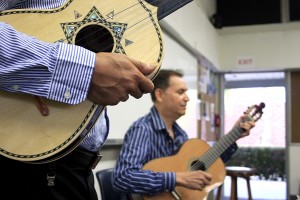 More than 200 young musicians from around the country will descend on Newport Beach and Costa Mesa next week for the third annual Mariachi Nationals and Summer Institute.
Held August 6 – 10, these young mariachi students will study with noted mariachi musicians at Orange Coast College, perform at the Balboa Pier Gazebo, participate in an adjudicated festival competition, and perform at the OC Fair with Jose Hernandez and his Sol de Mexico band.
Mariachi Reyna de Los Angeles, the country's first all-female mariachi group formed by Jose in 1994, will be performing at Mariachi Nationals this year. Young women from the institute will be joining them for a performance in celebration of the group's 20th anniversary.
The Mariachi Nationals and Summer Institute is part of the Mariachi Heritage Society, formed in 1991 by Newport Beach residents Jose and Teresa Hernandez to "educate and build an identity in children of Mexican heritage the value of mariachi music."
"Jose goes around the country starting mariachi music programs," explained Teresa Hernandez. "In New Mexico he has been doing a summer program for 25 years. He thought that they have mariachi workshops in Arizona and New Mexico, it would be nice to do one along the coast. That's how it started."
Hernandez said the participants are coming locally from Anaheim and Santa Ana, as well as from Texas, Nevada, Utah, Arizona, and even a group traveling up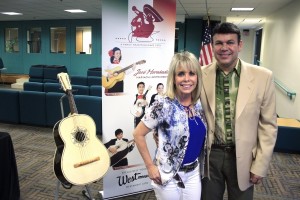 from Guadalajara, Mexico.
Participants pay for transportation and lodgings, while the Mariachi Nationals provides some meals, training and performance opportunities.
While some participants go on to become professional musicians, the emphasis is on encouraging students to be the best they can be at whatever they do.
"We love to see students go on to college and further their education," said Hernandez. "Whatever you're going to be, you need these traits and qualities and take them to whatever job you're going to do."
According to Jose Hernandez, music instruction provides youth with a strong sense of accomplishment and self-esteem. One example: after establishing his program in a school in Nashville, the graduation rate has increased from 38 percent to 90 percent.
Mariachi Nationals and Summer Institute schedule:
August 6: Welcome & Introduction
August 7 & 8: Classes at OCC from 9 a.m. to 4 p.m.
August 7: Balboa Pier performance at the Gazebo from 6:30 to 9 p.m.
August 9 & 10: Mariachi Nationals Performances at OC Fair
 For more information, visit MariachiNationals.com.