By Christopher Trela & Catherine Del Casale | NB Indy
This week we visited the remodeled Wonderland Bakery, sampled the menu at the revamped Taco Asylum, and tried some new dishes at Tamarind of London.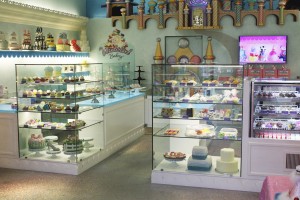 New Wonders at Wonderland Bakery
While heading to lunch at Jersey Mike's Subs in The Bluffs shopping center this week, we walked past Wonderland Bakery and did a double take.
The popular sweet shop with a Wonderland theme has been remodeled, with new display counters and more open floor space.
Naturally, we had to have a look. Sondra Ames, one of the Wonderland founders, was there and told us they have added a handful of new products including Wonder Snow, which of course we had to try.
Basically, it's shaved ice unlike anything we've tasted. We had the strawberry and the mango, and will be back for more.
In addition to their Do Your Own decorating parties and their novel Cake in a Jar (which is exactly how it sounds!), they've expanded their gluten-free menu,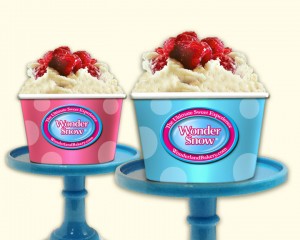 which Catherine was happy to hear because she's starting a 30-day gluten-free diet and is looking for places with gluten-free products and menus.
One other thing: Wonderland Bakery is having their summer Christmas sale. Purchase any Wonderland-brand product and get one free.
For more information, visit WonderlandBakery.com.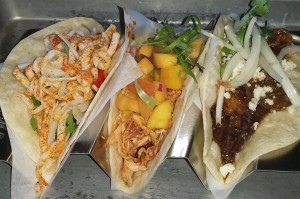 The New Taco Asylum
We've been fans of the gourmet tacos at Taco Asylum at The Camp in Costa Mesa since it opened back in 2011, and were surprised to learn that the menu has had a makeover thanks to new Executive Chef Carlos Anthony, who earned his culinary credentials at acclaimed San Diego restaurant Searsucker and the Michelin-starred Redd's in Napa Valley.
His new menu is fun and adventurous, and features 11 specialty tacos served on flour tortillas, four classic-style tacos served on corn tortillas, vegetarian tacos served on flour tortillas, and several interesting side dishes including corn off the cob and brave potatoes with fire-roasted aioli. The tacos are $4 to $7 each.
We recently sampled the bacon PB&J, short rib, shrimp pad Thai, barbecued chicken, carnitas, duck mole, and the special of the day: pan-seared head cheese tacos laced with a blackberry-cabernet salsa, Stilton cheese and Dijon (Chef Anthony will be rotating exotic tacos on a regular basis).
"My favorite taco is the BBQ Chicken," noted Catherine. "The chicken is roasted and braised, and paired with a peach salsa, scallion and a chipotle BBQ sauce. I love the combination of spicy and sweet from the fruit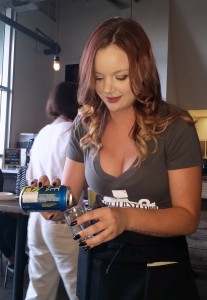 and BBQ sauce."
"I also recommend trying the Bacon PB&J taco, which I have never seen done before," added Catherine. "It has roasted peanut butter, carrot-ginger jam, fresh greens, sweet and spicy bacon and pickled fresno chilis. You can never go wrong when bacon is involved!"
"I agree, the PB&J is great, but I love the flavors in the anchiote-braised short rib taco, and the duck mole," said Christopher. "I also love the churro bites—they're more like round donuts rolled in cinnamon and sugar, and the dulce de leche is a nice touch."
Taco Asylum also has an impressive craft beer selection, curated by beer mistress Sydney, whose knowledge of the beers is truly impressive. She can expertly guide diners to a beer that will please their taste buds while making the perfect accompaniment to any taco.
Visit tacoasylum.com.
Tamarind of London
We were invited to sample new menu items at Tamarind of London, but Christopher was off attending another event so Catherine went solo and was impressed with what Executive Chef Imran Ali has done with the menu.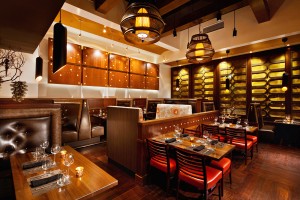 "Tamarind makes it easy for you to feel right at home ordering Indian food with their recently revamped menu. The food is now categorized in an American fashion, broken down by small plates, poultry and meat, vegetables and paneer, and fish and seafood. This makes the menu seem less intimidating, especially to someone like me who is not used to ordering Indian food or the order of the meals.
I really enjoyed the Saffrani Machi (tandoori sea bass). The Chilean sea bass is charbroiled with a saffron-ginger-green chili marinade and apricot curry sauce plated on top of an Indian risotto. It had so much flavor, and the sea bass melted in my mouth.
For an appetizer I recommend the Tandoori Jalpari (charbroiled swordfish). Once again it's a perfect mix of spices. The fish had a crisp outer edge with a soft inside, and a slightly spicy Ajwain-Mace marinade.
One of my favorite things about the food at Tamarind is that the flavors come from herbs and spices, with butter, cream and oil used sparingly if at all."
Visit TamarindOfLondon.com.