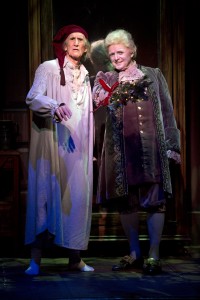 Two fictional and feisty holiday characters come to town this week: Ebenezer Scrooge in "A Christmas Carol" at South Coast Repertory, and Mr. Grinch in "How the Grinch Stole Christmas" at Segerstrom Center.
A Christmas Carol
In real life, Hal Landon Jr. is one of the nicest guys you'd ever hope to meet. However, add makeup, wardrobe and stage lighting, and Landon transforms into the miserly Ebenezer Scrooge in South Coast Repertory's 35th annual production of "A Christmas Carol" that opens this weekend and runs through Dec. 27.
It's the role of a lifetime for Landon, and it has lasted half a lifetime, since Landon has performed the role each year since the show's inception.
"When they were writing the adaptation, they had me in mind for Scrooge from the start—I looked like all the pictures you see of Scrooge," said Landon during a rehearsal break.
Landon is an SCR founding artist who has been with the theater since it was launched back in 1964. In "A Christmas Carol," he shares the stage with two fellow founding artists: Richard Doyle (the Spirit of Christmas Past) and Art Koustik (Joe, a receiver of stolen goods).
"Art only missed one year, and Richard has been dong it a long time," noted Landon. "And John-David Keller (who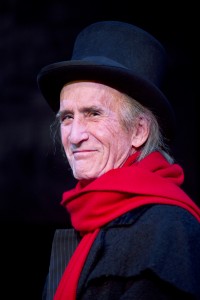 has directed every production of the show) has settled into the role of Fezzywig, although I think at one time or another he has played every role."
So what has changed since Landon first went onstage as Scrooge?
"I need less makeup every year," laughed Landon, who was in his late 30s when he first played Scrooge. "I had to work hard when we first started to make him believable. Now, I don't have to work at it, although it's a very physical role. I go to 24 Hour Fitness every other day, I do weight lifting, go for runs, and take steps to be in physical condition and have energy to do the part."
"Also, the play has evolved," stated Landon. "If you read the original story, the commentary and social elements of it, the things that were important to Dickens like the treatment of the poor and child labor—our emphasis was on the lighter side, hut we now include emphasis on those more serious parts of the play."
"Over the years, I've become more interested in Dickens himself," added Landon. "I've read many of his novels, and the same themes keep coming up in every book. He was a real activist. He went to meetings, gave talks, and walked the walk."
And how does he keep his performance fresh every year?
"I am motivated to do it year after year because it means so much to a lot of people," said Landon, who noted that countless families make "A Christmas Carol" their annual holiday tradition.
You still have time to make it your holiday tradition by calling (714) 708-5555 or visiting SCR.org.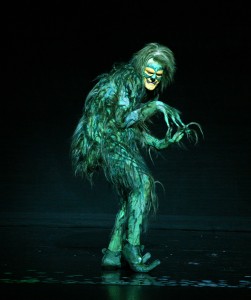 How the Grinch Stole Christmas
In America, the only mean-spirited anti-Christmas character to rival Mr. Scrooge is Mr. Grinch, who rose to fame in the beloved children's book "How the Grinch Stole Christmas" by Dr. Seuss.
The musical stage adaptation of "How the Grinch Stole Christmas" – which includes the song "You're a Mean One, Mr. Grinch" – comes to Segerstrom Center Dec. 19-23.
Playing the Grinch is Stefan Karl, who hails from Iceland but has been touring with the show in this country for the past seven years.
"What a privilege to be a part of this—I did not realize how big the story is in American culture," said Karl. "Everyone knows the story, everyone knows the term 'being a Grinch.' This book was written and published in 1957, but what a great message it has—it's still relevant today, and it's very true to the book."
Karl said the musical numbers "all blend in like a nice piece of art" and help tell the story of the mean Grinch,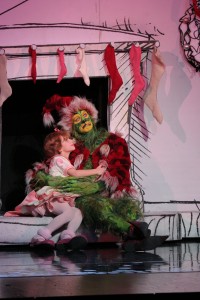 who has a heart "two sizes too small" and plots to steal Christmas from the Whos down in Whoville.
"When we do the show, you see grandma and grandpa, couples, people with children—it's a part of their childhood."
Karl said it takes about 90 minutes to apply his makeup and get into his costume. Then, he has to get into character.
It doesn't matter if you're playing the Grinch or Dracula or Hamlet, you have to approach a character as he's real, he has meaning, feelings and emotions. The Grinch really hates Christmas, so I have to respect that and approach him that way. Then, you can add cherries on top, use physical comedy, put him into a furry green costume. If you don't believe it, the audience will not believe it. He is based on us as humans, everything we love to hate."
After 450 performances as The Grinch, Karl said that he still reminds himself that he's doing this for children and their families.
"About 70 percent of people that come are seeing a Broadway show for the first time, and it's the perfect first show—it's only 90 minutes with no intermission."
For tickets visit SCFTA.org or call (714) 556-2787.