By Christopher Trela & Catherine Del Casale
This is one of our favorite dining times of the year, with several local restaurants offering special holiday menus that celebrate the season.
The Ritz at The Bungalow
The Ritz Restaurant was renowned for its special holiday menu, including roast goose, that it served every December.
The Ritz closed earlier this year, but The Bungalow Restaurant in Corona del Mar is bringing back The Ritz tradition with a special lunch menu served Monday through Friday, 11a.m. to 4 p.m., through Dec.24.
The menu includes Milan Osso Buco, peppered grenadines of filet mignon, and traditional roast goose with lingonberry sauce, served with celery root mashed potatoes, warm gala apple compote and sweet and sour red cabbage.
"Like many Newport Beach locals, we were big fans and frequent guests of The Ritz, and its traditional holiday lunch menu will be missed by many this year," said co-owners Jim Walker and Louie Feinstein in a press release. "We decided to honor The Ritz this year by offering this special menu during the holiday season to continue the tradition we enjoyed for 35 years."
The Bungalow's regular lunch menu will also be available.
Call (949) 673-6585 or visit thebungalowrestaurant.com.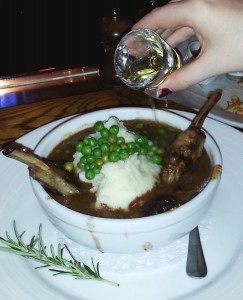 Muldoon's
Charles Dickens' "A Christmas Carol" is one of those classic Christmas tales that's been a long-standing tradition at South Coast Repertory.
Another long-standing tradition is Muldoon's Irish Dickens Christmas Celebration, featuring festive décor, authentic period costuming for the staff, and traditional Irish fare similar to what Charles Dickens might have enjoyed while writing "A Christmas Carol" (if he had lived in Ireland instead of England).
Executive Chef Sindi Rae adds her special touch each year to her traditional menu, which includes roasted Christmas duckling with clementine and pomegranate glaze, and Black Bush stew served with baby lamb chops and a short shot of Black Bush whiskey.
You can also order roasted chestnuts, and Muldoon's famous Wassail–holiday mulled wine served with lady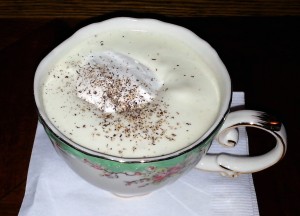 apples and cinnamon bark in snifters. Or try Sindi's Bog Nog made with bourbon and freshly grated nutmeg.
And for dessert, you can't do better than Sindi's Dark Chocolate Pudding, although we love the traditional trifle.
Most entrees are $15 to $25. We sampled the holiday menu last year and can't wait to go back again this year.
For more information, visit Muldoonspub.com.
Leatherby's Café Rouge
The only person who outdoes Scrooge in the humbug department is the title character in the beloved Dr. Seuss book, "How the Grinch Stole Christmas."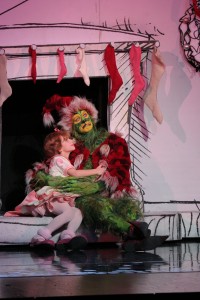 Next week, Segerstrom Center presents the musical version of "How the Grinch Stole Christmas," and Leatherby's Café Rouge (adjacent to Segerstrom Concert Hall) is serving a themed menu courtesy of executive chef Ross Pangilinan.
The first course is called Welcome, Christmas, and is indeed the perfect holiday dish: butternut squash soup with gifts (vanilla foam, sage, cranberry tempura, star anise crouton, parsnip chip, amaretti crumble, hazelnut soil).
We've sampled this dish and it is sensational.
Next comes the main course: Roast Beast (house porchetta, confit sweet potatoes, roasted market vegetables, cranberry salsa verde, natural jus).
And what could make for a more fitting Christmas dessert than milk and cookies?
The themed menu is $45 per person, or $64 with wine pairing. Call (714) 429-7640 or visit PatinaGroup.com.
Pelican Hill Resort
Pelican Hill always has something fun and festive to celebrate the season. This year, they have Twelve Days of Dishes at Coliseum Pool & Grill, which started Dec. 1 and runs through Dec. 12. The event features a dozen distinct à la carte specials, along with seasonal cocktails.
They're also holding a Nutcracker Tea Holiday Party on Dec. 14 and 21. Children and their families can watch "Nutcracker" ballet performances while enjoying holiday tea in the Resort's ballroom. Tea sandwiches, pastries and scones will be served. Cost is $85 per adult and $45 per child.
And then there's Breakfast with Santa on Dec. 20 from 10 a.m. to noon. Families will have a traditional breakfast buffet, a to-go candy buffet, Santa photo souvenirs. Cost is $60 per child or adult.
Call (855) 467-6800 or visit PelicanHill.com.
Bluewater Grill
"Stuff a lobster, not a turkey."
That's the motto at Bluewater Grill, where they have their annual Holiday Baked Stuffed Maine Lobster tasting and wine-pairing event on Tuesday, Dec. 9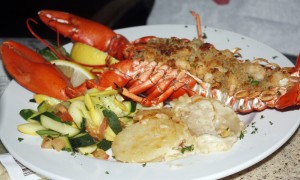 at 6:30 p.m.
Once again, Bluewater chefs will stuff a sustainably harvested whole Maine lobster with a special shrimp and buttery panko-crumb stuffing and serve it with choice of New England or Manhattan clam chowder, two sides, unlimited fresh sourdough bread and a Bluewater Grill bib for $34.95.
Paired with the New England-inspired holiday feast is Oyster Bay Sauvignon Blanc.
Can't make it on Tuesday? No problem, they're doing the same special (minus the wine pairing) through Jan. 1.
We tried the stuffed lobster last year and loved it, and plan to go again this year.
For more information, call (949) 675-3474, or visit BluewaterGrill.com.
W Café
Opening this weekend just in time for the holidays is W Café & Tea Lounge at 1617 Westcliff Drive. They'll be serving breakfast and lunch items, and offering tea menu pairings, tea tastings, and special tea events.
We'll be writing more about them soon, but if you're in the area go check them out.