By Lila Crespin, Ph.D. | Newport Beach Arts Foundation 
Last year our city acquired a marvelous example of sculptor (and Newport Beach resident) Miriam Baker's sculptural art: the sculpture of President Ronald Reagan placed at Bob Henry Sports Park.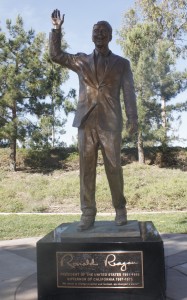 When approaching this full-length portrait of our former president, it is immediately evident that the artist wanted to capture the spirit of a friendly man who was interested in moving toward people.  President Reagan is stepping forward to meet you; there's a wide smile on his face and a look of interest in his eyes.
The sculpture expresses an aura of warmth and interest and, according to those who knew him, it is very reminiscent of the man they knew. Miriam Baker knows that art does imitate life. In her very realistic sculptures of men and women from both the past and the present, one has no trouble recognizing the person she is portraying.
Other than a museum or gallery, it is most rare to find a large body of work produced by a single artist at one site. Sculptor Miriam Baker is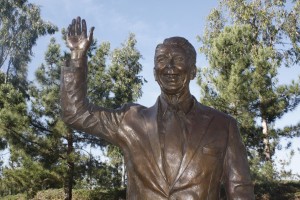 that rare exception. She had been sculpting for two years when she became the "resident sculptor" for Chapman University. A visit to this campus will reveal 23 bronze busts sculpted in high realism by Baker. As one walks throughout the campus bronze portraits of famous faculty, generous donors, and men and women who are significant for us historically appear: George Washington, Abraham Lincoln and Secretary of the Treasury, Alexander Hamilton, to name just a few.
Outside the Samueli Library is a sculpture of Elie Wiesel, the Jewish activist famous for his interventions to save the lives of refugees and concentration camp victims during and after WWII.  Baker had been sculpting for a little more than two years when she received her first commission for a work to be placed on the Chapman campus.
The collection of her work has significantly increased since then and is very worthwhile to visit.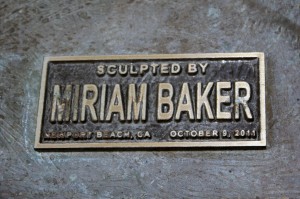 Most recently, Baker has completed sculptures for the Academy of Television Arts & Sciences. Her subjects included Les Moonves, President of CBS, news analyst Dan Rather, and television producer Aaron Spelling. Moonvess liked his sculptural likeness enough to purchase one for himself. I don't blame him. Miriam Baker's work is beautiful, life-like, and done with a great deal of artistic intent.
Directions for viewing the Miriam Baker sculptures on the campus of Chapman University: Start your visit at the Pankey Visitor Center in the main lobby of Argyros Forum at 386 N. Center Street, Orange. They will provide information for the sites that contain Baker's art works, many of which surround the Argyros Forum. You can also start at the Schmidt Gate, turn left at Fish Interfaith Center, and you will walk between two rows of her sculptures.
The mission of the Newport Beach Arts Foundation is to promote and broaden cultural activities in the community as the fund-raising organization of the Newport Beach Arts Commission.  We welcome new members.  If you are interested in joining or have comments on this article, please contact Lila Crespin at [email protected].