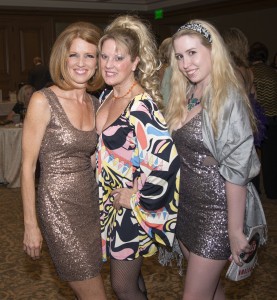 Big hair, glitzy dresses, bell-bottoms, and 1960s Motown music took center stage at the recent Laguna Playhouse Motown Gala, "Stop In The Name of Fun," held at The Resort at Pelican Hill.
More than 300 guests enjoyed an evening of fine food, silent and live auctions, and entertainment. More than $100,000 was raised to benefit the playhouse's artistic and educational programs.
"We are ecstatic—it was a perfect night. We exceeded all goals for our fundraiser this year. We almost doubled our revenue over last year's fundraiser. The gala attracted 80 more guests and auctioned 50 more packages and baskets than last year's event.  Everyone involved gave this event their all, and the results are outstanding," said Motown gala co-chair Heidi Miller, a playhouse board of trustee member.
Miller and co-chair Michelle Bendetti, a long-time playhouse supporter, were dressed in their finest 60s outfits as they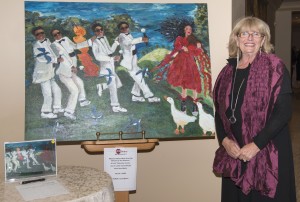 joined other costumed guests and committee members that included Laguna Playhouse Executive Director Karen Wood, Artistic Director Ann E. Wareham, Newport Beach resident and artist Ilona Martin, Justin Myers of Newport Beach Vineyards and Winery, Newport Beach residents Henry and Deborah Mayhew, and other local supporters.
Highlights of the evening included a performance by The Laguna Playhouse Conservatory Students, and entertainment by the cast of "A Christmas Memory." Guests danced to the Allstars Live band, who performed a repertoire of Motown Sounds including songs from Diana Ross and The Supremes, Marvin Gaye, The Marvelettes, and Smoky Robinson.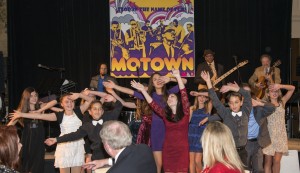 The Raise Your Paddle Direct Donations to support the playhouse raised $35,700. The Live Auction raised $20,908 and featured walk on roles in a Laguna Playhouse production, a trip to New York, a Cabo getaway, and more.
The Silent Auction, which raised $21, 230, featured 120 baskets and packages for travel, dining, theatre going, photography, art, wine and tastings, beauty, health, fitness, shopping, and more.
Sponsors and underwriters included Cynthia Ward, Andersen Hotels, Inc., Capital Group, Timothy & Lynn Carlyle, Deborah & Cody Engle, Glenn & Kathryn Gray, Joe & Jane Hanauer, Cynthia Harriss, Maryann & Joe Herrera, Masson Family Foundation, Henry & Deborah Mayhew, James R. and Suzanne S. Mellor, Paul & Heather Singarella, Lisa Hale, Parallax Capital Partners, Otis & Joann Healy, Ken & Lynda Fischbeck, Donald & Dorothy Bendetti, Gardner Grout Foundation, Jerry & Whitney Mandel, Mike and Nancy Meyer, NuWest Insurance Services -Mr. & Mrs. Chuck Rosenberger, Patricia Griggs, Barbara Miller, Nancy Miller, Madeleine Peterson, Michelle Reinglass, Ilona Martin, Penny Pralle, Robert & Michelle Bendetti, First Republic Bank, Firebrand Media LLC, Newport Beach Vineyards & Winery, and Laguna Digital.
For more information, visit LagunaPlayhouse.com.
[All photos by Charles Weinberg]