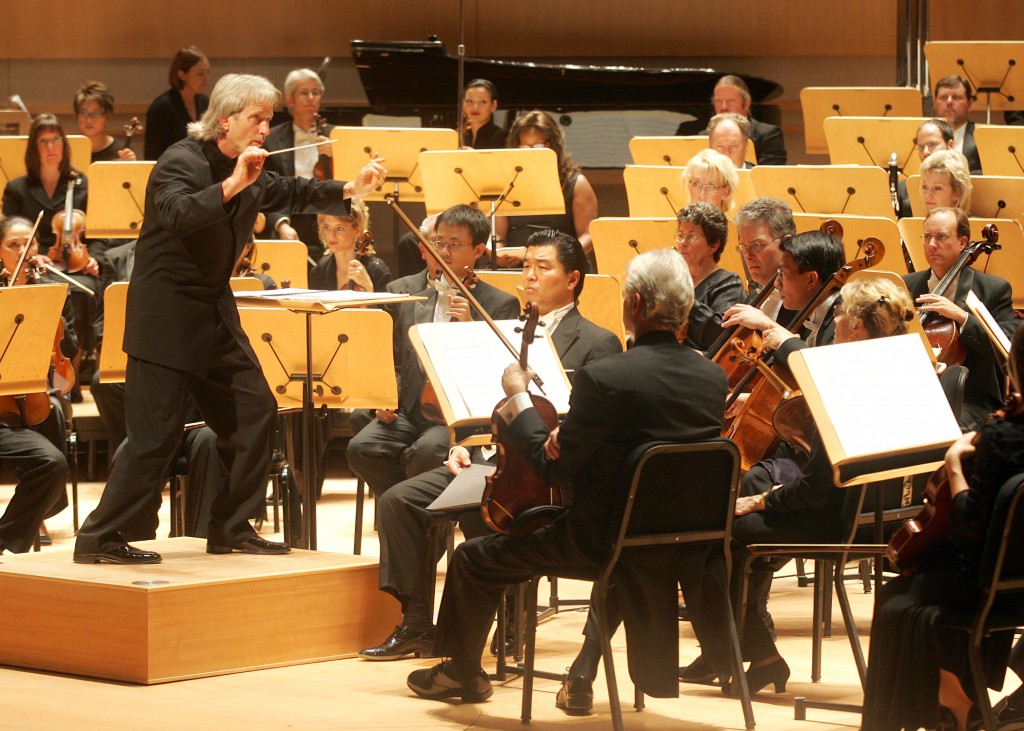 Rife with powerful pagan imagery and a disruptive atonal dissonance, Igor Stravinsky's Rite of Spring was so shockingly avante-garde that it caused near riots when it first premiered in 1913 Paris as a ballet score for the equally edgy choreography of Vaslav Nijinsky, performed by Serge Diaghilev's Ballets Russes.
The work's evocation of primitive , as a young girl dances herself to death, remains ever-resonant, if possibly an acquired taste for those accustomed to more lyrical- and less disturbing- musical stories.
In celebration of Rite of Spring's centennial this month, Pacific Symphony sets it as the cornerstone of the orchestra's upcoming concert "Tchaikovsky and Stravinsky- Two Sides of Russian Ballet," which runs next weekend in Renée and Henry Segerstrom Concert Hall. And while I'm doubtful of any outraged outbreaks, the piece remains a passionate one that requires both skillful playing and awakened listening.
 "From a musician's standpoint, I love it," avers Pacific Symphony violinist Rob Schumitzky. "It's a very difficult piece for the violin, tricky, with technically challenging fingering. There are plenty of spaces to fall in the cracks, because he's written different lines for the violin section so we're not all playing the same one. That creates a thicker orchestral texture, and the music becomes more powerful because more notes are being played at one time. I feel empowered and motivated when I have that music in front of me."
Stravinsky's iconic score rounds out a program that also includes excerpts from Tchaikovsky's The Nutcracker, Swan Lake, and "Lullaby in a Storm" from Sixteen Songs for Children, as well as Stravinsky's "Epilogue: Lullaby in the Land of Eternity" from The Fairy's Kiss and scenes from director Tony Palmer's 1982 film Stravinsky: Once at a Border.  
Schumitzky, a longtime resident of Newport Beach, first studied Stravinsky as an undergraduate student at Juilliard; today, after more than twenty-five years with Pacific Symphony, he's come to know Rite of Spring well.
"With a melodic composer like Brahms, there's a theme there where you can 'sing' it, but it's more difficult to 'sing' Stravinsky," he reflects. "With him, it's how the orchestration is as a whole. When it all comes together, you hear the brilliance of line passing from instrument to instrument, section to section. It has been recognized as a concert piece considered one of the most influential works of the 20th century, and it never loses its intensity."
"This is a work that has an emotion attached to it, (because it originated as a ballet score) and even though we don't have that action happening with it, as musicians we have that knowledge," says Schumitzky. "It's like playing a film score- you can't play in an unemotional way, you have to play it with a knowledge of what it is about. The journey through this piece is quite powerful, and when you listen to it, it just grabs the heartstrings and draws the listeners in."
Pacific Symphony performs Rite of Spring" June 6 – 8 at 8 p.m. in Renée and Henry Segerstrom Concert Hall, Segerstrom Center for the Arts, 615 Town Center Dr. Costa Mesa. Preview talk at 7 p.m. Tickets are $25-$112; for more information or to purchase tickets, call (714) 755-5799 or go to PacificSymphony.org.