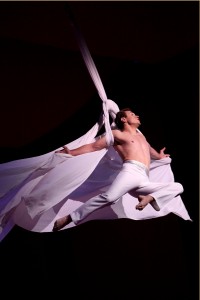 Packed with gravity-defying panache and a show-stopping athleticism and grace, "Cirque de la Symphonie's" wow factor soars as high as the musical masterpieces it accompanies.
The internationally-renowned troupe, which includes aerial fliers, dancers, contortionists, strongmen and more, will be backed by Pacific Symphony's full orchestra for three unforgettable evenings May 1 – 3 in the Renée and Henry Segerstrom Concert Hall as part of the Symphony's Pops Series.
Whether twirling above the orchestra in swirls of silk or swinging through stupendous flights usually achieved only by the imagination, "Cirque de la Symphonie" brings a splendid immediacy of moments to the intimacy of the concert hall.
Yet their acrobatic feats dazzle no less than their aural counterparts, which for the Pops performances include a fan-favored classical repertoire ranging from John Williams' "Flight to Neverland" from the movie "Hook" to Tchaikovsky's Waltz from "Swan Lake," all under the baton of Principal Pops Conductor Richard Kaufman.
Also included in the program:  the scores from Leonard Bernstein's "Candide," Camille Saint-Saëns' "Baccanale" from "Samson and Delilah," and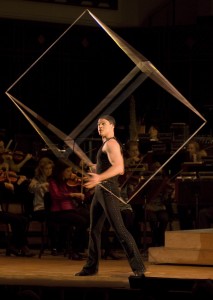 "Danse Macabre," as well as pieces from Nikolai Rimsky-Korsakov's "Capriccio Espagnol" and "The Snow Maiden."
"I have not had the pleasure of working with Cirque de la Symphonie before, but I did have an opportunity to meet them in Australia when I was conducting at the Sydney Opera House last year," said Maestro Kaufman during a recent phone interview. "Their upcoming performance with Pacific Symphony will feature great music accompanied by extraordinary jugglers, aerialists, and acrobats…everything that makes Cirque a unique and thrilling experience. In the Segerstrom Concert Hall, it will be truly amazing."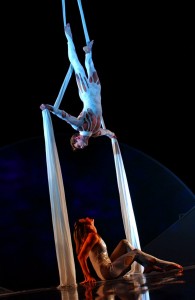 "Cirque de la Symphonie" will perform May 1 – 3 in the Renée and Henry Segerstrom Concert Hall. Tickets are $25- $160. For tickets and information call (714) 755-5799 or visit PacificSymphony.org.