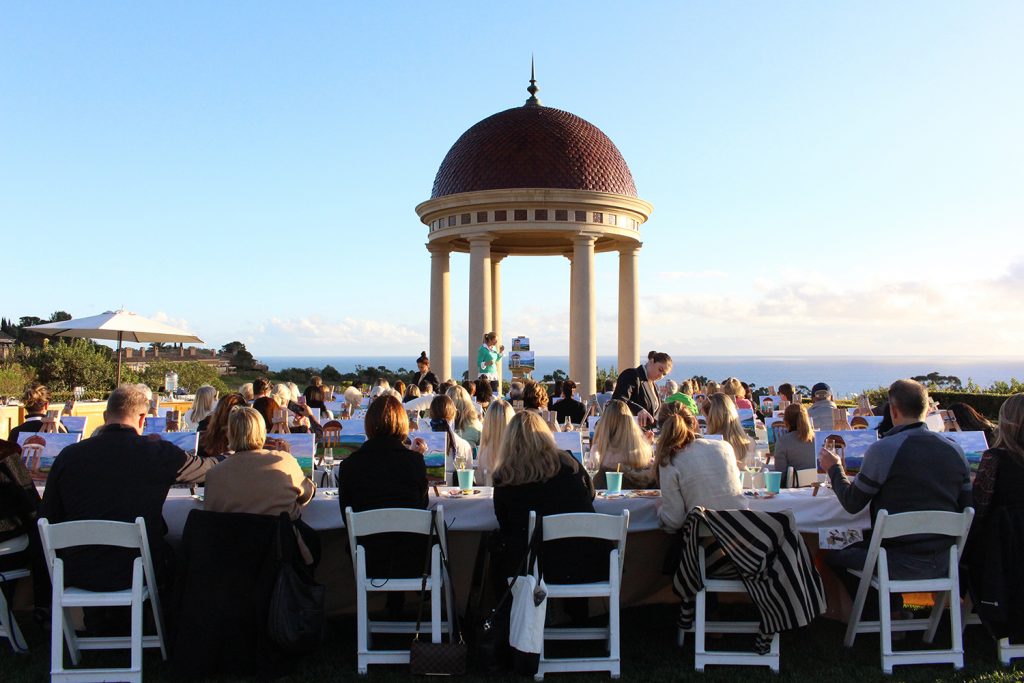 There's painting al fresco, and then there's painting al fresco at Pelican Hill Resort.
Pelican Hill has taken the trend of adult painting sessions and turned into an unforgettable evening of beauty called "Painting and Prosecco. The initial class on March 14 was a two-hour journey for your creative side held on the Event Lawn overlooking the Ocean South Golf Course and the Pacific Ocean. It may be the most breathtaking classroom on the planet, and an excellent place to paint one's surrounding vistas.
Guests were met by the attentive staff, handed a glass of bubbly prosecco (Italian sparkling wine) and directed to one of the over 70 seats in front of the Rotunda. Each seat was already equipped with canvas, easel, a palette of paint colors, brushes, and an apron.
Renowned artist Timree Gold, who instructed a Painting and Prosecco session at Pelican Hill once before and also teaches in her own Newport Beach studio, cheerfully led the audience in a step-by-step landscape of the Rotunda. The island of Catalina also made an appearance, as did clouds, rose bushes, and grass. It was a perfect scene, but Gold said painting is not about perfection.
"If you do make a mistake, it's no big deal. We can just fix it," Gold assured her students. While Pelican Hill servers refilled glasses of prosecco, two of Gold's assistants refilled paint and offered help to those who requested it.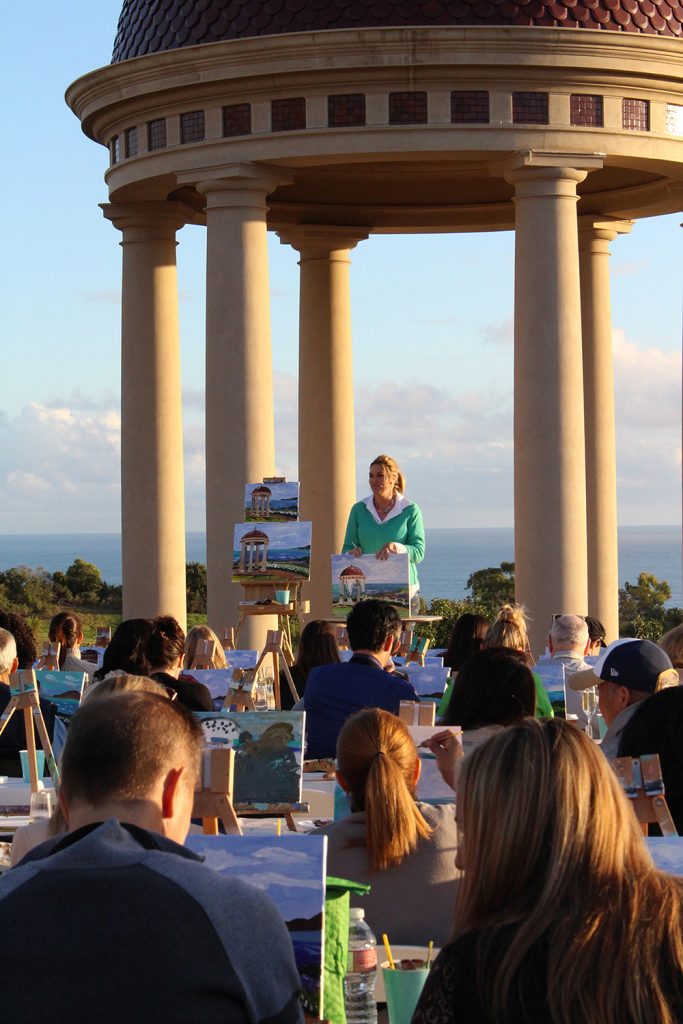 Gold also encouraged those who had had a wedding on the Event Lawn at Pelican Hill, or  were considering it, to add those details to their painting. She displayed one painting of the Rotunda that was draped in white linens and flowers. Shrubbery could be overflowing with color, she suggested, although in real life, white roses were just beginning to bloom.
As the bubbly flowed, canvases went from vanilla to vivid.
Students whispered to each other that they found the class to be "therapeutic," "blissful," and even "cathartic."
The results: 70 paintings that were very similar, but none that were exactly alike. When all was said and done, students proudly posed with their paintings in front of the setting sun. Those who were still working on their painting added some streaks of pink to the sky. A mix of older couples said goodbye, and young adults, ready to post their creations on Instagram, gathered to take selfies with Gold.
Of course, sunset is no time to depart from Pelican Hill. Perhaps knowing this, the resort gave each student a voucher for 20 percent off fine dining at Andrea or Pelican Grill for that evening.
Pelican Hill said it will announce the next session of Painting and Prosecco this month,  and that the date should be some time in June.
For information about classes and events at Pelican Hill, visit PelicanHill.com.
To take a class with Timree Gold at her Newport Beach studio, visit Timree.com or call (949) 723-1300.