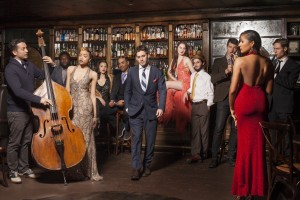 Something's a little off at Segerstrom Center for the Arts—but that's a good thing.
The Off Center Festival returns to Segerstrom Center Jan. 21 – 31 with an all-new lineup of edgy, eclectic and exciting performers that range from solo shows to retro-cool big bands.
"It's internationally eclectic," agreed Segerstrom Center President Terry Dwyer. "We tried to create a festival where you could not predict how it would turn out. We looked for the most exciting things happening—passionate artists expressing their feelings about the topics of the day."
This is the fourth incarnation of the Off Center Festival, which Dwyer said was created because although a variety of different art forms are presented at Segerstrom Center, they did not have anything that could be classified as contemporary and adventurous.
The idea behind the Off Center Festival is to give audiences a wide range of high-quality performance options.
"We're not in it to make money, we're in it to set artistic integrity," explained Dwyer. "We want to have a range of offerings, but in addition to the programming, we have added social elements like the Off Center Lounge (at Leatherby's Café Rouge) and Parties on the Plaza. It gives you an opportunity to hang out. We live in communities that are car culture. You tend to see a show, get back in your car, and drive home. Instead, hang out with us for a while in the Off Center Lounge, be with other audience members and the various artists."
Naturally, Dwyer hopes the Off Center Festival will lure new audiences who might not normally attend performances at Segerstrom Center.
"Some people will come because it's an exciting thing to do, others want to take a chance because it's low cost or free," he said. "It's hard to predict, but you create an energy where people want to check out what's happening at the festival. This is not the kind of work you're going to know in advance. It creates a perception that the Center is up to something interesting, and the community will take the next step."
"We wanted to produce new kinds of work for Orange County, and have it be one of the prominent components of our programming, and send a message to the community that the Center is evolving, changing, opening up to more kinds of work and more ways for the community to engage with us," added Dwyer. "We're trying to remove barriers to participate. It's an important way to communicate to the community that things are evolving here."
Ticket prices for the Off Center performances have been kept low to encourage more people to come out to Segerstrom Center. Dwyer said that for those who do take a chance, they'll experience "an adventurous journey around the world, with a range of topics and content and approaches that are really exciting, from great artists that are doing work they're really passionate about. There will be moments during the Off Center Festival that people will not forget."
For information on the Off Center Festival, visit SCFTA.org.
Off Center Festival Schedule
The fourth annual Off Center Festival runs Jan. 21 – 31, and features ten exciting artists and companies performing at the Center for the first time.
In addition to Nick Waterhouse, Jungle Fire and Orgone, this year's festival includes the West Coast premieres of Mehr Theatre Group's "Timeloss" and Spain's Agrupación Señor Serrano's "Brickman Brando Bubble Boom."
Making Southern California debuts are Marga Gomez performing "Lovebirds" and Amy O'Neal in her "Opposing Forces."
Additional Center debuts include Scott Bradlee & Postmodern Jukebox, Roger Guenveur Smith in "Rodney King" and Kristina Wong in a preview of her newest show, "The Wong Street Journal."
The Center's Off Center Lounge in Leatherby's Café Rouge will again be open and offering a late-night menu and music.
The Off Center Festival includes two Parties-on-the-Plaza (POP): Saturday, Jan. 24 and Friday, Jan. 30. The first POP will feature Orange County rocker Nick Waterhouse. On Jan. 30, the party continues with the cumbia, afrobeat, trad funk fusion of Jungle Fire and the cold-blooded blend of deep soul, rare funk, and afro-disco (with a raw rock star edge) of Orgone.
In addition to the music and the theatre, culinary adventure will be provided by some of Orange County's premiere food truck companies on Jan. 24 and 30. Waff 'N Roll, Mustache Mike's, Frijolito's Mobile Coffee Shop and India Jones Chow Truck will be at the Jan. 24 Party-on-the-Plaza; Adobo Express, The Burnt Truck, Bakery Truck and Hobo Co Pizza will be on site Jan. 30.
Leatherby's Café Rouge in the Renée and Henry Segerstrom Concert Hall will offer a special post-performance, low-price menu Jan. 21, 23, 24, 30 and 31. Following performances, audiences and actors will have the opportunity to mix, mingle, and socialize.
The Jan. 24 and 30 Parties-on-the Plaza are free. All other tickets are $25, except for Scott Bradlee & Postmodern Jukebox in the Renée and Henry Segerstrom Concert Hall, which are $25, $35 and $45. There will also be $10 Student Rush tickets available based on availability one hour prior to each performance; two tickets per performance with valid student identification.
For tickets, visit SCFTA.org or call (714) 556-2787.