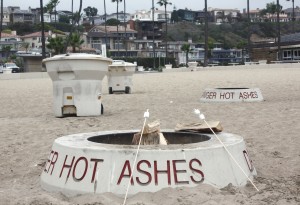 Fanning the flames of the controversial fire ring issue, burning wood in beach bonfire pits will once again be allowed, but limited, following a City Council decision this week.
Council voted 5-2 on Tuesday to revert 30 rings, half at Big Corona and half at the Balboa Pier, immediately back to wood burning. Eventually, there will be 60 wood burning rings at both beaches and other locations in the city, including Newport Dunes and the Newport Pier.
Mayor Pro Tem Diane Dixon and Councilman Keith Curry dissented.
The decision was made following about an hour and a half of discussion and nearly two dozen public speakers, split fairly evenly on both sides of the issue.
Staff believes this will comply with both South Coast Air Quality Management District and the California Coastal Commission, said City Manager Dave Kiff. The two organizations have been fighting over control of the fire rings for several years.
Only charcoal has been allowed in the city's beach fire pits since SCAQMD's rule regulating the types of fuel used in beach bonfires went into effect on March 1.
South Coast AQMD Rule 444 allows wood burning fires on the beach if they are spaced at least 100 feet apart from each other and 700 feet from homes. Several of the rings would be shuffled around a bit in order to accommodate the rule.
While the layouts aren't perfect, it does a good job of complying with both agencies, noted newly elected Councilman Scott Peotter, who represents the district covering Corona del Mar. Peotter raised the issue at the December meeting and directed staff to explore ideas on bringing back wood.
"I have a problem with charcoal in the fire rings," Peotter said. "You may as well remove them."
Charcoal fueled fire rings have little use in the summer and no use in the evening or winter, he added.
"So in effect, you've shut down the beaches at dusk," Peotter argued. "I'd love to have people come and enjoy our beaches after dark and that means wood in the fire."
Charcoal, being a more expensive fuel, limits who can enjoy the fire pits, he said.
That's not the case, countered Breakers Drive resident and a vocal opponent of the fire rings, Frank Peters.
The beach was packed as usual last summer, he said, displaying photos of groups of people gathered around the fire pits.
There was an increase in usage at the beach last summer, Curry agreed.
The city has worked with the community to try and find a strategy that works with both sides and addresses the "significant health issues," Curry said. What they came up with was working, he continued.
There are 600 wood-burning fire pits just up the highway in Huntington Beach for those who want that, Curry argued. Why shouldn't there be an option for someone who wants to enjoy a fire pit, but wants a clean-burning alternative?
"Anybody who denies the health impacts, particularly given the testimony of the people who have spoken here tonight, should be ashamed of themselves," Curry said.
"What strikes me is that there is no compromise here," Curry continued. "It's 'We're going to go back to all wood fire pits because that's what we want because we've got the political will to do it."
"Let's get 30 fire pits burning wood tomorrow," Peotter recommended to some applause from the audience.
Among the public speakers who agreed with Peotter was Assemblyman Travis Allen, who represents Huntington Beach among other OC cities.
People "love, and value and treasure" the beach bonfires and they should remain a part of the California landscape, Allen said. Some of his favorite memories are at the beach around a bonfire.
Newport Beach Chamber of Commerce Citizen of the Year Nancy Skinner also had some fond memories around a beach bonfire, but thought the health risks weren't worth it.
"I grew up in Southern California. I lived in Pasadena and we'd come down to Big Corona and enjoy those fire rings. A lot," said Skinner, agreeing with several of the nostalgic and tradition comments already mentioned. "But it is beyond my comprehension that we wouldn't pay attention to the health of people who are negatively affected by those fire rings."
She felt the charcoal was a good compromise. People could still enjoy the fire rings, but they wouldn't pose a health risk to others, she said.
"I just can't even imagine that you would make a decision knowing what you're hearing tonight and still allow this to happen when there is so much concern about the health," she said.
"It's sad we've reached this point," Skinner said.
Peters agreed about the health risks. People around burning wood breathe in benzene, a group 1 carcinogen, and small particulate matter, Peters said. The AQMD likened a single fire pit equivalent to the secondhand smoke of 800 cigarettes
Charcoal is expensive and limits who will be able to enjoy the fire rings, said supporter Doug Swardstrom, co-founder of Friends of the Fire Rings. It was a "ploy that adversely affects lower socio-economic classes," he said.
"Beach bonfires are not simply something for the people who live at the beach," Allen agreed. People who live elsewhere may not get to visit as often, but "that does not diminish their ownership or their ability to enjoy the beach, simply because of their geographic distance.".
The fire rings are a part of Southern California culture and heritage, noted Swardstrom
He called the plan a compromise that will "help move the city forward" and address the CCC, Rule 444 and "the rule of the people."
"(The plan is) the fiscal responsible thing to do. It's what the people of Newport Beach want," Swardstrom said. "And it's the right thing to do."