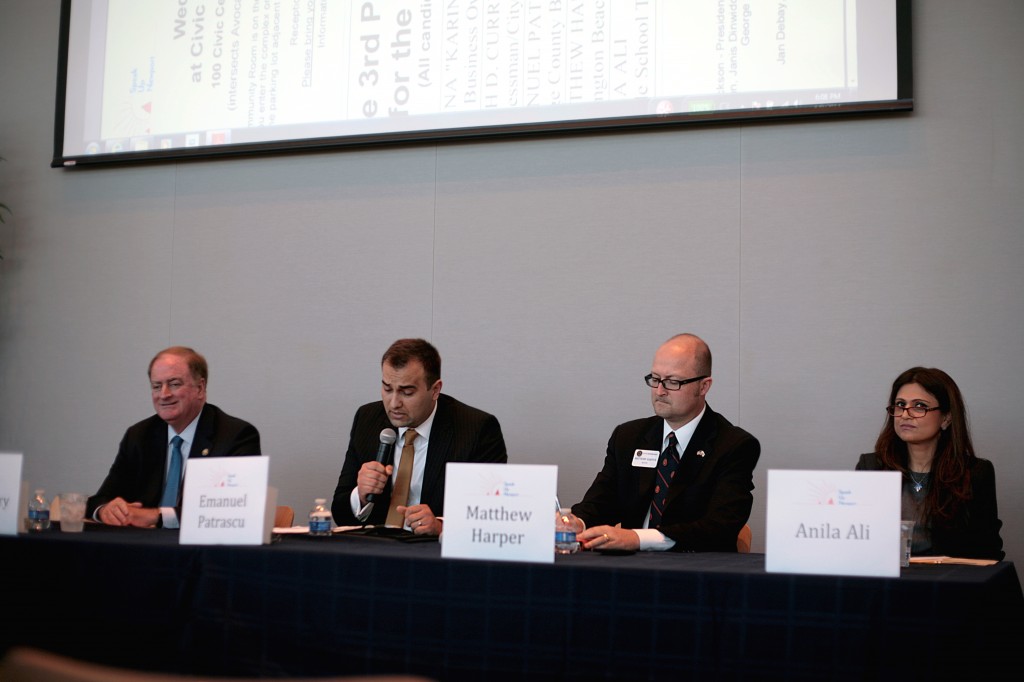 About 50 people attended Speak Up Newport's 74th Assembly District candidate forum Wednesday evening in the community room at the Newport Beach civic center.
The participating candidates were councilman Keith Curry, Orange County businessman Emanuel Patrascu, Huntington Beach mayor Matthew Harper, all republicans, and OC teacher Anila Ali, a democrat. Karina Onofre was absent.
Marilee Jackson, president of the SUN board of directors, moderated the event.
The 74th District serves Costa Mesa, Huntington Beach, Newport Beach, Irvine, Laguna Beach and Laguna Woods.
Candidates spoke about their background, experience and their stance on a few issues.
Things got a little heated when the candidates were allowed to ask each other one question.
Curry began by questioning if Patrascu calling himself a businessman was "misleading."
Patrascu answered that it was deceiving to have a "political crony" sue on his behalf over this issue and that a court had settled the matter.
"A judge looked at it (and) said I owned a business," Patrascu replied. "There's nothing deceitful about it."
Patrascu fired back by asking Curry if he demonstrated a "conservative value" by voting to spend funds on architectural changes to the civic center project to win awards.
"We don't really care about the awards, what we care about is building a quality product for the people of this city for the next 80 years," Curry countered. "All you do when you criticize is show that you're an ideological extremist, who will build mediocre projects and try to avoid making any kind of real contribution to the bettering of society and quality of life."
The questions kept coming for Curry as Harper asked him about the Styrofoam ban and why he would vote on something that could negatively impact restaurants and small business owners in the city.
The ban, which only affects business that offer carry-out food, was supported by the Restaurant Association of Newport Beach, Curry answered.
Clean beaches are important to the entire community, he said, and it was broadly supported.
"That's the difference between you and me," Curry replied to Harper. "You believe this is an ideological issue on which you can claim to be some kind of Mr. Super conservative, right-wing guy, when the fact of the matter is when you're on a city council, and you should know this from your city where you've seen a 600 percent increase in massage parlors, people are concerned about the quality of life. They're concerned about whether as mayor, if you're making the city a better place to live, a cleaner place to live and a place that has higher property values because of these decisions."
But comments toward Curry weren't all negative, Ali congratulated Curry on the civic center and called it the "jewel" of Newport Beach.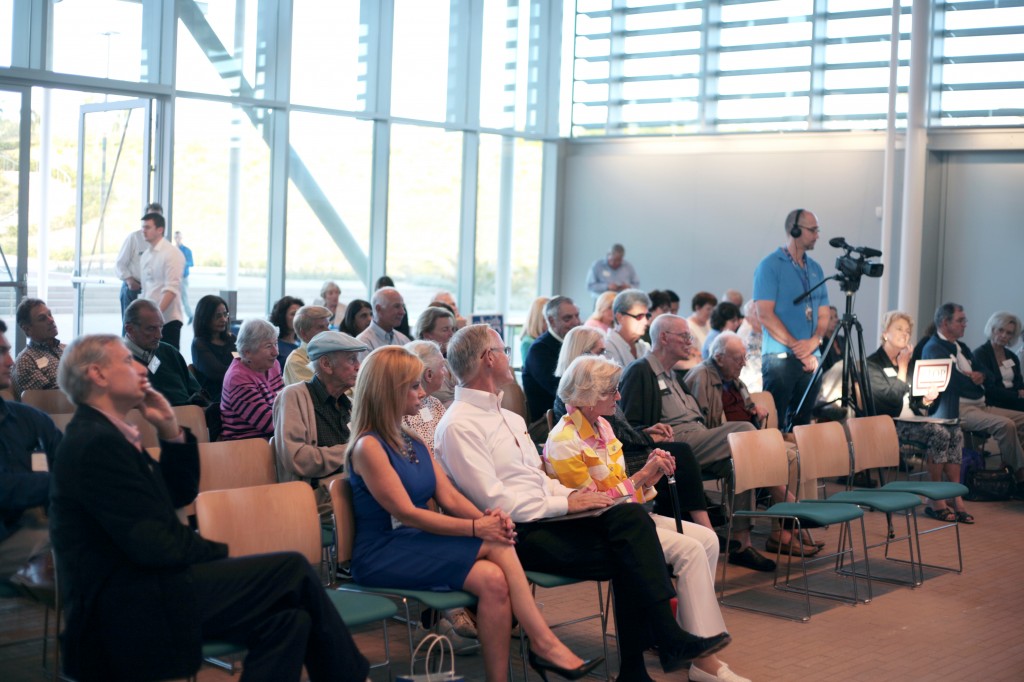 She then moved her focus to Harper and noted that after speaking with seniors at a recent Huntington Beach City Council meeting that many said they would "vote for anybody but Harper."
"So my question to you is, why are they so unhappy?" she asked the beach city's mayor.
That was a night with a very controversial issue on the agenda, he said.
The city has been debating whether or not to impose a 55 and over age restriction on some mobile home parks. While some people want to make the mobile home parks for seniors only and that it would allow for rent control for those residents, Harper argued that it would be taking away the rights of the property owner. It's wrong and a violation of the constitutional rights of property owners, he added.
"I believe in America and I believe in freedom," Harper said. "And if people are going to criticize me for that, you know what I'm going to stick to my principles regardless of how loud anyone shouts."
All the candidates also spoke about working across party lines.
"Things are different in Sacramento," Ali said. "If you do elect me as your representative, I can promise you I'm not going to be looking at party lines. For me it's important that you are my constituents, you voted me in, and your community issues are my issues."
There are issues that both sides need to work on together, Patrascu said.
He knows players on both sides, he added.
"I know the democrats just as well as I know the republicans," he said.
Curry talked about working "across the aisle" to craft solutions.
"I've got a demonstrated record of being able to work with our democratic friends to get things done," Curry said.
Harper said he has been an activist for 20 years helping to elect republicans and he hopes to continue that in other parts of the state as well.
As far as background and professional experience go, each candidate had their own story.
Curry spoke about his experience serving on the Newport Beach City Council. He also emphasized his work on transportation programs and as a financial adviser.
"I will take that experience and practical problem solving and bring that to Sacramento to make this a better state for all of us to live in," Curry said.
Patrascu, a native of Romania, said now that he has a son, he wants to make sure that he lives in a country that values hard work, determination and personal responsibility, he said. He wants his son to grow up in a California that values economic freedom, he added.
Patrascu said he had experience in both public positions and in the private sector.
"I know Sacramento," Patrascu said. "I can go there and actually get things done."
Harper emphasized his longtime involvement in local politics and service through various Republican leadership roles. He gained valuable experience working several years as an aide for a county supervisor, he said.
"At that level, you really learn a lot about how this county works and what are all the issues that this county touches," Harper said.
Ali, a longtime educator, said she had the "usual immigrant story," with one twist, her grandmother was the first assemblywoman in India about 70 years ago and has been a great influence on her. Public service and giving back to the community is a bit of a family legacy, she said.
Orange County has been her home for nearly two decades now and is close to her heart.
"This district is very dear to me," Ali said. "It's given me everything I could ever dream of and of course I want to do everything to make sure that we keep it great."
For more information about Speak Up Newport, visit speakupnewport.org.
For information about the candidates visit, curryforassembly.com, joinemanuel.org, votematthewharper.com, anilaali.com, and karinaonofre.com.