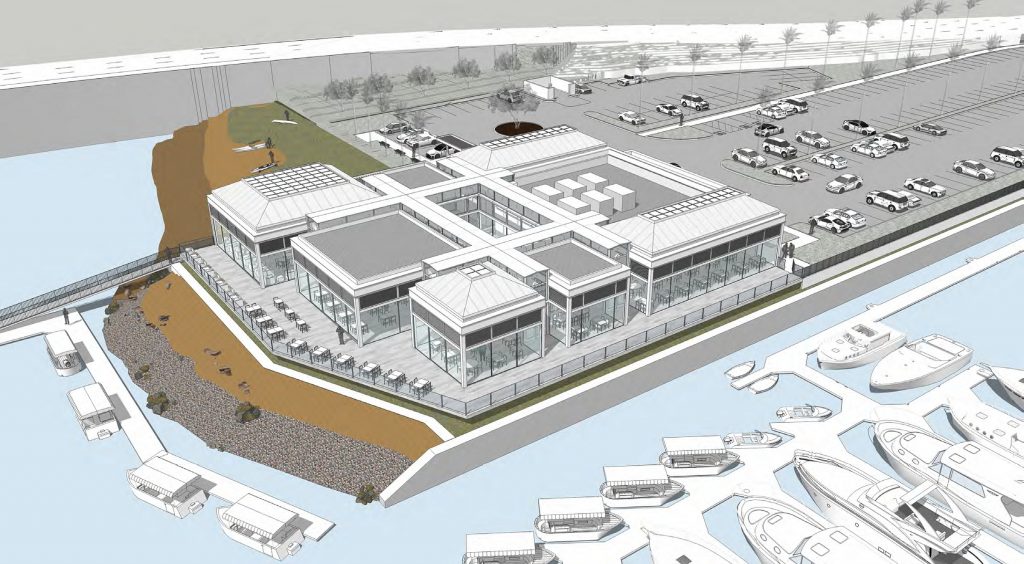 The California Coastal Commission this week unanimously approved an application for the expansion of Balboa Marina, construction of a public dock component and a new restaurant.
The project, located at 201 East Coast Hwy., includes both landside and waterside development. The applicants are both the Irvine Company and the city of Newport Beach.
Meeting inside Newport Beach council chambers Thursday, coastal staff recommended approval with 17 special conditions, most of which focus on protecting sensitive animal and plant species, and public access.
"This is the type of development that is encouraged by the Coastal Act," said Shawna Schaffner, CAA Planning, representing the applicant.
Commissioners only had a few questions related to public access, and almost no other comments.
"This looks like a very well thought out process," said Commissioner Steve Kinsey
The project plans to expand the existing private marina to include 26 new slips (for a total of 131). The expansion will accommodate a variety of boats including 14 boats ranging in size from 20-feet to 40-feet and 12 boats ranging in size from 50-feet to 80-feet.
It also includes plans to install a new public dock system, with a dedicated 8-foot-wide public walkway from PCH. A new gangway will be included with the public docks, as well as an additional eight public transient slips for a total of 12 public transient use slips for boats up to 20-feet in length. The gangway and the public docks will be maintained by the city.
The current surface parking lot and an existing yacht brokerage and restroom building will be demolished. A new one-story, 24-foot-9-inch tall, 14,252-square-foot restaurant will be constructed.
It's an appropriate location in an underserved area of the harbor for public access, said Harbor Resources Manager Chris Miller. They support the project, he said. Miller called the Irvine Company a "cooperative, willing and generous partner" in providing the public access for the city with the public dock component of the project.  
Harbor Commission Chair Paul Blank supported the project. It facilitates visitor access and supports the Commission's previous recommendation of a public pier at Balboa Marina, he said.
But not everyone is on board with the Balboa Marina project.
Seven letters and a petition opposing the plans were submitted to the CCC. Opponents have concerns about traffic, parking, public access, views, noise, and more.
A lot of fears raised by the project concern not only the local neighborhood, but the general public, Linda Isle resident William O'Conner said Thursday at the meeting.
He mentioned the sewer system, the sea wall, bridge blockage, and lack of consideration for Linda Isle during the testing process. He also asked CCC for a full environmental impact report.
"It will have a negative impact," on the area, added Margo O'Conner.
It is very much used by the public, she said, and this project will create a loss of use.
There is a real opportunity for the Coastal Commission to create a public multi-use pathway, William O'Conner pointed out.
The project is too big, stays open too late and not compatible with the nearby restaurant, Margo O'Conner noted.
The parking lot isn't too small, the project is too big, a few opponents pointed out.
Several opponents voiced concerns about the late hours and possible disruption and noise it will cause for the community.
The lounge is a "very limited area" in the restaurant, Schaffner countered. There will also be additional input from the city regarding the hours, she pointed out.
Coastal Commission staff note in their report that other major issues raised by this proposed development concern impacts to marine resources, water quality, visual resources, hazards, and public access.
Responding to the concern about blocking views, CCC staff pointed out that there have been redesigns to, among other things, lower the overall height.
A redesign of the parking lot is also included to improve traffic circulation resulting in 250 parking spaces plus 44 tandem/valet-stacked parking spaces for a total of 294 parking spaces.
Plans also include installing hardscape and landscape, and a new restroom.
In order to accommodate the new docks and provide safe navigation and vessel berthing, the project also includes dredging of 9,900 cubic yards of material, which will be disposed of at an approved ocean disposal site located approximately four miles southwest of the Newport Harbor entrance.
The special conditions staff suggested with the permit include requiring pre-construction surveys and avoidance of specific birds and other sensitive species, submittal of a revised eelgrass mitigation plan that will occur prior to construction in certain areas, updated eelgrass surveys, implementing a coastal public access sign plan, requiring 16 off-site employee parking spaces, and more. There are also several conditions that aim to minimize any impact to water quality and marine resources.
Staff also suggested a condition that requires the Irvine Company to "irrevocably offer to dedicate a public access easement."