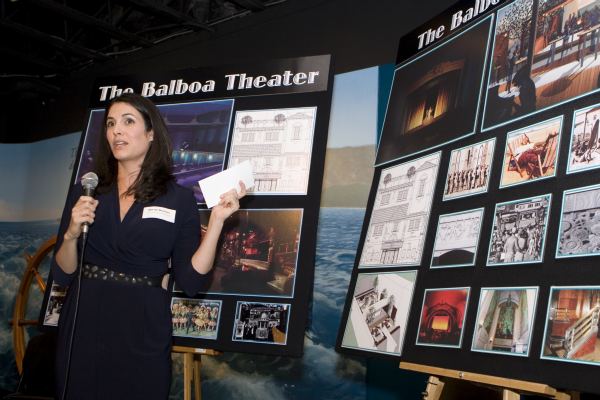 The only things missing were the shovels as supporters of the Balboa Theater celebrated the city's approval of final designs for the venerable venue's renovation.
Now, having completed the arduous and time-consuming tasks of obtaining all required government approvals (General Plan amendment, Planning Department approval,  Water Quality Management plan, Coastal Permit, and finally Building Permit—to name a few) the project is "shovel ready."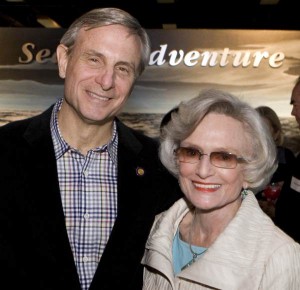 In recognition of this fact, the Balboa Theater Foundation invited 100 key supporters to see the scale model of the theater, to listen to Director Marnie Burress describe some of the fascinating concepts she and her colleagues at Disney Imagineering are coming up with for its interior, and to hear John Sullivan and Ken Phebus of the Producing Group describe their plans for a Beach Music Festival next fall, featuring nationally known bands, and also their plans for the Theater's opening season.
Councilman Mike Henn opened the festivities by emphasizing the critical and exciting role to be played by the Balboa Theater in the economic revitalization of historic Balboa Village.
Director Janet Ray described the "Balboa Producers," a select group of 10 donors committed to contributing $100,000 to the reconstruction of the theater. She noted that there is still room in the group for anyone committed to the idea of a unique performing arts venue in Balboa Village.
Foundation Chair Seth Siegel thanked the attendees for their patience and support, and noted that the Foundation currently is a self-supporting, all-volunteer organization. The significance if this is that 100 percent of donor gifts go for bricks and mortar. In keeping with this sentiment, Mr. Siegel's company donated the refreshments for the evening and provided the entertainment.
Thanks to Rita Stenlund and Tom Pollack of the Nautical Museum, the event took place in the East Wing of Newport Harbor Nautical Museum "ExplorOcean," and attendees were invited to visit the new Museum preview center.
Photos by Ann Chatillon