It's a challenge in the world of business to show that you are not the same as others. Are all banks the same? Are all restaurants the same? Let's look at two business profiles, one a unique bank and one a distinctive restaurant.
As California's fifth largest bank, Bank of the West has been helping customers for nearly 140 years.
Though not as well recognized as some of the more prominent and mainstream banks, Bank of the West is more than a regional and independent player. It fits the mold of being a boutique bank, offering high touch, high service as their calling card.
The bank operates in all 50 states, and has more than 700 branches for both public and business clients.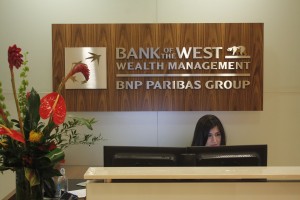 The bank's Newport Beach location on MacArthur Boulevard recently launched a Wealth Management Center. They took over the ground floor which was until recently all retail, and parsed out a significant section for their new WMC.
"Bank of the West is already renowned for its client service, and our wealth management group extends that client-first orientation to all its relationships," according to branch manager Ed Mora.
This office is far from stuffy. Attention was paid to developing a comfortable Zen-like feel for any depositor or clients. Their minimum requirement of having a net worth of $250,000 to qualify for your own banker is lower than most major banks.
They give back to the community, and are offering a $6,000 grant to Project Access, a nonprofit organization providing education and employment services, and one that is close to the hearts of many WMG employees.
The Newport Beach branch is number nine in their growing number of wealth management centers.
The Wealth Management Center's official grand opening is May 28 from 4 to 6 p.m. The public is invited to join members of the Newport Beach City Council for the celebration.
After the Grand Opening, pop on over to one of the more unique and too well hidden restaurants in Newport Beach: Basillic Restaurant on Balboa Island.
Since 1997, Bernard Althaus has been serving some of the most unique dishes at his intimate 24-seat Marine Avenue location along.
One of the few Swiss-French combination menus in the area, Basillic is especially known for its dish known as "Raclette," a cheese course that can only be described as melted cheese, grilled with a crust yet creamy to eat. Raclette is only offered during the colder temperature months, but don't worry – Althaus has plenty of other tempting items on his menu.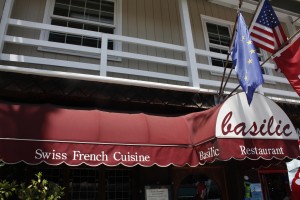 Althaus told me he always knew what he wanted to do, which was to become a chef, since he was literally born above a restaurant.
Althaus and his family came to this country to visit and decided to remain, but did it in style, purchasing a motor home and touring the country to determine where he might want to land.
Over the years Althaus has worked on sailing ships of all sizes, developing original dishes for the well-heeled as well as conventional cruise lovers. A family brought him to Newport. Over the years he has worked at notable restaurants including Pascal's and the Mezzanine in Irvine.
Swiss cuisine combines many French ingredients with Italian and German accents. Althaus loves to cook with wine, onions and fresh fish, and stays organic as much as possible. Most of his patrons are locals that have been coming for years, including many visitors from his home country.
For more information, visit bankofthewest.com or call (949) 797-1900, and basilicrestaurant.com or call (949) 673-0570.