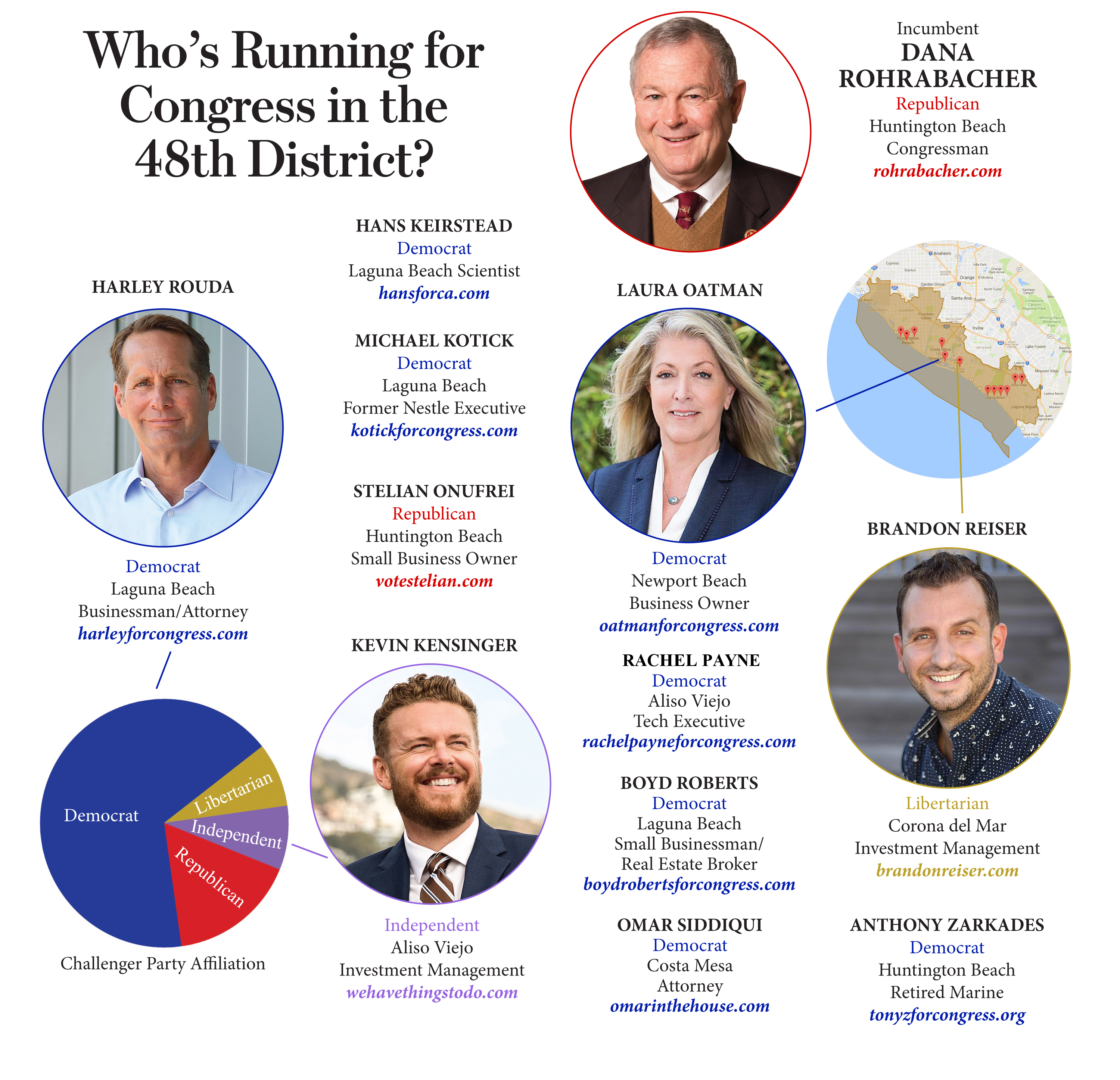 Dana Rohrabacher, who has represented California's 48th congressional district for 13 terms, is running for reelection.
Elected in 1988, the California Republican has served under six presidents and even wrote speeches for fellow Californian Ronald Reagan before he entered the House of Representatives.
While he has seen his share of challengers, no one has gotten that close to defeating Rohrabacher. The 48th congressional district, which includes Newport Beach and several other cities, has traditionally voted Republican. Republican presidential candidate Mitt Romney won the 48th district by 12 points in 2012.
But the 2016 presidential election was different. Really different. Historically red-leaning Orange County went blue. Democratic candidate Hillary Clinton won the 48th district by two points, and the national win for Republican Donald Trump was a surprise to even those who voted for him.
The election seemed to light a fire under people. Tens of thousand of women (and men) turned out for post-election day marches in Santa Ana, Laguna Beach, and Los Angeles.
And then, perhaps unsurprisingly, people started to run for local and state office. The same is happening in Orange County.
As of today, Rohrabacher has 12 challengers, including eight Democrats, one Republicans, one Libertarian, and one Independent. The deadline for filing as a candidate is March 9, so more still may enter the crowded race.
The challengers may be fired up now, but they've got to make it past the first step: The primary election on June 5.
All of the possible contenders for the California 48th Congressional District seat are under 60 years old. None of them have experience in politics.
There are also two Newport Beach residents among the group: Brandon Reiser, libertarian,  an investment manager from Corona del Mar; and Laura Oatman, democrat, a Newport business owner.
Reiser, a Massachusetts native, moved to CdM shortly after graduating from Bentley University.
Oatman is a Southern California native, living in either Orange County or Los Angeles her entire life before settling in OC in 1984. Her kids attended Corona del Mar High School and she once represented Our Lady Queen of Angels Church on the Newport-Mesa-Irvine Interfaith Council.
Others are closely associated with Newport Beach,
"Newport has been part of my life, my whole life," Independent candidate Kevin Kensinger wrote on his website.
A front-runner in the race is Harley Rouda, democrat, a Laguna Beach businessman and attorney. Rouda held a town hall at Bonita Creek Community Center in Newport Beach last month and drew a crowd of about 80 residents.
California uses what's called a "top-two" system in its primaries. The two candidates with the most votes, regardless of party affiliation, get their names on the general election ballot next November. This gives hope to the libertarian and independent candidates, who believe the democratic vote may be too scattered among eight candidates.
The Cook Political Report calls this particular race a "toss up." Inside Elections, a nonpartisan election watch group, predicts the 48th district will "tilt Republican," meaning Rohrabacher is still predicted to have an advantage over his challengers, none of whom are household names.
That may change.
January will kick off what is sure to be a busy six months for the 12 challengers. On Jan. 10, the Newport Dunes Waterfront Resort will host a candidate forum for all eight democratic candidates. Tickets must be purchased and are available at eventbrite.com/e/andc-ca-48-candidate-forum-tickets-40885158610.
Rohrabacher has the comfort of name recognition, and is not likely to debate challengers or do much in the form of campaigning. He sent out Christmas cards to the electorate and a mailer in which he invites voters to participate in a "Tele-Town Hall," a phone-based town hall with the congressman.
Will there be a blue tide in the House? Only time will tell. Inside Elections predicts only modest gains by Democrats across the country, and Republicans are expected to maintain their majority.
At present, Republicans have a 241-194 majority in the House of Representatives.