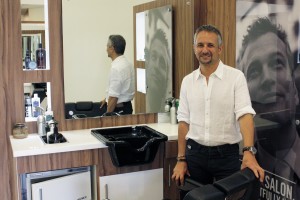 In 1913, English metallurgist Harry Brearley discovered that adding 18 percent chromium and 8 percent nickel to steel eliminated the tendency for it to oxidize and rust. The formula, known as 18|8, transformed steel into better looking and better performing stainless steel.
Just as 18|8 makes steel look and perform better, 18|8 Fine Men's Salon that recently opened in The Bluffs shopping center at MacArthur and Bison, has a mission to help clientele transform themselves to look and perform their best.
18|8 provides expertise in men's hair care and grooming, which owner Aly Marei – a Newport Beach resident – said is a neglected craft that has been revitalized and redefined at his salon.
"Why should men not get pampered?" stated Marei. "We're more than just a barber. We offer an array of services from haircuts and styling to facials."
At 18|8, stylists and staff provide the advice, solutions and consistency men deserve in a wide variety of treatments, including hair coloring, MANicures, face treatments, scalp treatments, and massage, all provided at semi-private stations.
At 18|8 Fine Men's Salons, men can have a unique experience designed to meet their specific needs, rather than being an afterthought at a woman's salon or settling for a clip-joint-quality haircut.
Marei said that more than a third of his customers are walk-ins because the mall is so busy at lunch time.
"A lot of people know our brand, so I'm optimistic in terms of demographics here," he said.
For more information, visit eighteeneight.com.