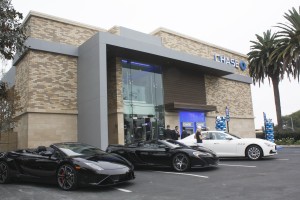 A new JP Morgan Chase Private Client office has opened its doors at 1470 Jamboree Road in Fashion Island.
The official ribbon cutting ceremony took place on Saturday, August 9, followed immediately by a reception and tour of the building.
Housed in the former Newport Beach Chamber of Commerce building, the latest JP Morgan Chase location encompasses more than 11,000 square feet of office space.
Attendees included Newport Beach Chamber President and CEO Steve Rosansky, Mayor Rush Hill, and Newport Beach Council Members Leslie Daigle and Keith Curry.
"Chase bank is a great community partner," Curry told attendees. "We are so proud to have you in our community, with all you do to support our institutions, help grow our economy, create jobs, and help people borrow money to buy homes. That's what banking is all about. Chase is one of the great banks in America, in the world, really, and we are glad you're doing business here. Welcome to the community."