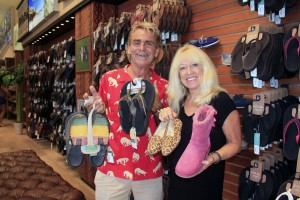 Flip-flops. Sandals. UGG boots.
Popular footwear in a beach town, and now Newport Beach has one of the most popular locations to purchase everything fun for your feet.   
Island Sole, a well-known footwear retailer in Honolulu, Hawaii, has partnered with Wayne Heck, a successful Orange County retail and real estate entrepreneur, to bring the company's unique and soulful retail concept to the Mainland with the recent opening of the Island Sole store in Fashion Island.
"We're thrilled to partner with Wayne Heck," said Kent Untermann, founder of Island Sole. "As the top-selling Haagen-Dazs franchise owner in the world (with stores in Fashion Island and Downtown Disney), and with his current experience in the footwear space with his popular Sanuk store (also in Downtown Disney), we knew Wayne and his team were the perfect fit to introduce the Island Sole concept to a broader consumer base."
"I love Fashion Island," stated Heck, who moved to Newport Beach in the early 70s. "I've watched it grow into a world class retail spot. It's the ideal place to introduce this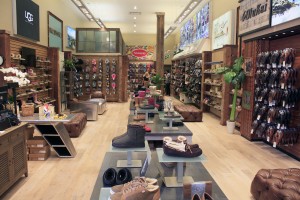 concept. It's a one-stop shopping experience with the widest variety of casual island- and coastal-inspired footwear under one roof."
Heck's name has become synonymous with success. He and five college buddies opened the Quiet Woman restaurant, still one of the most popular places in Newport. Heck went on to open a Haagen-Dazs store in the spot where Jack Shrimp restaurant on Coast Highway is today, and he's launched other business projects, including Villa Real Estate
However, Heck's current passion is his Island Sole store, which carries a robust inventory of top brands, including UGG, OluKai, Sanuk, Island Slipper, Havaianas, Rainbow, and the new give-back brand Freewaters, where each pair purchased helps provide clean drinking water to those in need.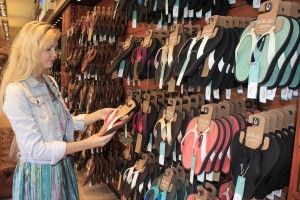 The Fashion Island location carries the widest array of Ugg footwear outside of the Ugg flagship stores. Shoppers also will enjoy an impressive selection of exclusive, hard-to-find styles and colors, all displayed in a spacious and stylish store whose atmosphere exudes the Hawaiian lifestyle of Aloha and Mahalo.
When Heck is not busy with his businesses, he enjoys spending time with his wife, and with his 11 month old grandson. He attends Mariner's Church, and is on the board of two Christian ministries.  
Although Island Sole is now open for business, an official grand opening event is scheduled for September. Island Sole is located across from the Apple Store at 1075 Newport Center Drive. For more information, visit islandsole.com or call (949) 760-0300.