I've mentioned in the past my love and admiration for the privilege of growing up and living on and around what I consider to be our world class harbor.
There aren't many places where an individual can grow up boating at a young age and spend thousands of hours sailing and putting around a marine playground. God Bless America!
The following tales are from memory of when I was around 12 years old through about 30 years old.
I spent my summers sailing out of Newport Harbor Yacht Club. From the ages of 9 through 12, I interfaced with young folks my age and older. During this time there was a very popular older young man that seemed very knowledgeable about all things boating named Rick Marsellus, I think, from Lido Isle.
When he was about 16, his parents bought him a 40-foot trawler so he could fulfill his dream of cruising off into the sunset.
After spending a few months outfitting the wood trawler, he set off cruising to the Panama Canal and then the Caribbean. We club members were kept up to date of his adventures through Mexico to Central America.
Tragically, after cruising Central America he was never heard from again. His family was devastated and moved out of the area.
On a much happier note, some friends of my parents had a son, Robin Graham (also 16), who set off in an approximately 35-foot sloop. For the next several years we would see his folks around town and get updates of his adventures and where-abouts. Robin had outfitted his yacht named "Dove" and set out to be the youngest person to sail around the world. He did accomplish his goal and wrote about his voyage, which was a best seller that was made into a movie.
I was quite surprised to hear from his parents that with his earnings he bought a ranch, I believe in Montana, and was never going to sail again. I thought that was tragic.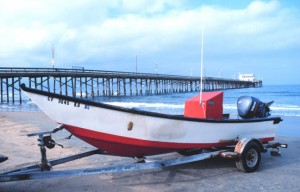 Finally, I'll share about a friend I grew up with. Red was his nickname (my memory isn't so good about his real name). Fishing was in his blood as his Dad was a commercial fisherman out of Newport. He grew up going out fishing with his father.
His goal was to be a Dory fisherman out of the Newport Pier. I'd see him at the fleet and his labor was successful. Another friend of mine at the Dory fleet was very concerned about Red. Red had a habit of sitting atop the outboard motor while underway, which is quite dangerous. One bump and he could be bounced off the engine and "into the drink."
One day, his dory was found circling with no one aboard.
When boating always remember safety.
Sea Ya,
Skipper Steve